American businessman McCourt buying French club Marseille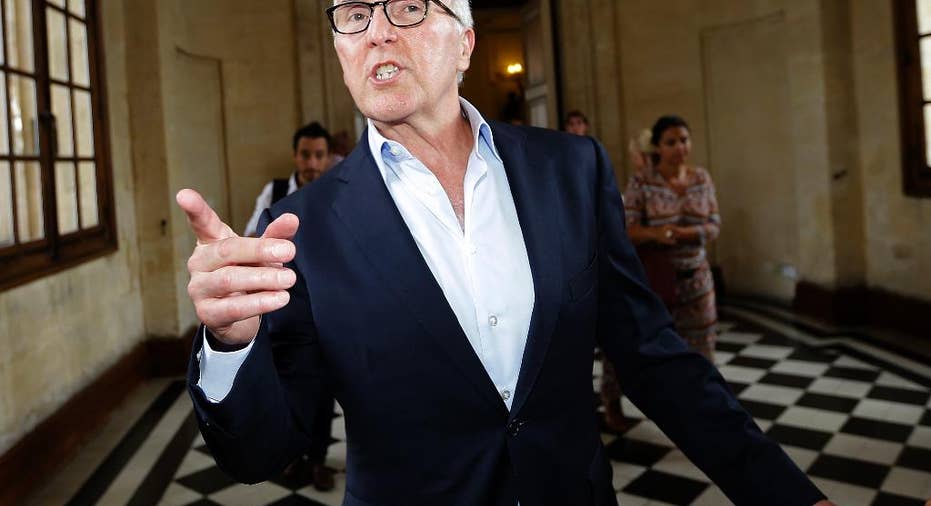 American businessman Frank McCourt is buying French soccer club Marseille from Russian-born billionaire Margarita Louis-Dreyfus, heralding a new chapter for a team that has fallen into the shadow of bitter rival Paris Saint-Germain.
At a news conference on Monday in Marseille's city hall, Mayor Jean-Claude Godin said he was "satisfied" with the impending sale, joking that McCourt will need to "put in some dough" to revitalize the team.
McCourt, the 63-year-old former owner of the Los Angeles Dodgers, pledged to "do everything so the club can be champions again."
McCourt sold the Dodgers for $2 billion in 2012 to Guggenheim Baseball Management.
In a separate statement Monday, Marseille said that "both parties wish to complete the deal between now and the end of the year."
Marseille is affectionately known as L'OM (an abbreviation of Olympique Marseille, its official name) and the confident club moto "Droit au But" translates as "Straight to Goal." But making the nine-time French champion successful again is a tall order given how the team's fortunes have crumbled lately.
Marseille remains the only French side to win the Champions League — beating the powerful AC Milan 1-0 in 1993 for its biggest achievement and triggering wild celebrations in the soccer-mad southern seaport.
However, it has fallen behind since PSG was taken over by Qatari investors five years ago.
While PSG has won the past four French titles, Marseille has struggled to keep up, finishing a miserable 13th last season and failing to qualify for European competition.
McCourt pledged to bring back the good times.
"Helping the club achieve success both on and off the pitch would be an honor and privilege," he said. "My ambition would be to help return the club to championship form, to deliver the best fan experience in all of football, to strengthen the club's ties with supporters and the city of Marseille, and to guide the club to long-term financial stability."
That is some task.
Although some players at Marseille enjoy support bordering on devotion, the notoriously volatile fans can also turn on them. Marseille's home form was so bad last year that it was regularly jeered at Stade Velodrome.
Marseille has not won a trophy since winning the League Cup in 2012, under former coach Didier Deschamps.
Deschamps, now France's national team coach, was captain when Marseille won the European title in '93 and he proved an instant success as coach, winning the league title in his first campaign during the 2009-10 season and adding three League Cup titles.
Since he left four years ago, Marseille's subsequent managers have found it tough going.
Last season, Argentine coach Marcelo Bielsa walked out just one game into the new season — even though he said he was about to sign a new contract — and was hurriedly replaced by Spanish coach Michel. But Michel was fired near the end of the campaign and replaced by Franck Passi, a Marseille midfielder in the late 1980s who is currently in charge.
During one match late last season, tensions spilled over during the first half of a 5-2 home loss to Rennes.
As a protest against the team's woeful home form, fans refrained from supporting their team in the first 15 minutes. But the move backfired as Rennes went 3-0 up inside 13 minutes, and when some angry Marseille fans tried to enter the pitch, riot police intervened.
The 54-year-old Louis-Dreyfus became one of the richest women in the world after she married French businessman Robert Louis-Dreyfus in 1992, and took over Marseille when he died from leukemia in 2009.
"Marseille turns a page in its history," she said. "I'm sure Frank McCourt is the best choice to take over from my family and to ensure a great future for Marseille."
___
Associated Press writer Thomas Adamson in Paris contributed to this report.