American Airlines profit falls amid higher fuel, labor costs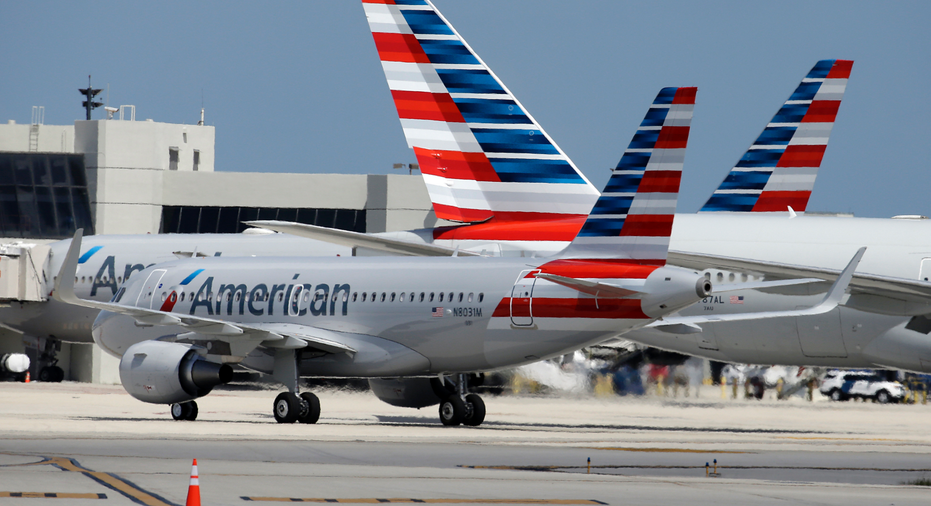 American Airlines (NASDAQ:AAL) shares fell slightly in trading Friday after higher fuel and labor costs caused second-quarter profit to drop 15%, even as revenue increased.
The world's biggest airline still beat Wall Street expectations, earning $803 million in the quarter, which marks the start of the key summer-vacation travel season.
Like other airlines, American is enjoying demand that is strong enough to push up average fares and fees. A key figure that roughly parallels fares jumped 5.7 percent in the quarter, but American on Friday predicted a much more modest increase — between 0.5 percent and 2.5 percent — in the same figure during the July-through-September period. An executive told analysts the fourth quarter would be better than the third, although he gave no numbers.
Investors, increasingly worried about airlines cutting prices to hang on to their share of passengers, sold off shares Friday afternoon.
Shares of American Airlines Group Inc. fell 58 cents, to $49.42.
American Airlines CEO Doug Parker did not provide further details on a bid by Qatar Airways to acquire a stake in the company. Parker told employees in a letter last month that company executives "aren't particularly excited" about Qatar's attempted investment, given American's stance that Qatar Airways and two other Middle Eastern airlines have made use of illegal subsidies from their governments.
American's results wrapped up a rocky earnings season for the major U.S. airlines. It started with a thud when United Airlines gave a poor revenue prognostication for the third quarter and continued with a weak third-quarter forecast on average fares from Southwest Airlines, which carries more U.S. passengers than anyone. Along the way, executives at several airlines spoke about lower fares in markets stretching from New York to Florida to Denver.
Price-cutting during the peak summer season is rare, said Cowen and Co. analyst Helane Becker. She said it was understandable that American would try to calm nervous investors by sounding upbeat about the fourth quarter, but it was too early to tell what might happen given all the talk from other airlines about discounting domestic fares.
Airlines are looking for new ways to raise revenue, including cramming more people in their planes.
American recently backed off a plan to move the last three rows in new Boeing 737 jets closer together. It would have brought in more money by making room for another row of roomier, higher-priced seats toward the front of each plane.
"We got a lot of pushback from our customers and most notably" from flight attendants, said CEO Doug Parker.
So the airline yielded — by an inch. Instead of rows being 29 inches apart — that distance is called "pitch" in the airline business — they will be 30 inches apart.
Parker said management learned that while the move might have raised revenue, it "wasn't worth it."
Some lawmakers responded by proposing federal regulations on seat size and legroom.
American and other big U.S. airlines have an ambitious agenda in Washington but so far appear stymied in efforts to address what American, Delta and United claim is unfair competition from the three Middle Eastern carriers, as well as efforts aimed at privatizing the air traffic control system, and blocking increases in government fees on airline tickets.
"Let's face it, there is a lot going on in Washington and a lot of drama," and it's not a good environment to discuss airline issues, said Stephen Johnson, the executive vice president who oversees American's lobbying efforts. He noted that there is opposition to American's issues.
Johnson said that after Congress takes its August recess, "hopefully we will be able to reset and focus on other things in September and October and be able to move these issues forward."
American, based in Fort Worth, Texas, reported that second-quarter profit fell $147 million from the same period last year. Excluding one-time items, the company said adjusted profit was $1.92 per share. That beat the $1.87 per share average forecast among analysts surveyed by Zacks Investment Research.
Revenue rose 7 percent to $11.11 billion, but costs jumped 11 percent, leading to lower profit.
Labor, American's biggest expense, increased more than 12 percent after the company granted pay increases last year, and fuel spending climbed 15 percent on higher pump prices.
The Associated Press contributed to this report.