America Loves These 2 Burger Chains More Than McDonald's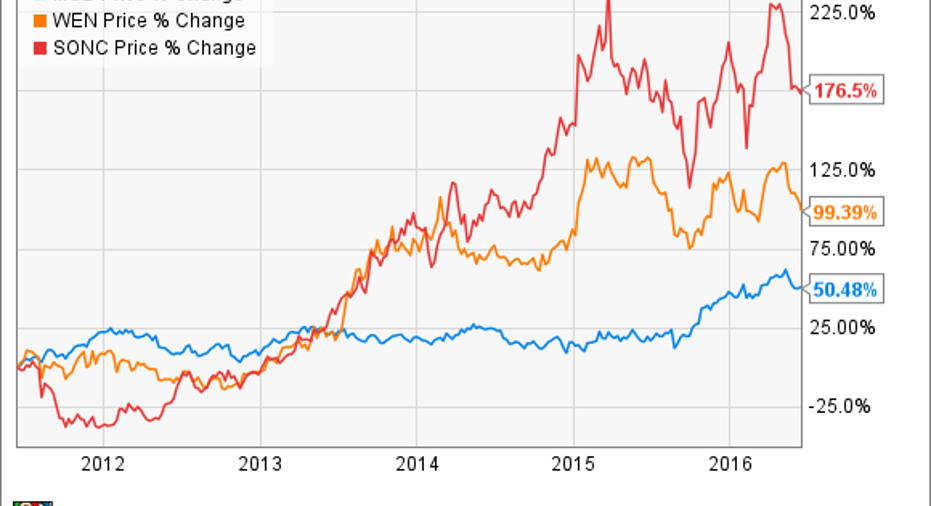 McDonald's has recently made solid progress in turning around its business with all-day breakfast, new McPick value menu combinations, and next-gen initiatives like self-serve kiosks, table-mounted tablets, and tableside ordering. Unfortunately, the Golden Arches still isn't faring too well in terms of brand perception.
A McDonald's in Houston, Texas. Image source: Author.
In a recent Harris Poll, which ranks domestic brands based on familiarity, quality, and customer service, McDonald's failed to rank among the top seven burger chains in America.Privately held In-and-Out, Five Guys, and Culver's claimed the top three spots in that order. Only two publicly traded companies -- Wendy's (NASDAQ: WEN) at number four and Sonic (NASDAQ: SONC) at number five -- made the list. To make matters worse, Harris states that it reviewed McDonald's during the study, but that it ranked below the category average.
McDonald's is consistently less popular
This isn't the first time Wendy's and Sonic bested McDonald's in brand perception. In YouGov BrandIndex's list of fast-food chains which received the most positive buzz from customers in 2015, Wendy's ranked second afterSubway. Sonic was ranked fifth, and once again McDonald's didn't make the cut.
Temkin's 2016 Experience Ratings, which polled 10,000 customers, ranked Chick-fil-A as the top fast food chain and the third best company out of 294 companies across 20 industries. Wendy's and Sonic both ranked lower on Temkin's scale, respectively coming in 42nd and 51st overall. But both companies fared much better than McDonald's, which tied Restaurant Brands International's Burger King for 100th place overall and dead last in the fast food category.
It's hard to pinpoint a single reason as to why public opinion of McDonald's is so low, but its vilification in obesity lawsuits and documentaries, urban legends regarding its meat processing facilities, and the perception of its burgers as "cheap" and "frozen" have all likely taken its toll on the company. Investors will notice that McDonald's poor public image complements its weaker stock performance over the past five years compared to Wendy's and Sonic.
Source:YCharts.
But don't count McDonald's out yet
However, that chart can be misleading due to the fact that McDonald's is a much larger company than Wendy's and Sonic, so it should have less upside growth potential. Moreover, QSR Magazine reported last August that McDonald's still generated an average of$2.5 million in sales per location, which is far more than Wendy's average sales of $1.59 million and Sonic's sales of $1.15 million.
Those figures seemingly indicate that customers will still visit McDonald's, regardless of their perception ofthe brand. However, Chick-fil-A -- which consistently tops customer satisfaction and brand perception surveys -- notably beat McDonald's in 2014 with per unit sales of $3.06 million.
But compared to Wendy's and Sonic, McDonald's hasn't fared too badly in terms of overall comps growth. McDonald's systemwide comps rose 6.2% last quarter, compared to 3.4% growth atWendy's and 6.5% growth atSonic. This indicates that McDonald's aforementioned turnaround efforts have been boosting domestic comps, which rose 5.4% last quarter -- surveys and polls might not reflect those improvements yet.
We should also note that the majority of Wendy's locations and all of Sonic's drive-ins are located in the United States. McDonald's onlygenerated 34% of its sales from the U.S last quarter, which softens the impact of its brand perception back home.
But can McDonald's improve its brand?
McDonald's probably won't become as popular as In-and-Out or Five Guys in the near future, but there are a few steps that it can take to score more highly in these polls. McDonald's plans to boost its percentage of franchised locations from over 80% today to 95% "over the long term," which would boost profitability by reducing overhead costs.
But that strategy is also risky, because aggressive franchising strategies can cause quality control issues and inconsistent dining experiences. In the age of social media, nightmarish dining experiences can go viral and tarnish a restaurant's brand.
McDonald's recently started testing out fresh meat patties instead of frozen ones at select locations in Dallas, which indicates that it's serious about challenging chains like In-and-Out and Wendy's, which both use unfrozen beef. If McDonald's fresh burgers are well-received, the company might decide that spending more money on fresh patties could be worth the boost in its overall brand perception.
The bottom line
Harris Poll's numbers might initially look alarming for McDonald's, but investors should note that its comps have been improving both in the U.S. and in overseas markets, thanks to its wide range of turnaround efforts under CEO Steve Easterbrook. However, improved customer perception would certainly help McDonald's, so investors should see if the chain advances in these polls over the next few years.
The article America Loves These 2 Burger Chains More Than McDonald's originally appeared on Fool.com.
Leo Sun has no position in any stocks mentioned. The Motley Fool has no position in any of the stocks mentioned. Try any of our Foolish newsletter services free for 30 days. We Fools may not all hold the same opinions, but we all believe that considering a diverse range of insights makes us better investors. The Motley Fool has a disclosure policy.
Copyright 1995 - 2016 The Motley Fool, LLC. All rights reserved. The Motley Fool has a disclosure policy.