America Has Spoken, and These Are Its 4 Favorite Hotel Chains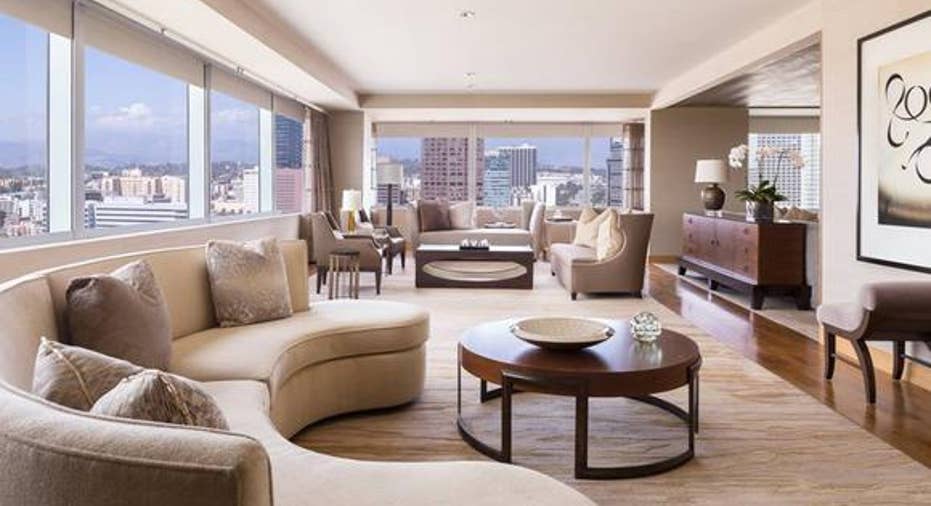 Image source: Pixabay.
The lodging industry is a giant, but many Americans may not realize it.
According to a report released last year by the American Hotel & Lodging Association (AHLA) that reviewed statistics from 2014, there were more than 53,400 properties located throughout the U.S. with at least 15 rooms, totaling nearly 5 million guest rooms. In 2014, approximately 4.8 million people stayed in a hotel or motel each night, lending to an average occupancy rate throughout the industry of 64.4%. The hotel industry also employs 1.9 million people, or in the neighborhood of 1.4% of the total workforce, and it directly supports an additional 8 million travel and tourism industry jobs.
But the most important statistic is that in the U.S., the lodging industry generated $176 billion in revenue in 2014. That figure should make novice and savvy investors drool alike. Of course, sales alone don't make a hotel chain great -- brand loyalty is also critical. The unfortunate thing about customer loyalty is that it isn't the easiest to measure, so for that, we'll turn to New York-based research company Brand Keys, which earlier this year released its 21st annual Customer Loyalty Engagement Index (CLEI).
The importance of brand loyaltyTo be perfectly clear, there isn't an industry where customer engagement and loyalty isn't important. But, when we're talking about hotels, there are two specific reasons loyal customers are highly prized.
Image source: Flickr user Sergey Vladimirov.
First, loyal customers can be vital for spreading free word-of-mouth advertising. If you're happy with a business, or a hotel, in our case, you're more likely to tell your friends and family about it. Friends and family are, in turn, more liable to act on the recommendation of a friend or family member than be swayed by an advertisement they see on television, in print, or online. In effect, hotels count on their guests to become brand ambassadors, so it's important they have a pleasant experience.
The other component here is that loyal customers tend to generate solid margins for businesses (and hotels). It's true that loyalty reward programs can eat into hotel profit margins, but loyal customers are also less likely to shop around for a better deal when traveling. Even with loyalty rewards, loyal customers can still generate big margins for the hotel industry.
Brand Keys' CLEI looked at 35 hotels in total across four categories (Economy, Midscale, Upscale, and Luxury) and questioned more than 42,000 people across the country to get a feel for how hotels engage them and seek their loyalty. The results showed a clear winner in each of the four budget categories. Let's take a brief look at what makes each winning chain tops in the eyes of the customer.
Image source: Microtel Inn & Suites.
America's favorite economy hotelWhen it comes to cost-conscious consumers, Wyndham Worldwide's Microtel Inn & Suites takes the cake as the hotel that creates the most loyal customers. Wyndham's Microtel is also the only hotel on this list to place as No. 1 in last year's Brand Keys CLEI ranking.
Wyndham's Microtel dominance probably comes as a surprise to few considering it was ranked as the top economy hotel in customer satisfaction in J.D. Power's annual survey in 13 of the past 14 years (including each of the past three years). Microtel regularly scores highly among guests in reservations, check-in/check-out, guest rooms, hotel services, hotel facilities, and cost and fees. As you can imagine, cost is very important in the economy category, and Wyndham's Microtel uses discounts to draw new customers through the door while allowing its employees and amenities to shine through to keep them loyal.
Another common factor among all winning hotel chains here is the push of company-based loyalty rewards. Redeeming Wyndham loyalty rewards can allow guests to earn free nights toward future stays.
America's favorite midscale hotel Ascending to the top spot in the midscale hotel category in 2016 according to Brand Keys is Hilton Worldwide Holdings' Hampton Inn. In J.D. Power's most recent rankings, it scored very highly in customer satisfaction (although it finished second, not first, overall in its respective category in J.D. Power's survey).
Image source: Hampton Inn Vancouver-Airport/Richmond.
Where Hilton's Hampton Inn really shines is its blend of price and perks. Within the midscale category, price competitiveness remains important. However, consumers are more willing to make trade-offs in the midscale category to amenities that suit their needs. For instance, Hampton Inn intends to woo its guests with free high-speed Internet, free coffee and tea, free local calls, free breakfast daily that includes oatmeal and waffles (including to-go breakfast bags Monday through Friday), and an exercise room in most of its locations. One or more of these amenities can be the difference that gets the average American hooked on Hampton Inn for future visits.
Innovation is also important for Hampton. In 2014, it announced a new "TREATS" concept that includes either a walk-in solution for hotels with an existing suite shop, or a walk-up solution for those without. These treat shops feature food and beverage options as well as local merchandise. The addition of these shops could boost revenue for Hilton, add to guest food and beverage options, and also improve engagement by retailing local products.
America's favorite upscale hotelAmong upscale hotels, privately held TRT Holdings' Omni Hotels & Resorts took the top honors in terms of customer loyalty. And once again, it should be no surprise that J.D. Power concurred, with Omni Hotels scoring highest in the upper-upscale segment satisfaction in 2015.
Once we move into the upscale and luxury categories, it tends to be much more about amenities than price. Arguably, Omni Hotels' top selling point is its progressive Select Guest program, which allows guests to earn rewards.
Image source: Omni Hotels & Resorts.
After just a first stay, guests receive complimentary Wi-Fi, express check-in and check-out, and the opportunity to earn free nights. But, as you can see above, the rewards really start piling up once you spend 10 or more qualifying nights in an Omni Hotels room during the calendar year. Complimentary pressings, shoes shines, bottled water, evening housekeeping service, and late check-out are just some of the perks. Spend 30+ nights at Omni, and you could even qualify for a complimentary beverage on arrival as well as major room upgrades.
Keep in mind that upscale and luxury hotels tend to focus on more affluent customers, and well-to-do clientele are usually less affected by fluctuations in the economy. This means Omni's focus is entirely on promoting its progressive amenities and allowing those perks to drive loyalty.
America's favorite luxury hotel For the "price is no object" hotel crowd, Marriott International's Ritz-Carlton is the cream of the crop in terms of brand loyalty. Not to sound like a broken record, but it was also the top hotel in terms of customer satisfaction in J.D. Power's 2015 survey, taking the highest score in the luxury category -- and out of every hotel surveyed regardless of category, for that matter.
Image source: The Ritz-Carlton Hotel Company.
What makes Marriott's Ritz-Carlton the hotel you'll want to stay at? I'd suggest its two types of exclusivity (and let's face it, most people are going to the Ritz-Carlton for its exclusivity and to feel special).
First, Ritz-Carlton looks to build loyalty by catering to the unique. Omni, for instance, has great in-hotel perks. Ritz-Carlton, understanding that it's tough to really one-up its peers within the confines of the hotel room, focuses on offering its Ritz-Carlton Rewards program members offers to unique events, such as fine dining or art events, or perhaps even a golf getaway. Reward members also have the opportunity to donate their reward points to a charity of their choosing.
The other component is we really see a lot of emphasis placed on getting the right staff in its hotels. Ritz-Carlton staff members are told to be on the lookout for "unexpressed needs," essentially anticipating what a customer might need well in advance. Doing so helps create the emotional engagement needed to keep customers loyal to the brand. Given Ritz-Carlton's satisfaction ratings, it's obviously doing a good job of that, which should be great news for Marriott.
Do you have a go-to hotel chain? Share it, and your reasoning, in the comments below.
The article America Has Spoken, and These Are Its 4 Favorite Hotel Chains originally appeared on Fool.com.
Sean Williamshas no material interest in any companies mentioned in this article. You can follow him on CAPS under the screen nameTMFUltraLong, track every pick he makes under the screen name TrackUltraLong, and check him out on Twitter, where he goes by the handle@TMFUltraLong.The Motley Fool owns shares of and recommends Marriott International. Try any of our Foolish newsletter services free for 30 days. We Fools may not all hold the same opinions, but we all believe that considering a diverse range of insights makes us better investors. The Motley Fool has a disclosure policy.
Copyright 1995 - 2016 The Motley Fool, LLC. All rights reserved. The Motley Fool has a disclosure policy.