Ameresco Inc. Delivers on Profit Growth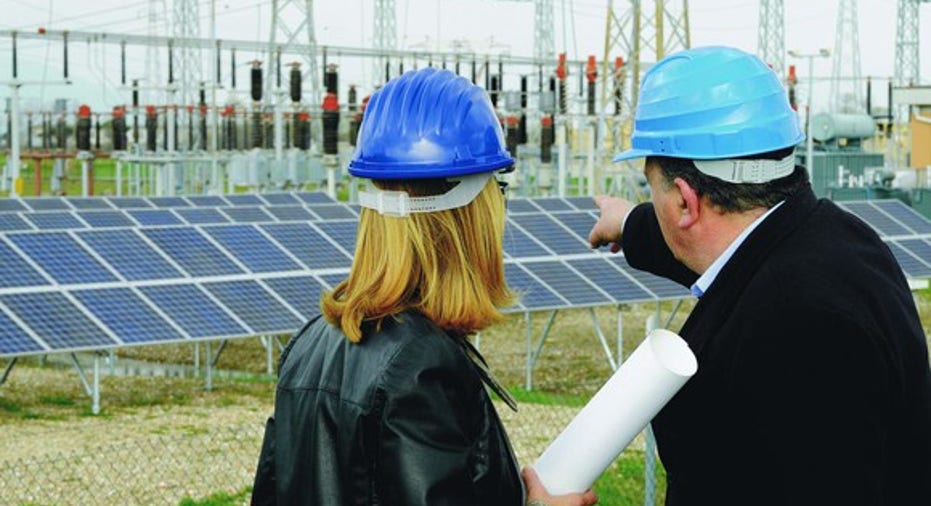 Ameresco's contracted backlog is at a five-year high, even as revenue fell in the quarter. Image source: Ameresco Inc.
Energy-efficiency services and equipment specialistAmeresco Inc.(NYSE: AMRC) reported third-quarter financial and operating results on Nov. 1, delivering solid profit growth, another increase in its backlog of contracted business, and a steadying of its struggling Canadian operation, even as total revenue slipped from the year-ago quarter.
Here's a closer look at how Ameresco delivered in the third quarter.
Financial results
YOY = year over year. Revenue, net income, and operating income in millions. Data source: Ameresco.
A closer look at some key operating metrics
Backlog of awarded but not contracted projects of $1.05 billion -- up 2% year over year but down from $1.12 billion in the second quarter.
Fully contracted backlog of $443.8 million -- up 17% year over year and 2% up sequentially.
Invested $24 million in capex toward assets it will own and operate, increasing capex year to date on these projects to $45 million.
This increased investment in operating assets (and selling the power generation) contributed to expanding gross margin percent to 21.5%, up 230 basis points.
Selling, general, and administrative expense was $28.9 million, up 8% year over year. Adjusting for a $2.2 million reserve related toSunEdisonbankruptcy and $400,000 restructuring charges, SG&A expense would have actually declined slightly from the year-ago quarter, though it would still have been a slightly higher percentage of revenue, at 14.5% versus 14.1% year over year.
Management is hopeful that they will be able to recover the assets related to SunEdison, though it is unlikely they will receive any remuneration. But at some point the company could reverse at least a portion of the reserve based on asset recovery.
Revenue in Canada was down, but this was expected as ongoing restructuring takes place there. The company announced it had been awarded its first military contract in Canada. Department of Defense projects in the U.S. have been a strong spot in recent years and management says it will try to leverage this success in the U.S. in with Canada's military.
Looking ahead
While growth has been slow and -- as this quarter demonstrated -- revenue continues to be "lumpy" from quarter to quarter, Ameresco was able to deliver improved financial results this quarter, in part due to a balanced approach between contracted projects for customers, and investing its own capital in assets it will maintain and generate revenue from by selling the power from. Over time, management expects this approach to help balance out revenues and profits, which can swing wildly based on the demand cycle for the company's services.
The third quarter offered evidence how this is working on the bottom line, with gross profit dollars up on lower revenue, which contributed to higher earnings. At the same time, the fully contracted backlog remained strong and up 17% from last year at $443.8 million, indicating that there is improving demand for the company's services as companies and government agencies look to reduce costs and conserve energy.
Management updated its guidance for the full year, lowering the upper range of revenue from $680 million to $660 million, while keeping the bottom at $645 million. Even with the narrowing of revenue, expectations for earnings and adjusted EBITDA remained unchanged at $0.25-$0.30 per share and $51 million to $57 million. Management also held firm on its gross margin expectations of 19%-20% and operating expense of 15.5%-16.5% of revenue.
Looking at the bigger picture, revenue continues to be lumpy, but the contracted backlog is higher than it has been in years. At the same time, the company is investing in more projects that will generate steady recurring cash flows and help drive incremental profits, even if demand for contracted projects continues to improve in fits and starts.
10 stocks we like better than Ameresco When investing geniuses David and Tom Gardner have a stock tip, it can pay to listen. After all, the newsletter they have run for over a decade, Motley Fool Stock Advisor, has tripled the market.*
David and Tom just revealed what they believe are the ten best stocks for investors to buy right now... and Ameresco wasn't one of them! That's right -- they think these 10 stocks are even better buys.
Click here to learn about these picks!
*Stock Advisor returns as of November 7, 2016
Jason Hall has no position in any stocks mentioned. The Motley Fool recommends Ameresco. Try any of our Foolish newsletter services free for 30 days. We Fools may not all hold the same opinions, but we all believe that considering a diverse range of insights makes us better investors. The Motley Fool has a disclosure policy.