AMD Stock Jumps on Analyst Upgrade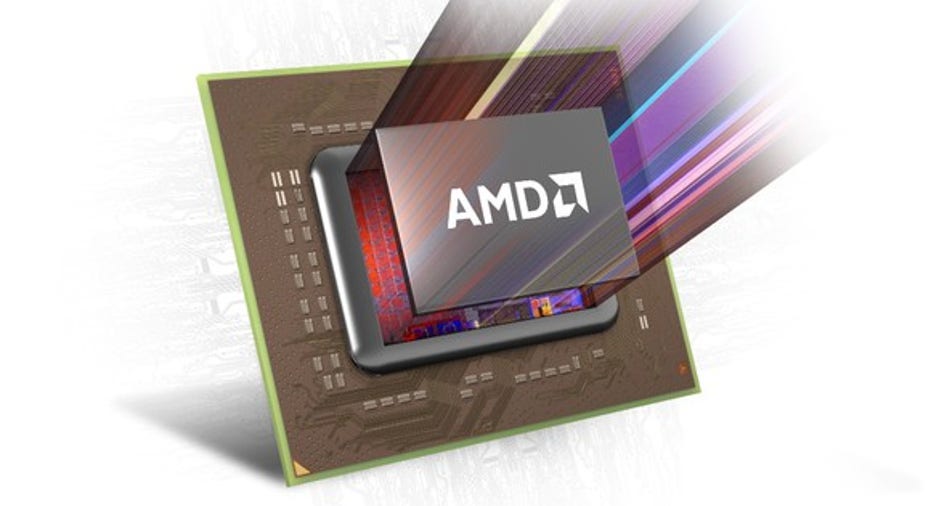 Image source: Advanced Micro Devices.
What happened
Shares of Advanced Micro Devices (NASDAQ: AMD) jumped on Thursday due to an analyst upgrade that featured a significant price target boost. The upgrade comes after a string of positive news for AMD, including a cloud computing deal and rumors of a licensing pact with Intel. The stock rose as much as 11.5% on the news of the upgrade, settling into an 8.3% gain by 2:30 p.m. EST
So what
Bank of America Merrill Lynch upgraded AMD from underperform to buy on Thursday, citing turnaround progress and a massive opportunity ahead of it as it looks to challenge both Intel and NVIDIA. Success in semi-custom chips was also a factor in the upgrade. While AMD's core CPU and GPU business has been posting losses for quite some time, semi-custom chips powering all of the major game consoles have provided a much-needed source of revenue and profits for the company.
Merrill Lynch assigned a $12 price target to shares of AMD, with a $15-plus bull case target and a $7 bear case target. AMD stock has rocketed higher this year on the hope that its new GPU and CPU products would propel the company back to profitability. That hasn't happened yet, but Merrill Lynch sees a growth opportunity for the company that is "too large to ignore."
Now what
This is the third time in recent weeks that shares of AMD have surged on a positive piece of news. The stock jumped in mid-November when Alphabet's Google announced that it was adding both AMD and NVIDIA GPUs to its cloud platform. AMD is far behind NVIDIA when it comes to getting its server GPUs into cloud data centers, so the deal was a meaningful win for the company.
Another jump came earlier this week when a rumor emerged that AMD had signed a licensing deal with Intel to put its GPU technology into Intel processors. The deal has not yet been confirmed, and it may simply replace a licensing deal between Intel and NVIDIA that expires next year. An annual payment to AMD may be in the cards, but the prospect of Intel using AMD's GPUs in its processors seems unlikely.
A flurry of good news has pushed AMD stock higher in the past month. The company will need to deliver next year when it launches its Zen CPUs and Vega GPUs in order to justify its higher valuation.
10 stocks we like better than Advanced Micro Devices When investing geniuses David and Tom Gardner have a stock tip, it can pay to listen. After all, the newsletter they have run for over a decade, Motley Fool Stock Advisor, has tripled the market.*
David and Tom just revealed what they believe are the 10 best stocks for investors to buy right now... and Advanced Micro Devices wasn't one of them! That's right -- they think these 10 stocks are even better buys.
Click here to learn about these picks!
*Stock Advisor returns as of Nov. 7, 2016
Suzanne Frey, an executive at GOOG, is a member of The Motley Fools board of directors. Timothy Green has no position in any stocks mentioned. The Motley Fool owns shares of and recommends GOOGL, GOOG, and NVDA. The Motley Fool recommends INTC. Try any of our Foolish newsletter services free for 30 days. We Fools may not all hold the same opinions, but we all believe that considering a diverse range of insights makes us better investors. The Motley Fool has a disclosure policy.