AMD Needs Polaris to Be a Home Run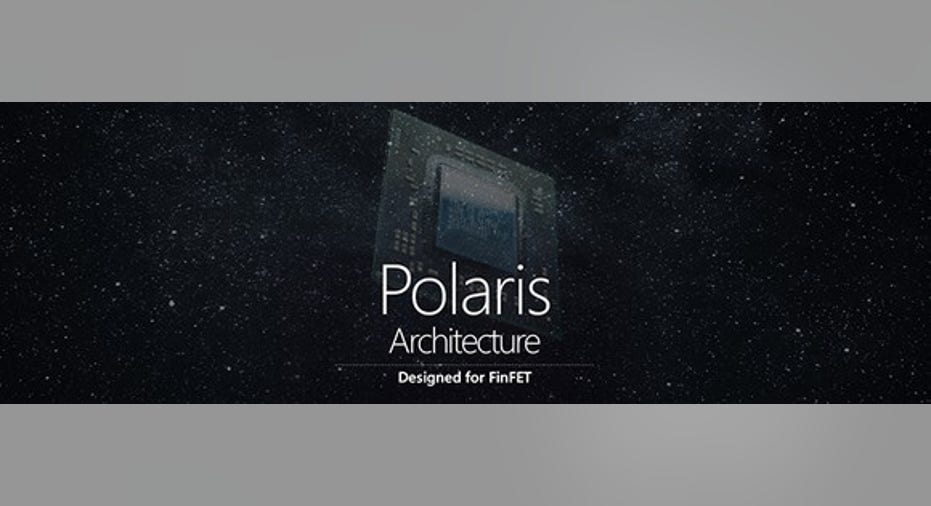 Advanced Micro Devices has a plan to return to growth this year. It's an optimistic plan, and the company has a history of coming up well short of its own expectations. But investors seem to be on board with AMD's guidance, evidenced by the stock recently surging to levels not seen since 2014.
AMD's success this year depends on Polaris, its upcoming graphics architecture. The company is expected to officially announce new graphics cards based on Polaris as early as this month. Major improvements in performance and efficiency are expected, in part due to the move to a 14-nanometer manufacturing process. AMD's graphics card unit market share currently sits at about 20%, cut in half since early 2014, and the company is banking on Polaris to regain its former position in the industry.
Pascal arrives
Image source: NVIDIA.
Regaining substantial market share from rival NVIDIA will be easier said than done. NVIDIA announced the first two graphics cards based on its Pascal graphics architecture on May 6. The GTX 1080, priced at $599 and available on May 27, replaces the GTX 980 and is more powerful and more efficient than the Titan X, NVIDIA's most powerful last-gen graphics card. The card sports 8 GB of high-speed GDDR5X memory, which provides more bandwidth than the standard GDDR5 memory used in most graphics cards.
NVIDIA claims that the GTX 1080 more than doubles the performance of the GTX 980 in certain virtual reality applications. In standard PC games, NVIDIA-provided benchmarks put the gain at around 1.5 to 1.75.Independent benchmarks aren't yet available, but it's clear that the GTX 1080 offers a major jump in performance.
The second Pascal graphics card, the GTX 1070, is more affordable. It replaces the GTX 970 and will be priced at $379 when it launches on June 10. The GTX 970 was a runaway hit for NVIDIA, with the card rising to be the most popular among Steam users. While the GTX 1070 is priced a bit higher than the GTX 970, the performance gains should be substantial.
Polaris needs to be amazing
Image source: AMD.
According to AMD's first-quarter earnings report, Polaris won't focus on the high end of the market, at least initially. Two versions, Polaris 10 and Polaris 11, will target the notebook market and the mainstream desktop market, with the goal being to enable virtual reality applications at mainstream price points. We won't know for sure until AMD officially announces its new products, but NVIDIA's GTX 1080 may not have a new competitor at all.
AMD's focus on the mainstream may simply be an issue of resources. NVIDIA claims that developing Pascal required billions of dollars of research and development spending, with several thousand people working on the project for over two years. NVIDIA's R&D spending has ramped up over the past few years, with about $1.3 billion spent in fiscal 2016. That compares to just $950 million spent by AMD, spread across both GPU and CPU development. AMD has slashed R&D spending in recent years as the company has struggled with growing losses.
With NVIDIA focusing on the high end of the market, AMD's strategy could work out well if Polaris delivers enough performance at a low enough price to capture PC gamers who would have otherwise opted for the GTX 1070. But the market for VR headsets is very young, and AMD specifically targeting VR with mainstream graphics cards could backfire. The Oculus Rift costs $599, expensive enough that it likely prices out the majority of PC gamers. Those willing to pay such a high price for a VR headset are probably willing to pay a higher price for a graphics card as well, instead of settling for a mainstream part.
NVIDIA will no doubt launch mainstream Pascal graphics cards in the coming months. The GTX 960 came about four months after the GTX 980 and GTX 970 were announced, so new Pascal cards sometime this year is a good bet. AMD will also likely launch higher-end cards at some point in the future.
The wait for Polaris is almost over. AMD has made big promises, and its ability to hit its guidance this year depends on Polaris winning back market share from NVIDIA. For that to happen, AMD's new graphics cards need to offer compelling price-to-performance ratios. A lackluster launch, like the 2015 release of the Fury X, would be a disaster. AMD needs to be disruptive, like NVIDIA was in 2014 with the GTX 970. Anything short of that would likely lead to another disappointing year for AMD.
The article AMD Needs Polaris to Be a Home Run originally appeared on Fool.com.
Timothy Green has no position in any stocks mentioned. The Motley Fool owns shares of and recommends Nvidia. Try any of our Foolish newsletter services free for 30 days. We Fools may not all hold the same opinions, but we all believe that considering a diverse range of insights makes us better investors. The Motley Fool has a disclosure policy.
Copyright 1995 - 2016 The Motley Fool, LLC. All rights reserved. The Motley Fool has a disclosure policy.