AMD Aims to Shake Up the Mainstream CPU Market Next Month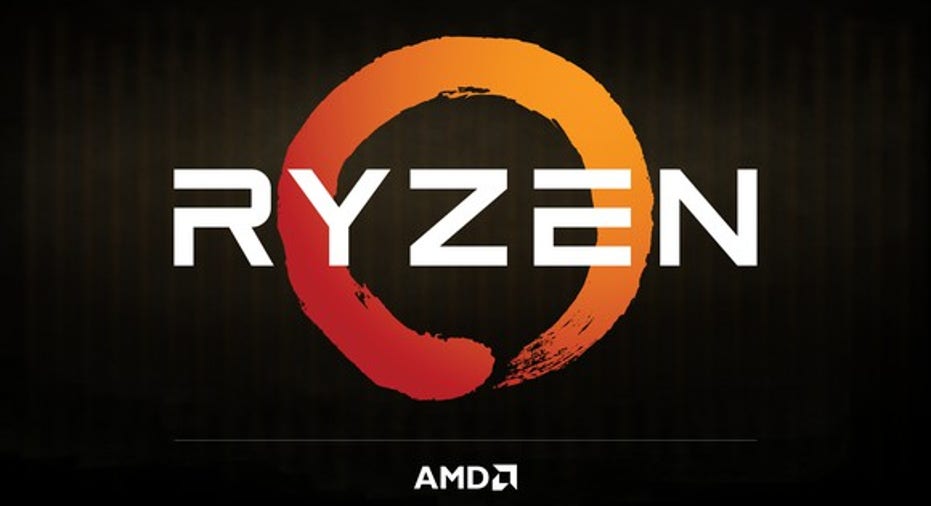 The first batch of Advanced Micro Devices' (NASDAQ: AMD) Ryzen PC CPUs launched on March 2 to mixed reviews. The Ryzen 7 series, all high-end chips aimed at competing with Intel's (NASDAQ: INTC) best, offers impressive performance in applications capable of utilizing all eight cores. For the price, especially considering that Intel's 6-10 core Broadwell-E chips are extremely expensive, Ryzen 7 looks like a great choice for workstation and professional applications.
But Ryzen 7 fell short in applications where single-threaded performance mattered. While AMD's new chips offer a massive leap in performance over the previous generation, they're still no match for Intel in situations where more cores provide little to no benefit. Gaming is the most prominent example, with third-party reviews putting Intel's cheaper four-core i7-7700k ahead of even the most expensive Ryzen chip in nearly every gaming benchmark.
AMD will have another shot to impress gamers in April. The company plans to launch four mainstream Ryzen 5 CPUs on April 11, priced to compete with Intel's own mainstream offerings. While Ryzen 7 was meant to turn heads with its impressive multicore performance, Ryzen 5 may end up being more disruptive.
Image source: Advanced Micro Devices.
A look at Ryzen 5
AMD's Ryzen 5 chips will be priced between $169 and $249, comprised of two hex-core and two quad-core options. The $249 hex-core 1600X, essentially a Ryzen 7 1800X with two cores disabled, will be the most expensive, roughly the same price as Intel's i5-7600K. The $219 1600 will also feature six cores, but a lower clock speed will slow it down. The $189 1500X and $169 1400 will both come with four cores, going after Intel's lower-end offerings.
Independent third-party reviews are still weeks away, but it's safe to say that Ryzen 5 will wipe the floor with comparably priced Intel chips in scenarios that benefit from more cores. AMD claims that the 1600X beats Intel's 7600K by 69% in a cherrypicked multicore benchmark, not a surprise given that it has 50% more cores and triple the threads.
Single-threaded performance will still be an issue, just as it was with Ryzen 7. But the 1600X could end up far more attractive for PC gamers due to the lower price. While multithreaded performance will be worse than its high-end eight-core siblings, gaming performance shouldn't be too far off from the 1800X in many games. The gaming performance that the 1800X delivers isn't worth its $499 price tag. But a $249 price tag is a different story.
We'll have to wait and see how these new chips perform against Intel's products. If the 1600X provides similar gaming performance as the highest-end Ryzen chip, it will certainly shake up the mainstream PC CPU market. It will be no match in terms of raw single-threaded performance for Intel's more expensive i7-7700K, but the price-to-performance ratio could make the 1600X a popular chip.
The Ryzen train rolls on
AMD will further fill out its CPU lineup during the second half of the year with its Ryzen 3 line of low-end products. With prices topping out below $169 and likely featuring only quad-core chips, perhaps even dual-core chips, Ryzen 3 will be aimed at Intel's budget offerings.
Ryzen so far has been a mixed bag. There's no question that AMD has accomplished a lot, greatly improving performance over its previous line of chips. AMD claims that Ryzen achieves 52% higher instructions-per-clock, a measure of single-threaded performance, an impressive feat. But that gain also reflects how abysmal single-threaded performance has been on AMD chips in recent years.
Intel likely won't sit still if AMD begins to win considerable market share, so there's no guarantee that Ryzen will lead to the kind of profits that investors are expecting. AMD stock is up about 375% over the past year, reflecting a fervent optimism that may end up being a bit too intense. Ryzen is a big step forward for AMD, but whether it will be enough to justify those gains remains to be seen.
10 stocks we like better than Advanced Micro DevicesWhen investing geniuses David and Tom Gardner have a stock tip, it can pay to listen. After all, the newsletter they have run for over a decade, Motley Fool Stock Advisor, has tripled the market.*
David and Tom just revealed what they believe are the 10 best stocks for investors to buy right now... and Advanced Micro Devices wasn't one of them! That's right -- they think these 10 stocks are even better buys.
Click here to learn about these picks!
*Stock Advisor returns as of February 6, 2017
Timothy Green has no position in any stocks mentioned. The Motley Fool recommends Intel. The Motley Fool has a disclosure policy.