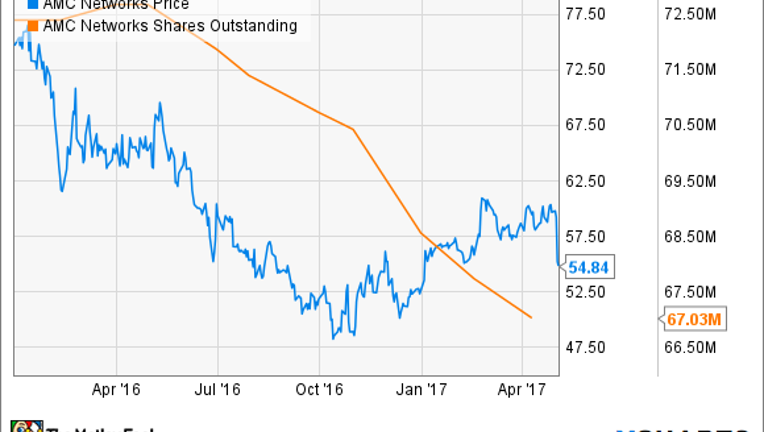 Cable TV broadcaster and content producer AMC Networks (NASDAQ: AMCX) reported first-quarter results before the opening bell on Thursday, May 4. Here's what investors need to know about this business update from the producers of The Walking Dead and Better Call Saul.
AMC Networks' first-quarter results: The raw numbers
| Metric | Q1 2017 | Q1 2016 | Year-Over-Year Change |
| --- | --- | --- | --- |
| Revenue | $720 million | $707 million | 1.9% |
| Net income attributable to shareholders | $136 million | $113 million | 20% |
| GAAP earnings per share (diluted) | $1.98 | $1.55 | 28% |
Data source: AMC Networks.
What happened with AMC Networks this quarter?
Revenue from the national networks segment increased 2.8% year over year. Distribution sales rose 10% to $368 million but ad sales decreased 6% to $248 million. The soft ad sales were pinned on the timing of original programming releases plus lower demand for ad space.
The international and other division's sales fell by 2%. The Amsterdam-based media logistics operation known as Digital Media Center, formed from the 2013 acquisition of Chellomedia, turned out to be a drag on AMC's bottom line again. Three months ago, a non-cash writedown of DMC's goodwill value resulted in very low unadjusted earnings. This time, that unit was named as the main driver of weak international revenue.
A generous share buyback program that kicked off in earnest a year ago is paying dividends. AMC retired another 1.6 million shares this quarter, investing $91 million in this program. Thanks to the buybacks, AMC's share count dropped from 73 million shares at the end of the year-ago period to 69 million in this report. That's a 6% net reduction.
AMC's management is not known for detailed guidance discussions. Here's the commentary CFO Sean Sullivan provided in a conference call with analysts:
For the full fiscal year, nothing in this quarter changed management's longer view. Both total revenue and operating income are still expected to grow in the "low- to mid-single-digits" range in 2017.
In the ongoing second quarter, domestic ad revenue is expected to recover due to more favorable year-over-year comparisons. Otherwise, management doesn't expect any dramatic departures in the next report. Sales should show seasonal improvement from the first quarter, but AMC didn't commit to any specific targets or annualized comparisons.
What management had to say
On the conference call, AMC CEO Josh Sapan pondered how his company might want to adjust the pricing of its original content broadcast licenses.
Image source: Getty Images.
Looking ahead
Uber-hit The Walking Dead pulled the curtains on its seventh season in April, passing the original content baton to lesser success stories like Fear the Walking Dead, Preacher, and Better Call Saul. That's not a knock on Saul or Preacher, of course -- it's just hard to measure up to the zombie show's massive popularity.
Planning for the longer term, Sapan explained that AMC is focusing on cost controls and smart content investments at this point. It's Content Production 101, if you will, albeit under challenging market conditions.
10 stocks we like better than AMC NetworksWhen investing geniuses David and Tom Gardner have a stock tip, it can pay to listen. After all, the newsletter they have run for over a decade, Motley Fool Stock Advisor, has tripled the market.*
David and Tom just revealed what they believe are the 10 best stocks for investors to buy right now... and AMC Networks wasn't one of them! That's right -- they think these 10 stocks are even better buys.
Click here to learn about these picks!
*Stock Advisor returns as of May 1, 2017
Anders Bylund has no position in any stocks mentioned. The Motley Fool owns shares of and recommends AMC Networks. The Motley Fool has a disclosure policy.