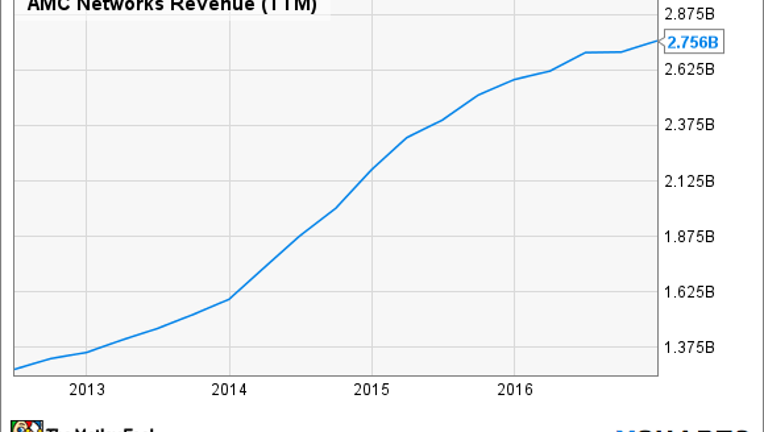 AMC Networks (NASDAQ: AMCX) has a valuable asset, packed to the rafters with zombies. The Walking Dead has been a crowd-pleasing hit for many years, and plays a large part in AMC's surging top-line revenue. Based on a series of graphic novels, the show comes with ready-made story material and an established fan base.
But running a serial TV show is very different from keeping readers interested. Season by season, and week by week, the network gets live feedback from its viewers, adjustments are made, and the show doesn't always follow the graphic novels perfectly.
The company appears to have made a huge mistake at the start ofThe Walking Dead's seventh season.
Spoiler alert: I will have to mention a few important events in order to make my point. In other words, major spoilers ahead. If you're cool with that, please read on.
Image source: AMC Networks.
What went wrong?
For those who haven't followed the most popular show on cable TV, The Walking Dead left viewers with a huge cliffhanger a year ago.
The sixth season ended in April 2016 with several leading characters lined up at the feet of newly introduced bad guy Negan, who was certain to kill someone important at the start of season 7. The cliffhanger worked, fans couldn't stop talking about it over the summer, and the big payoff came six months later.
The show returned to 17 million same-day viewers, nearly 6 million ahead of that evening's second-place cable audience featuring the final Clinton-Trump debate. It was the second-largest audience in this show's history, just 0.3 million behind the start of season 5 -- which also featured an agonizing cliffhanger situation.
So far, so good. But that's where AMC may have made the mistake of sticking too close to the comic-book source material.
In that season opener, Negan picked out former Army sergeant Abraham in a break from the comics. There, fan favorite Glenn took the only beating Negan delivered in the same meeting. Dual-medium fans breathed sighs of relief because the lovable Glenn looked set to extend his long-running romance with Maggie and maybe even raise the child they were expecting.
Graphic novel purists may have disagreed, preferring a closer match with the source material. But before they could complain about this break from the original story, Negan decided to crush Glenn in perhaps the most brutal sequence ever featured in The Walking Dead. That's saying something for a show based on zombie attacks matched by equally brutal humans.
The TV audience did not take kindly to that harsh reunion with The Walking Dead.
The next episode attracted 12.5 million viewers,a 27% week-over-week decrease. The audience didn't forgive and forget, either -- viewership stayed near 11 million for the rest of the season.
By comparison, season 6 held the attention of roughly 13 million viewers from beginning to end. Season 7 started strong but plunged quickly and never recovered. In all, it was the worst viewership performance since season 3, way back in 2012-2013.
AMC was aiming for a huge premiere audience under the aegis of a strong cliffhanger. The company delivered in spades, but followed up with all the wrong surprises in the actual episode. Abraham was already gone at this point in the comics, and was never an eyeball magnet quite in Glenn's class, anyway.
AMCX Revenue (TTM) data by YCharts.
What could AMC have done differently?
Sticking to the graphic novel's script with a single death but switching it to Abraham could have preserved Glenn's audience appeal at the cost of annoying the comic book purists. The brutality of Glenn's death, which matched the comic books frame-by-frame to a rare and unsettling degree, could have been moved to another character or skipped altogether.
Instead, the show's producers opted to maximize the premiere episode's graphic violence and simply increase the death toll. Judging by the flagging audience counts, that probably wasn't the best move.
AMC has changed up The Walking Dead from the comic book source many times before. For example,Carol died in the comics several seasons ago but Andrea is alive and kicking way beyond the showdown with Negan. It's the other way around in the TV show. (And did you know that crossbow-wielding hero Daryl was created entirely for the TV series, with no equivalent character in the comics?) Doing something similar to keep Glenn alive wouldn't have been any more insulting to fans of the graphic novels.
Moreover, the comics provide a strong storytelling base and formed a good launching platform for a new series -- but a blockbuster comic book sells something like 150,000 units per issue-- a drop in the bucket next to The Walking Dead 's market-leading TV audience. Losing that entire multimedia cohort would amount to a rounding error in the TV show's final figures.
Image source: AMC Networks.
What's next?
This is hardly the end of the road for Rick Grimes and his merry band of apocalypse survivors. This Sunday's season finale total of 11.3 million viewers may have been the lowest season-ender in five years, but it still crushed the competition. The second-most popular cable show last Sunday was a NASCAR race at 4.0 million viewers, and AMC edged out the American Country Awards and its 10.9 million viewers on one of the big four networks.
Showrunner Scott Gimple recently stated that the show could keep battling zombies at least until 2030, and maybe even longer. And he remains committed to changing things up every once in a while, even if that takes his show further away from the written material.
"We want to try do it better, do things we haven't done, take risks," Gimple told PaleyFest attendees last week. "It's scary as hell, but as long as we keep doing that, the show can go on and on."
Some of the experiments will fail, hurting audience ratings that season. The real question now is: How will AMC adjust and lift those ratings back up in season 8? The cliffhanger factor is much smaller this time, setting the stage for a much smoother premiere-to-finale audience chart if The Walking Dead plays its cards right.
10 stocks we like better than AMC NetworksWhen investing geniuses David and Tom Gardner have a stock tip, it can pay to listen. After all, the newsletter they have run for over a decade, Motley Fool Stock Advisor, has tripled the market.*
David and Tom just revealed what they believe are the 10 best stocks for investors to buy right now... and AMC Networks wasn't one of them! That's right -- they think these 10 stocks are even better buys.
Click here to learn about these picks!
*Stock Advisor returns as of April 3, 2017
Anders Bylund has no position in any stocks mentioned. The Motley Fool owns shares of and recommends AMC Networks. The Motley Fool has a disclosure policy.