Ambarella Results in 3 Charts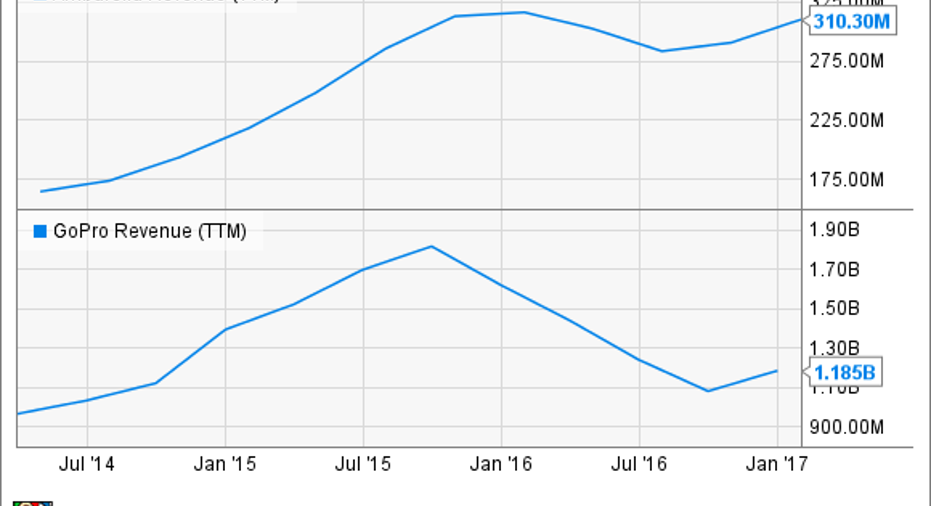 Ambarella Inc. (NASDAQ: AMBA) reported Q4 and end-of-year results and once again showed how it could add cash to its coffers. On a GAAP basis, the company earned $0.53 per share for the quarter and $1.68 per share for the full year ended Jan. 31, 2017.
The company's management has skillfully built a portfolio of patented technologies that allows it to deliver an above-industry-average GAAP gross margin of 66.1% for the year.
Image source: Ambarella.
How does Ambarella keep performing so well each quarter?
Ambarella has achieved success by building products in the form of system on chip (SoC) that is very hard for competitors to match. The SoCs are based on patents that Ambarella holds. The patents are the result of work done by its research and development team, which consists of approximately 548 engineers, 82% of the company's 669 employees.
The sales and marketing teams are responsible for taking the products developed from the technology and winning design sockets from a variety of customers. The manufacturing and testing of the final product is outsourced, which helps keep Ambarella's costs focused on what they do best the design and marketing of camera-based SoCs.
This quarter's design wins become tomorrow's revenue
To see how Ambarella is doing, a good place to start is with the design wins the company announces each quarter. These design wins are the fuel that powers Ambarella's cash-producing machine in future quarters.
Below is a table showing Q4 design wins featuring the customer, product, and application that will use an Ambarella SoC.
| Customer | Product Name | Application |
| --- | --- | --- |
| Netgear, Inc. | Arlo Baby | Baby-monitoring camera |
| Ring | Floodlight Cam | Motion-activated security camera |
| Hikvision | H.265 | IP security camera |
| YI-Technology | YI 4K + Action Camera | 60-frame-per-second action camera |
| Nissan | Car video recorder | Full high-definition recorder |
| Waylens | Horizon 1080p60 | Automotive camera system |
Data source: Ambarella.
The design wins from Q4 will ramp into production throughout the new fiscal year and become this year's revenue.
Ring Floodlight Cam. Image source: Ring.
The revenue picture
Ambarella's revenue over the past few years has been highly dependent upon one end customer:GoPro Inc. This year, GoPro's decision to use an alternative solution to replace Ambarella's SoC has created a challenge for the company. Ambarella's wide-ranging customer base and its various product applications have management forecasting a flat revenue year at the midpoint of guidance. This is remarkable, as GoPro accounted for 24% of the company's revenue last year and is only expected to account for 3% to 6% of this year's number. Ambarella's ability to recover from the loss of GoPro's revenue exemplifies its resiliency.
The chart below shows Ambarella's revenue above a similar chart for GoPro. Ambarella's revenue was negatively impacted by the downturn in GoPro's camera business. You can see this from the way the charts track each other.
AMBA Revenue (TTM) data by YCharts.
The ability for Ambarella to have flat revenue just year after the loss of a substantial portion of revenue from GoPro is a testimony to the company's ability to keep winning new designs and developing new customers.
Turning revenue into profits
The final piece of the puzzle is management's ability to keep costs under control in order to make money for shareholders. The company is predicting that long-term gross margin will fall to between 59% and 62% after the loss of GoPro. This year management is targeting the high end of the range of about 62%.
The company ended its fiscal year 2017 on Jan. 31with $405 million in cash, cash equivalents, and marketable securities. The chart below shows how the company has made money quarter after quarter and added to its cash reserves. The company has no long-term debt.
AMBA Net Income (Quarterly) data by YCharts.
The ability of Ambarella to keep accumulating cash quarter after quarter is due to management's skill in keeping costs under control and selectively winning design sockets that will provide the gross margin the company needs to be successful.
Can Ambarella keep it up?
There is no reason to believe that Ambarella can't keep the cycle of product innovation, design wins, and profitable production going.
This summer, the company is expected to begin sampling its new computer vision SoC named CV-1. Production is scheduled to ramp up the following year. These chips initially will ship in the drone and IP security market. The long-term plan is to utilize this technology in the auto market for Advanced Driver Assistance Systems.
Even if this year's revenue is relatively flat, due to the loss of GoPro, the company's balance sheet is strong enough to supply any cash needs until CV-1 hits its production ramp next year. By accumulating cash over the past several years, the company has the luxury of having a cash cushion to help it ride out any short-term difficulties. Until then, shareholders should be on the lookout for future design win updates and quarterly additions to cash on the company's balance sheet.
10 stocks we like better than AmbarellaWhen investing geniuses David and Tom Gardner have a stock tip, it can pay to listen. After all, the newsletter they have run for over a decade, Motley Fool Stock Advisor, has tripled the market.*
David and Tom just revealed what they believe are the 10 best stocks for investors to buy right now... and Ambarella wasn't one of them! That's right -- they think these 10 stocks are even better buys.
Click here to learn about these picks!
*Stock Advisor returns as of February 6, 2017
Frank DiPietro owns shares of Ambarella. The Motley Fool owns shares of and recommends Ambarella and GoPro. The Motley Fool has the following options: short January 2019 $12 calls on GoPro and long January 2019 $12 puts on GoPro. The Motley Fool recommends Netgear. The Motley Fool has a disclosure policy.