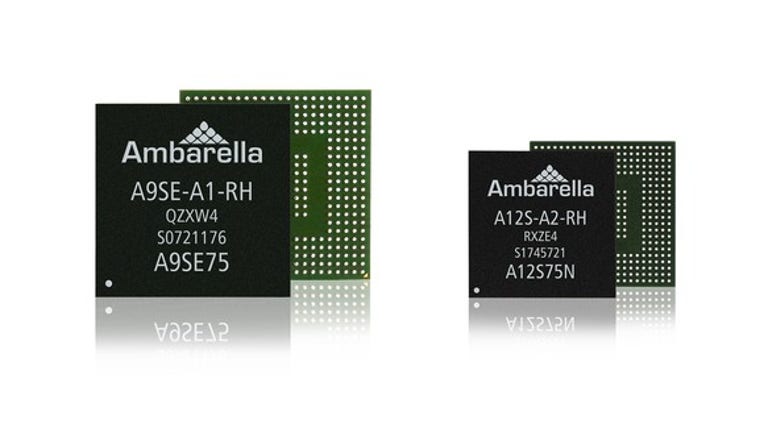 Ambarella Inc.(NASDAQ: AMBA)released stronger-than-expected fiscal fourth-quarter 2017 results earlier this week, highlighted by the video processing chip specialist's continued diversification and success in penetrating new markets. Even so, Ambarella stock declined more than 4% on Wednesday as investors processed light guidance and potential cracks in its relationship with action camera specialist GoPro (NASDAQ: GPRO).
Let's take a closer look at what Amabarella had to say, as well as what investors should expect from the company going forward.
Ambarella's flying camera SoCs. Image source: Ambarella, Inc.
Ambarella results: The raw numbers
| Metric | Fiscal Q4 2017 | Fiscal Q4 2016 | Year-Over-Year Growth |
| --- | --- | --- | --- |
| Revenue | $87.5 million | $68.0 million | 28.8% |
| GAAP net income | $18.4 million | $5.1 million | 260.7% |
| GAAP earnings per share | $0.53 | $0.15 | 253.3% |
Data source: Ambarella, Inc.
What happened with Ambarella this quarter?
Ambarella's top line was above the high end of guidance, which called for revenue ofbetween $84 million and $87 million. Adjusted (non-GAAP) gross margin also improved to 67.2% from 64.1%, well above guidance forbetween 64% and 65.5%.
Adjusted net income was $32 million, or $0.92 per share, up from $21.6 million, or $0.64 per share in the same year-ago period.
Strong year-over-year growth in wearable cameras continued, driven primarily by GoPro, which comprised 34% of total revenue (up from 18% last year).
It enjoyed solid revenue growth from both the drone and home monitoring markets, the latter of which was driven by cameras increasingly integrated into home alarm systems, baby monitors, and outdoor lights. Also drove momentum in the OEM automotive applications segment, including acceleration in demand for video recorders to automotive OEMs in the China and Japan markets.
No share repurchases were made this quarter, leaving $55 million remaining under Ambarella's current repurchase authorization good through June 30, 2017.
What management had to say
According to CEO Fermi Wang:
Looking forward
For the current first quarter of fiscal 2018, Ambarella anticipates revenue between $62.5 million and $64.5 million or year-over-year growth of between 9.3% and 12.8%. First-quarter adjusted gross margin is expected to be between 63% and 64.5%.
At the same time, Ambarella noted that range assumes high inventory levels of its solutions at GoPro and GoPro's original design manufacturers (ODMs), which will have a significant negative impact on revenue in the current quarter. Non-GoPro revenue in the quarter is expected to increase between 13.1% and 16.8%, including"strong" growth in both professional and consumer IP security, continued growth in automotive and non-sports wearable cameras, and a drop in drone revenue primarily due to the timing of new product launches relative to last year's fiscal first quarter.
For the full fiscal year of 2018, Ambarella expects revenue will be up 3% to down 3% from fiscal 2017, assuming growth from IP security, non-sports wearables, drones, automotive, and an early ramp in revenue from the newer virtual reality camera segment. However, this guidance also estimates that GoPro revenue will decline to between 3% and 6% of total fiscal year 2018 revenue, compared to roughly 24% in fiscal 2017, driven by the aforementioned inventory glut in the first half of the year.
Finally, Ambarella CFO George Laplante explained that GoPro may be succumbing to pressure from Ambarella's competitors, stating:
To be fair, this shouldn't be entirely surprising. Ambarella management has always been forthright regarding the fact its competitors have been "talking" to its primary camera solution customers. That's why I argued around this time last year that competitive pressures stand alone as Ambarella's single-biggest threat.
But considering Ambarella has made strides in diversifying its revenue streams since then, the prospect of losing at least one GoPro camera design win to a competitor simply isn't the mammoth hit to Ambarella that it would have been in past years. So while it's no surprise that Ambarella shares pulled back following its earnings announcement this week, that's also likely why the drop wasn't more pronounced. In the end, Ambarella's long-term thesis remains intact, and I think patient investors can still be handsomely rewarded holding its shares.
10 stocks we like better than AmbarellaWhen investing geniuses David and Tom Gardner have a stock tip, it can pay to listen. After all, the newsletter they have run for over a decade, Motley Fool Stock Advisor, has tripled the market.*
David and Tom just revealed what they believe are the 10 best stocks for investors to buy right now... and Ambarella wasn't one of them! That's right -- they think these 10 stocks are even better buys.
Click here to learn about these picks!
*Stock Advisor returns as of February 6, 2017
Steve Symington has no position in any stocks mentioned. The Motley Fool owns shares of and recommends Ambarella and GoPro. The Motley Fool has the following options: short January 2019 $12 calls on GoPro and long January 2019 $12 puts on GoPro. The Motley Fool has a disclosure policy.