Amazon's U.S. Online Sales Growth Last Year Was More Than Everyone Else's Combined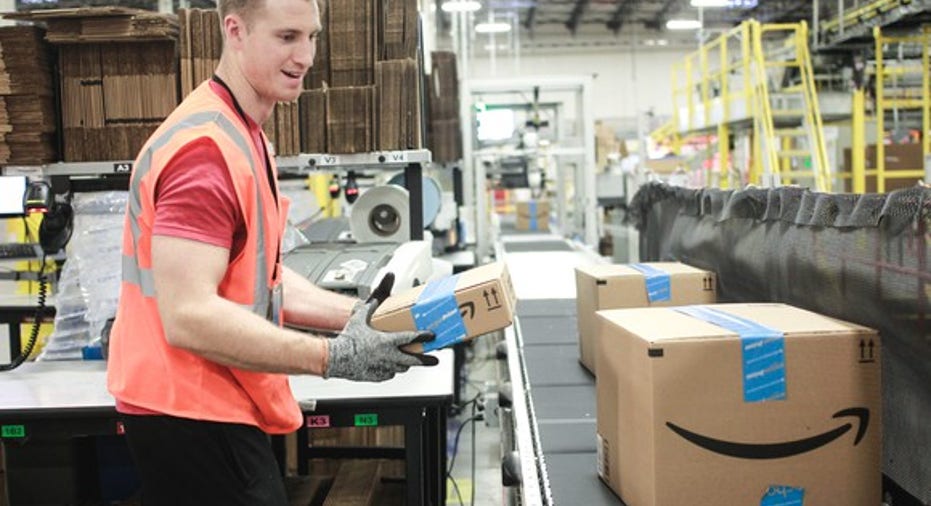 It's no secret that Amazon.com (NASDAQ: AMZN) is a dominant force in online retail. But it's still astounding just how dominant it's been in recent years. New data from Slice Intelligence shows Amazon took 53% of all the sales growth of online retailers in the US last year.
Amazon's North American sales increased 25.2% in 2016. Meanwhile, the U.S. Census Bureau has been tracking e-commerce sales growth around 15.5% through the first three quarters of the year.
Put another way, despite its size, Amazon continues to take share of the growing e-commerce market, and competitors such asWal-Mart (NYSE: WMT) are struggling to keep up.
Image source: Amazon.com.
$53 billion in retail sales up for grabs
While the U.S. Census Bureau hasn't released its estimates for the fourth quarter of 2016 yet, extrapolating out the steady growth rate of the first three quarters results in $53 billion in online sales for 2016. In addition, the majority of retail growth in the United States comes from e-commerce. In 2015, 62% of total growth came from online sales.
Slice's numbers may be a bit off, considering Amazon saw an increase of "just" $16 billion in sales across all of North America. Still, the company is undoubtedly taking market share as its sales growth outpaces the overall industry.
With e-commerce accounting for such a significant share of retail growth in the United States, Amazon's biggest competitors, like Wal-Mart, are really feeling the hurt. While Amazon's North American sales increased 25.2% last year, Wal-Mart's overall U.S. sales increased just 3.3% through the first three quarters of the year.
Wal-Mart's e-commerce sales fared a bit better, increasing 7%, 11.8%, and 20.6% in the first, second, and third quarters, respectively. The third quarter was boosted by the acquisition of Jet.com. Overall, Wal-Mart's organic e-commerce sales still appear to lag the industry.
How is Amazon dominating retail?
Even if you're skeptical of Slice's claim that Amazon took 53% of online sales growth last year, it's clear that Amazon accounts for a huge share of the retail growth in the United States. Not just e-commerce growth, but overall retail sales.
Slice had a few thoughts to share on why Amazon has been able to stay ahead of the competition:
Faster shipping. Amazon's average ship time fell about 1.5 days over the past two years, and it remains more than two days faster than the average competitor, according to Slice's data. Wal-Mart recently started offering free two-day shipping on about 2 million select items, but its selection pales in comparison with the 50 million Prime-eligible items on Amazon.
Subscriptions. Amazon's subscribe-and-save feature allows customers to automatically reorder a product, receive free shipping, and get a discount to boot. That's quite an incentive to become a repeat customer.
Ease of ordering. Products such as Amazon's Echo smart speaker or its Dash buttons make ordering products from Amazon easier than putting on pants -- the very pants I ordered from Amazon.
Undoubtedly, however, the biggest factor fueling Amazon's continued dominance of retail in the United States is its Prime program. Prime makes customers extremely loyal. It's what fuels 55% of online shoppers to check Amazon.com first (and maybe last). And it causes shoppers to spend more on Amazon than their non-Prime counterparts.
Last year, Amazon added "tens of millions" of new Prime members, according to its fourth-quarter earnings release. Unlike the previous two years, when Amazon experienced around 50% annual growth in membership, the company didn't provide a growth rate.
That may be because Prime membership is nearing saturation in markets such as the United States. Estimates show more than half of U.S. households are already Prime members. Still, with a growing majority of households subscribed to Prime (even if that growth is slowing) and going to Amazon as their first online shopping destination, it looks as if Amazon will continue to take share of the U.S. retail market for the foreseeable future.
Find out why Amazon is one of the 10 best stocks to buy now
Motley Fool co-founders Tom and David Gardner have spent more than a decade beating the market. (In fact, the newsletter they run, Motley Fool Stock Advisor, has tripled the market!*)
Tom and David just revealed their ten top stock picks for investors to buy right now. Amazon is on the list -- but there are nine others you may be overlooking.
Click here to get access to the full list!
*Stock Advisor returns as of February 6, 2017
Adam Levy owns shares of Amazon. The Motley Fool owns shares of and recommends Amazon. The Motley Fool has a disclosure policy.