Amazon's Cloud Business Continues to Overshadow E-Commerce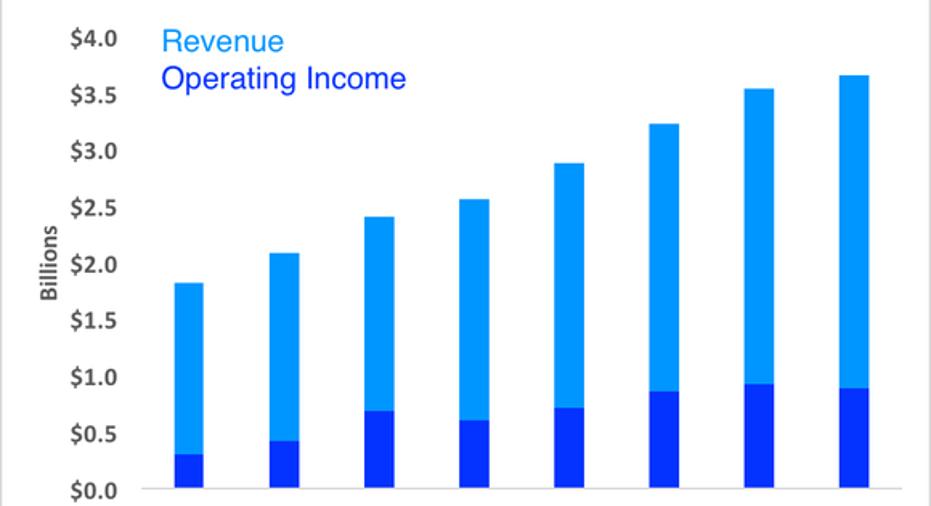 Surprising no one, Amazon.com's (NASDAQ: AMZN) Amazon Web Services (AWS) business continues to be the main headliner for earnings releases.
Revenue in the first quarter came in at $35.7 billion, which became $1.48 in earnings per share by the time it reached the bottom line. Both top- and bottom-line results handily beat the Street's expectations, which called for $35.3 billion in sales and earnings per share of $1.08. On a trailing-12-month (TTM) basis, operating cash flow also jumped 53% to $17.6 billion while free cash flow rose to $10.2 billion. Still, Amazon's financial results are increasingly all about AWS.
Image source: Amazon.
One of these is not like the others
AWS generated $3.6 billion in sales during the quarter, bringing in $890 million in operating income. That's more than Amazon's consolidated operating income, underscoring how important the cloud infrastructure business remains to the company's bottom line. This isn't new -- it's really just more of the same. But for reference, here's each segment's operating profitability.
| Segment | Q1 2016 Operating Margin | Q1 2017 Operating Margin |
| --- | --- | --- |
| North America (e-commerce) | 3.5% | 2.8% |
| International (e-commerce) | (1.2%) | (4.3%) |
| AWS | 23.5% | 24.3% |
Data source: Amazon.
If anything, AWS will only become even more important, considering the fact that AWS is now starting to enjoy operating leverage, which you can see by the modest operating margin expansion. However modest that growth is, at least it's heading the right direction; the core e-commerce businesses both saw operating margins decline.
Data source: SEC filings. Chart by author.
AWS is also growing the fastest, and considering the fact that those sales are far more profitable, it's a good time to be an Amazon investor. Sure, revenue growth is decelerating, but that's a natural function of any growing business coming off a small base. It's not like shareholders are in a position to complain about 43% revenue growth for AWS, particularly as Amazon shares are now at all-time highs.
What comes next
Meanwhile, cloud infrastructure is going to get a whole lot more competitive, as both Alphabet (NASDAQ: GOOG) (NASDAQ: GOOGL) and Microsoft have both placed high priority on their cloud businesses. It's not insignificant that Google Cloud beat out AWS for the massive Snap deal, especially since Snap's embrace of third-party infrastructure is unique in its scale.
AWS will serve as Snap's backup, but you can't help but wonder what Amazon's competitive response will be given its characteristic aggression. We do know that Snap has committed to spending $50 million at AWS this year, although that amount pales in comparison to the $400 million that Snap has committed to Google Cloud.
For the second quarter, Amazon expects sales in the range of $35.25 billion to $37.75 billion, which includes a negative impact of $720 million related to foreign exchange headwinds. Operating income should be $425 million to $1.1 billion, which at the midpoint would be down 42% from a year ago as Amazon continues to invest heavily in future growth. Stop me if you've heard that one before.
10 stocks we like better than AmazonWhen investing geniuses David and Tom Gardner have a stock tip, it can pay to listen. After all, the newsletter they have run for over a decade, Motley Fool Stock Advisor, has tripled the market.*
David and Tom just revealed what they believe are the 10 best stocks for investors to buy right now... and Amazon wasn't one of them! That's right -- they think these 10 stocks are even better buys.
Click here to learn about these picks!
*Stock Advisor returns as of April 3, 2017
Suzanne Frey, an executive at Alphabet, is a member of The Motley Fool's board of directors. Teresa Kersten is an employee of LinkedIn and is a member of The Motley Fool's board of directors. LinkedIn is owned by Microsoft. Evan Niu, CFA has no position in any stocks mentioned. The Motley Fool owns shares of and recommends Alphabet (A shares), Alphabet (C shares), and Amazon. The Motley Fool has a disclosure policy.