Amazon's Alexa Just Took Another Step Toward World Domination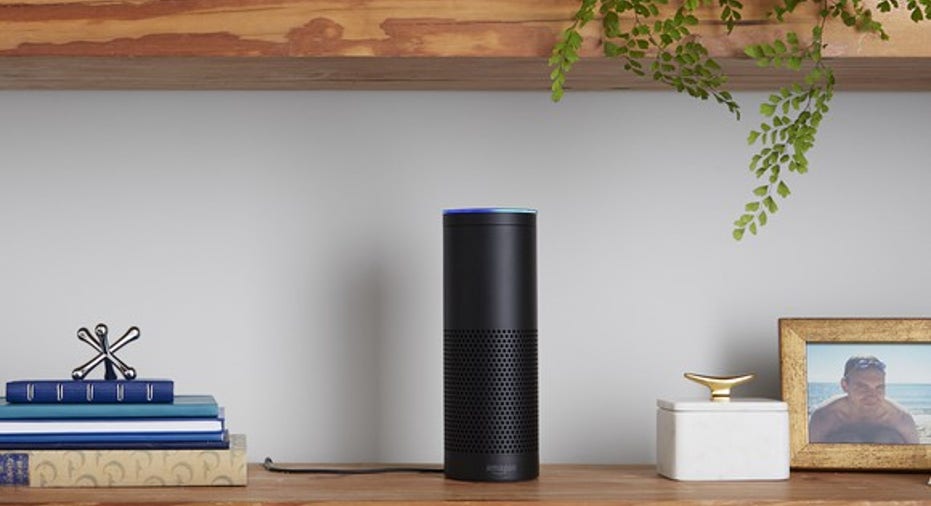 As the science of artificial intelligence (AI) becomes more advanced and deeply ingrained in our daily lives, society gets closer to some of the iconic examples of AI from science fiction. Star Trekfans will remember the captain using a voice command to engage the ship's mainframe on the Starship Enterprise simply by saying "Computer."
Amazon.com, Inc. (NASDAQ: AMZN) recently added a new wake word to its Alexa-enabled Echo and Echo Dot smart speaker system, which amused and delighted fans of the pop-culture phenomenon. Now all those Star Trek fans will be able to engage with the digital assistant by saying "Computer." It's a fitting tribute, as the Star Trek computer was the inspiration for the development of Amazon's voice-controlled digital assistant. While this Easter egg may have thrilled sci fi fans, developers were elated to find that Amazon is once again opening up Echo's technology to third-party developers.
Echo far-field voice recognition technology will be available to outside developers. Image source: Amazon.com, Inc.
Far-field voice recognition
One of the innovations that has made the Echo so successful is the far-field voice-recognition capabilities of the smart speaker. The seven-microphone circular array combines a number of technologies, including beamforming, noise reduction, echo cancellation, and voice processing, which allows the Echo to hear commands across a crowded room.
As part of Amazon's vision for Alexa to be everywhere, the company is providing exclusive, invitation-only access to the technology behind its microphone array and voice processing and will allow third-party device makers to incorporate Echo's know-how into their own products. Through the Alexa Voice Service Program, Amazon is offering a hardware reference package that bundles the technology for use by partners and not charging for the privilege.
Amazon's advantage
If you think altruism is behind this gesture, think again. Consumers are able to access Amazon's music streaming service and make purchases on the e-commerce website using Alexa voice commands. Amazon also benefits by having the technology accessed by as many consumers as possible, as its AI-based voice recognition technology improves the more it is used.
This isn't the first time Amazon has permitted the embedding of Alexa technology into other manufacturers' products. The company worked with a number of hardware developers beginning in June 2015 and has more than 40 partners, with products from speakers to smartwatches, and from cars to refrigerators.
Alexa in the cloud
Amazon is also pursuing other avenues to make its voice service ubiquitous. The company just announced that it will make this technology available to its cloud-computing customers. Amazon Web Services (AWS) the company's cloud-computing service, will provide access to Amazon Lex, Alexa's AWS alter-ego, to create their own chat bots. These artificially intelligent software programs provide verbal or text interactions with consumers in a way that is designed to emulate a human being and are seen quite often in a messaging context.
Google Home directly competes with Echo. Image source: Google.
No phone to call her own
Amazon has been at a disadvantage in the virtual-assistant market, having missed out on the opportunity in mobile, as Alexa doesn't have a phone to call her own, like Apple, Inc.'s (NASDAQ: AAPL) Siri and Alphabet Inc.'s (NASDAQ: GOOGL) (NASDAQ: GOOG) Google Assistant. This is the latest in a number of moves designed to establish a beachhead in the area of voice control. The company hopes to achieve an insurmountable installed base of devices to fend off competition from these other virtual assistants.
Google's release of the Home smart speaker is the first direct competitor to the Echo, and Google has the advantage of its massive search capabilities and a foundation of millions of Android-based smartphones. While Apple hasn't announced its intention to produce a smart speaker, there have been unconfirmed reports that one is in development. Apple is known for coming late to market with a superior product and stealing market share, so it could take the same approach here.
Meanwhile, the company has been hard at work integrating Siri across the breadth of Apple's devices. Not only can Siri be accessed on Apple's flagship iPhones, but it has also been enabled on the iMac, MacBook Pro, and MacBook Air. In another moved designed to make Siri omnipresent, users can access her by giving two taps on one of Apple's branded AirPods.
Amazon has the edge -- for now
Amazon's advantage rests not only in being first to market with its device, but also in the multitude of Alexa commands or skills, numbering over 10,000. RBC Capital Market's Mark Mahaney and Jim Shaughnessy estimate that 17% of consumers have ordered products from Amazon's website using their Alexa-based device, which could result in an additional $10 billion in sales annually by 2020. Add to that an ever-increasing installed base of Alexa-enabled devices, and Amazon is one step closer to world domination.
10 stocks we like better than AmazonWhen investing geniuses David and Tom Gardner have a stock tip, it can pay to listen. After all, the newsletter they have run for over a decade, Motley Fool Stock Advisor, has tripled the market.*
David and Tom just revealed what they believe are the 10 best stocks for investors to buy right now... and Amazon wasn't one of them! That's right -- they think these 10 stocks are even better buys.
Click here to learn about these picks!
*Stock Advisor returns as of April 3, 2017
Suzanne Frey, an executive at Alphabet, is a member of The Motley Fool's board of directors. Danny Vena owns shares of Alphabet (A shares), Amazon, and Apple. Danny Vena has the following options: long January 2018 $640 calls on Alphabet (C shares), short January 2018 $650 calls on Alphabet (C shares), long January 2018 $85 calls on Apple, and short January 2018 $90 calls on Apple. The Motley Fool owns shares of and recommends Alphabet (A shares), Alphabet (C shares), Amazon, and Apple. The Motley Fool has a disclosure policy.