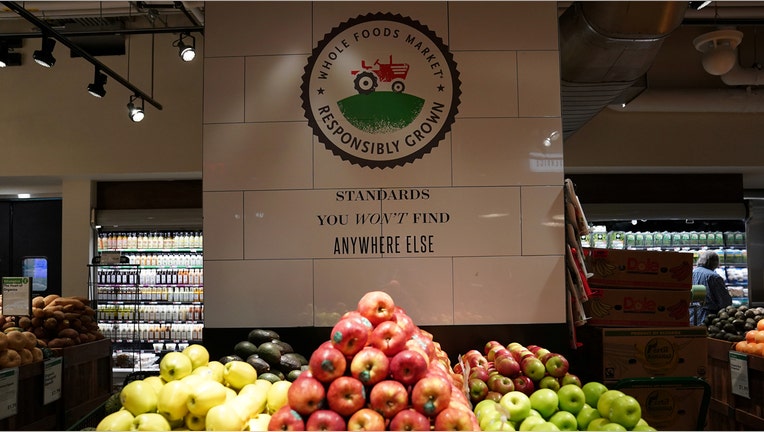 Amazon's (NASDAQ:AMZN) blockbuster acquisition of Whole Foods Market (NYSE:WFM) sent shares of the two retail names sharply higher Friday, but the broader market was nearly at a standstill in midday action as food-industry mainstays questioned what the deal means for their own futures.
Whole Foods shares were on track for their best day since 2009 as they surged more than 29% to $43.45, adding to gains of roughly 7% so far this year. Investors cheered the end of months-long speculation about what was next for the struggling chain that had an activist at its heels and a turnaround road ahead amid growing competition.
The proposed tie up also lit a fire under Amazon shares, which popped 2.5% on the session – an unusual move for the share price of an acquirer on the day of its M&A announcement.
"After struggling to do grocery on its own, Amazon finally capitulated," said Chuck Grom, analyst at Gordon Haskett. "The ramifications for all of retail are seismic – not just for retailers that sell grocery, but for everyone."
Indeed, Wall Street sent the broad S&P 500 consumer staples sector down 1.16% during the session – the worst performer of all 11 industry groups – as the food and staples retailing group fell a sharper 4.68%, on track for its biggest decline since 2011. Whole Foods shares were the only positive mover in the group.
Meanwhile, data from Dow Jones showed investors wiped more than $55 billion from the market values of Walmart (NYSE:WMT) – the biggest decliner on the Dow Jones Industrial Average Friday, Target (NYSE:TGT), Costco (NASDAQ:COST), and Kroger (NYSE:KR) as food distribution companies like Sysco (NYSE:SYY) also came under pressure.
Despite downward pressure from Walmart, its biggest decliner on the session, the Dow closed at a new record high, gaining 24 points, or 0.11% to 21384. The broader S&P 500 rose a fraction of a point, or 0.03% to 2433 while the Nasdaq Composite fell 13points, or 0.22% to 6151.
More on Amazon's Whole Foods buy
Competition in the grocery-store space has been heating up in recent years as traditional players have shifted to meet growing demand for the kind of organic, fresh food products Whole Foods offered when it burst onto the scene. Now with Amazon at its back, Whole Foods has the opportunity to hit back at its rivals as it steals ability to more quickly integrate and develop e-commerce capabilities many other chains currently lack. That's should be the biggest worry for the broader food-retail space, said Chieh Huang, CEO of four-year old online wholesale retailer Boxed.
"[Traditional players] don't have the right muscles to run this race," he said. "There will absolutely be inorganic expansion and probably a lot more consolidation in the industry…I can't imagine shareholders would reward the big guys for burying their heads further in the sand [when it comes to tech innovation]."
Huang predicts an even bigger shift to e-commerce efforts in the industry aimed at making the lives of consumers easier with the ability to order online, pick up in store, or order for same-day delivery.
"This is an industry that didn't change for 40 years and now it seems like every month there's a new tectonic shift. Folks that are nimble and can move fast will take the crumbs that are shaken from the tree," he said.