Amazon Wants a Piece of Every E-Commerce Transaction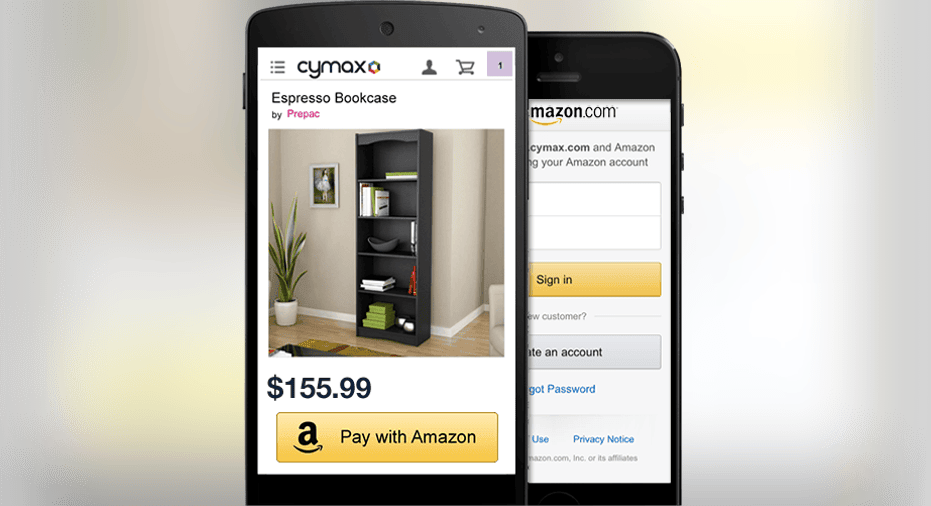 Watch out,PayPal :Amazon wants in on the online payments business.
Image source: Amazon.
The retail giant is expanding its Amazon Payments platform with a new program -- the Amazon Payments Global Partner Program. Amazon will partner with e-commerce platform providers like Shopify to provide account management, planning support, technical resources, training, and more. With most small e-commerce businesses opting for solutions like Shopify to build their stores, the new program could have a major impact on Amazon's payments business and its competitors like PayPal.
Replacing Amazon WebstoresAbout a year ago, Amazon began to shut down its own e-commerce platform for small businesses, Amazon Webstores. That service will close in July. In September, it encouraged users to switch to Shopify, and made a tool to seamlessly migrate the users to the new platform.
Webstores was actually designed to drive more third-party selling on Amazon's marketplace. The pricing was such that retailers got a discount if they sold through Amazon, and they received an even steeper discount if they used the Fulfilled by Amazon program. Users that elected to maintain their own inventory and sell directly paid a higher transaction fee and higher monthly fees.
But even with the shuttering of Webstores, Amazon's third-party sales seem to be doing just fine. RW Baird estimates that 83% of items sold on Amazon are actually coming from third-party sellers. Amazon Marketplace now contributes more than 40% of Amazon.com's total revenue.
Meanwhile, Amazon Payments continues to grow just fine without strong adoption of Webstores. Payment volume grew 150% last year, and the number of merchants using the platform tripled.
Taking a bigger stake in paymentsAmazon Payments has been around since 2013, but PayPal has commanded the lion's share of the market in small business checkout options. While several companies have developed solutions to allow small merchants to accept credit cards online, many customers are still more comfortable using a trusted name, and PayPal is that name more often than not.
Amazon Payments works exactly like PayPal, it has similar brand recognition, comparable fees, and many shoppers experience better customer service with Amazon compared to PayPal. Partnering with companies like Shopify or BigCommerce could get Amazon Payments in front of more retailers, driving better adoption.
While Payments might not be a huge revenue driver for Amazon, it certainly carries a higher margin than its retail operations. Last year, PayPal generated $9.2 billion in revenue -- just 8.6% of Amazon's total revenue. Its operating margin was 16%, though, producing the equivalent of 55% of Amazon's retail operating income.
Considering Amazon already operates payment processing for its retail business, it could generate even higher margins. Therefore, taking even 10% of PayPal's share of the market could provide a real boost to Amazon's operating income.
One thing that could hold back Amazon PaymentsThe one thing that could hold back retailers from using Amazon Payments is that they would have to share data with one of their biggest competitors. Since PayPal isn't affiliated with an online retailer (anymore), retailers don't have to worry about PayPal monitoring their sales and entering the market or ruthlessly dropping prices on similar products to compete.
But considering the strong adoption growth over the past year, retailers have decided that it's worth the risk to increase sales conversions, or that Amazon will find that kind of data anyway so it doesn't matter. Amazon has shown a willingness to play nicely with frenemies both large and small, but it's also been known to change its mood drastically.
With the new Global Partnership Program, Amazon is poised to capitalize on the momentum behind Amazon Payments.
The article Amazon Wants a Piece of Every E-Commerce Transaction originally appeared on Fool.com.
Adam Levy owns shares of Amazon.com. The Motley Fool owns shares of and recommends Amazon.com and PayPal Holdings. The Motley Fool recommends Shopify. Try any of our Foolish newsletter services free for 30 days. We Fools may not all hold the same opinions, but we all believe that considering a diverse range of insights makes us better investors. The Motley Fool has a disclosure policy.
Copyright 1995 - 2016 The Motley Fool, LLC. All rights reserved. The Motley Fool has a disclosure policy.