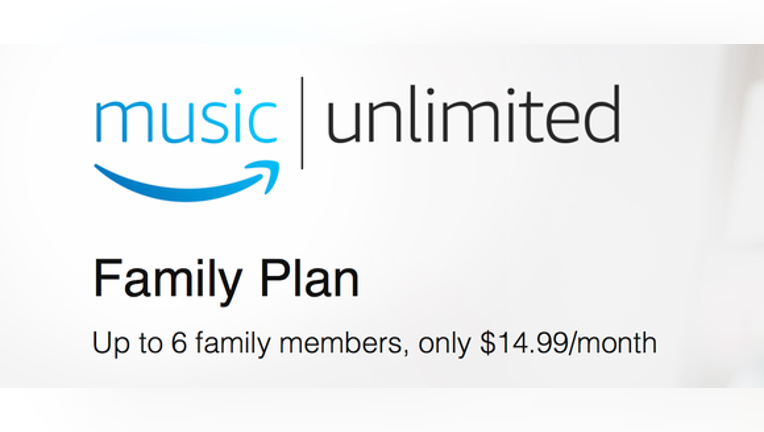 Image source: Amazon.
What happened?
Following Amazon.com's (NASDAQ: AMZN) launch of Music Unlimited last month, a new on-demand streaming service that is much broader than the previous Prime Music offering, the company has made good on its promise to launch a family plan. The price for a family plan is $15 per month and will include access for up to six family members, each of whom need a separate Amazon account in order to create personalized recommendations.
The individual plan includes a generous $2 per month discount for Prime members, which brings the monthly cost to $8. The family plan pricing for Prime members is less generous, and the only discount is $149 per year, which translates into two months free.
Does it matter?
Unlike Prime Music, which is a benefit that's included at no additional cost but more limited in scope, Music Unlimited is mostly a separate service that only receives discounts from having a Prime membership. Amazon is also forgoing its typical strategy of aggressively undercutting on price, as family plans from competing services Apple Music and Spotify are also $15 per month (those services do not offer discounts for annual subscriptions, though).
Amazon Music Unlimited doesn't appear to be particularly differentiated, and it's quite late to the market. It's hard to imagine the service garnering a large number of subscribers or moving the needle in any meaningful way for the e-commerce giant. In addition, the Music Unlimited discounts that a Prime membership gets are modest, so are unlikely to drive Prime membership adoption, either.
Forget the 2016 Election: 10 stocks we like better than Amazon.com Donald Trump was just elected president, and volatility is up. But here's why you should ignore the election:
Investing geniuses Tom and David Gardner have spent a long time beating the market no matter who's in the White House. In fact, the newsletter they have run for over a decade, Motley Fool Stock Advisor, has tripled the market.*
David and Tom just revealed what they believe are the ten best stocks for investors to buy right now... and Amazon.com wasn't one of them! That's right -- they think these 10 stocks are even better buys.
Click here to learn about these picks!
*Stock Advisor returns as of November 7, 2016
Evan Niu, CFA owns shares of Apple. The Motley Fool owns shares of and recommends Amazon.com and Apple. The Motley Fool has the following options: long January 2018 $90 calls on Apple and short January 2018 $95 calls on Apple. Try any of our Foolish newsletter services free for 30 days. We Fools may not all hold the same opinions, but we all believe that considering a diverse range of insights makes us better investors. The Motley Fool has a disclosure policy.