Amazon.com Inc. May Invest In This Company To Kill Google's Delivery Dreams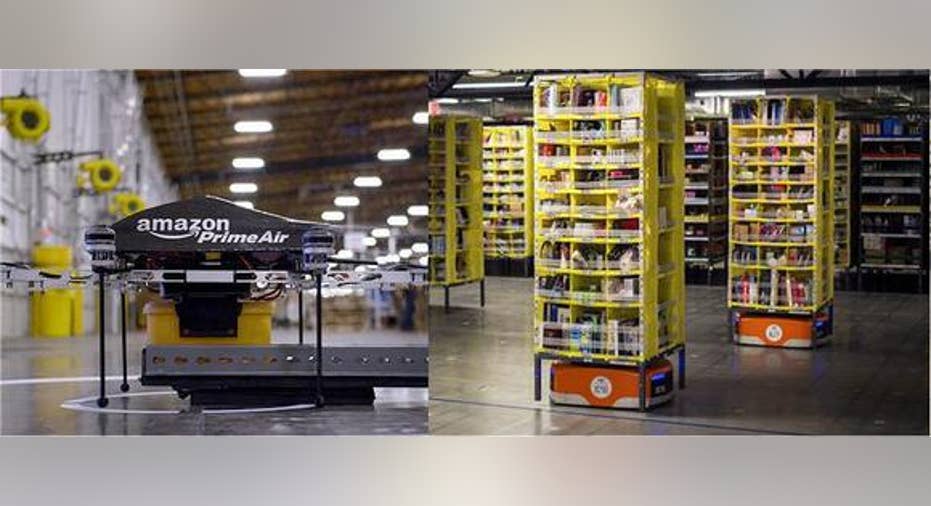 Amazon could soon buy a minority stake in HERE, the digital mapping business which a group of German luxury automakers acquired from Nokia last year. HERE powers more than 80% of all embedded auto maps worldwide, making it a crucial piece of technology for any company interested in self-driving vehicles.
The German automakers reportedly bought HERE because they wanted to develop autonomous cars without feeding passenger data to Alphabet's Google, which is developing its own mapping system for driverless vehicles. But how can this technology help Amazon, which generates most of its revenue from e-commerce and cloud services?
HERE Maps. Source: iTunes.
It's an automated delivery playBy investing in HERE, Amazon can substantially strengthen its one-hour, same-day, and drone delivery ambitions. Amazon's one-hour and same-day delivery services, which are available in select markets, require its contracted couriers to deliver the goods from its fulfillment centers or retail partners within the specified time limit.
Google's competing same-day delivery play, Google Express, directly connects brick-and-mortar retailers to customers via couriers. Google hasn't matched Amazon's promise of 1-hour deliveries yet, but it already offers two-hour deliveries incertain areas of San Francisco and West Los Angeles. This rapid escalation in "near instant" deliveries indicates that whichever company has a superior mapping service that can locate the lowest-traffic route will likely consistently offer faster deliveries.
Amazon CEO Jeff Bezos has repeatedly suggested that his company's logistic expenses will decline once the delivery process is automated with warehouse robots, delivery drones, and autonomous vehicles. Since HERE Maps are already the industry standard in autonomous cars, it would serve as an excellent foundation for those automated delivery plans. It would also eliminate its need to rely on Google Maps, which might lead to awkward ecosystem conflicts between the two rivals.
How this move helps AmazonFully automated delivery services won't likely become a reality until the end of this decade, based on most industry forecasts for driverless cars and drones. Moreover, Amazon's drones are still grounded by FAA regulations, and it has only taken baby steps into the connected car market through a partnership with Ford.
Amazon has a record of introducing devices and services which initially seem like gimmicks but eventually become major pillars of its ecosystem. Critics claimed thatboth the original Kindle and Kindle Fire would fail, but the game-changing tablets converted plenty of readers to digital books. Likewise, many critics have mocked its Dash buttons, DRS (Dash replenishment service) appliances, andEcho family of smart speakers. Yet Amazon is pushing all these devices into homes to expand its prisoner-taking Prime ecosystem and reduce the "friction" in ordering products.
Amazon's drones (L) and warehouse robots (R). Source: Amazon.
This means that in the near future, customers will simply push a button or talk to Echo to place an order, which will then be fulfilled by robots, drones, and driverless vehicles in the shortest time possible. Establishing that ecosystem would substantially widen Amazon's moat against any potential competitors, while reducing labor costs.
Why Google should watch outGoogle owns the largest search engine, mobile operating system, and mobile map app in the world, but it has repeatedly failed to match Amazon's might in product searches. Back in 2014, Google chairman Eric Schmidt admitted that "more than twice" the number of shoppers started their searches on Amazon instead of Google. This means that Google gets fewer search queries, which means lower ad revenues and reduced targeted ad efficacy.
Google fumbled its first effort, Google Shopping, by trying to charge merchants for product listings. Learning from that mistake, Google offered to connect retailers to customers with Google Express in 2013. Express costs customers $95 per year. That covers shipping fees on select items, but fresh grocery deliveries still require an additional fee of at least $3. By comparison, Amazon's Prime Fresh delivers groceries for a $299 per year membership, with no additional delivery fees on same-day orders over $50. While the service costs much more than Express, it includes all the benefits of Amazon's $99 per year Prime service, which means that the service only costs $200.
Google priced Express competitively against Prime Fresh, but it still shuttered two of its Bay Area delivery hubslast summer, indicating that the service wasn't gaining much ground against Amazon. To make matters worse, Google Express chief Tom Fallows resigned in late 2014, while commerce chief Sameer Samat did the same half a year later. If Amazon aggressively pushes forward with its vision of robots, drones, and driverless cars delivering its products, Google could be forced to pull back its delivery efforts.
Don't count Google out yetGoogle might be struggling to cross the moat created by Amazon's Prime ecosystem, but the search giant still could leverage its investments in driverless cars anddrones to autonomously deliver products with its mapping software. Amazon seems to know that's what Google will likely do, so it might further expand that moat by buying a stake in HERE. Therefore, it's too early to call a winner in this battle, but it's one that investors in both companies should closely watch.
The article Amazon.com Inc. May Invest In This Company To Kill Google's Delivery Dreams originally appeared on Fool.com.
Suzanne Frey, an executive at Alphabet, is a member of The Motley Fool's board of directors. Leo Sun owns shares of Amazon.com. The Motley Fool owns shares of and recommends Alphabet (A shares), Alphabet (C shares), Amazon.com, and Ford. Try any of our Foolish newsletter services free for 30 days. We Fools may not all hold the same opinions, but we all believe that considering a diverse range of insights makes us better investors. The Motley Fool has a disclosure policy.
Copyright 1995 - 2016 The Motley Fool, LLC. All rights reserved. The Motley Fool has a disclosure policy.