Amazon.com Inc Just Expanded an Underappreciated Prime Perk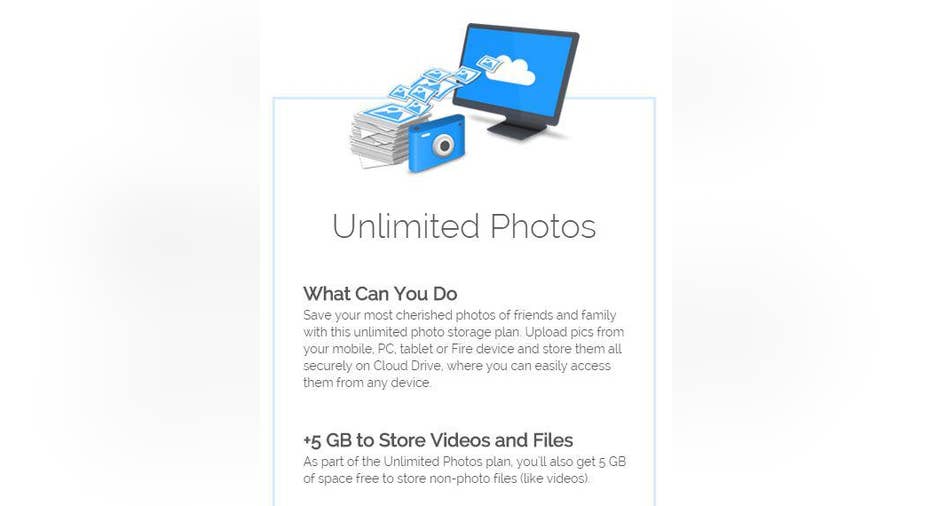 Source: Amazon
Amazon Prime includes a wide variety of perks. Free two-day shipping and access to Amazon's streaming video service are perhaps the most notable, but Prime also offers free music, the ability to borrow select Kindle books, and Prime Pantry.It also includes unlimited photo storage -- Prime subscribers can upload as many photos to Amazon's cloud as they desire.
And now, Prime subscribers can share that perk with one member of their household. Previously, Prime Photos was limited to only one Amazon account per Prime subscriber.
Amazon's expansion of free photo storage may seem like a modest move, but the competition in the space continues to heat up. By making its photo service more attractive to Prime subscribers, Amazon stands to better compete with Alphabet and Apple .
Prime Photos takes on iCloud and Google PhotosUsing the Amazon Photo app, Prime subscribers canautomaticallysync their photos from their smartphone or tablet to Amazon's cloud. Alternatively, they can upload photos from their PC or Mac, or through their browser. As long as their Prime subscription remains active, they can store an unlimited number of photos. They can also use Amazon Photos to store recorded videos, but not an unlimited amount -- Amazon caps Prime subscribers at 5GB (extra storage is available, but for an additional $60 per year). Interestingly, unlike most of its Prime perks, Amazon sells access to Prime Photos separately for about $12 per year. Prime Photos integrates well with Amazon's Fire hardware, including its Fire TV and Fire TV stick, as well as its Fire tablets. It also stores photos at their full native resolution.
Alphabet's Google Photos, in contrast, is entirely free -- no subscription is required. It offers both unlimited video storage and unlimited photo storage. But it compresses high-resolution videos to 1080p and images to 16MP, and there's no easy way to access the content from Amazon's Fire hardware (though it's freely accessible on standard Android and iOS devices). It does, however, make use of Alphabet's search expertise. Google Photos users can search for concepts like "cat" or "screenshot" and it will return relevant images.
Like Amazon's Prime Photos, Apple's iCloud won't compress users' photos or videos, but it is the most expensive and least accessible solution. Apple doesn't offer unlimited photo storage (it maxes out at 1TB) and its prices vary from about $12 to $120 per year. Still, it integrates seamlessly with Apple's Macs and iDevices, and is the only cloud solution that currently supports Live Photos.
Google Photos breaks the 100 million barrierAmazon doesn't break out how many Primemembersit has, but analysts generally peg the figure at around 40 million to 80 million. Even then, it's impossible to say how many Prime members actually take advantage of Prime Photos -- some may prefer to use other cloud services instead(or none at all), subscribing to Prime primarily for its other perks like two-day shipping.
The same is true for Apple's iCloud. Apple gives every iDevice owner 5GB of free iCloud storage space, but that's hardly enough for a typical photo library. Apple includes iCloud subscriptions in its Services segment, along with App Store revenue, Apple Pay, and AppleCare. Services has grown rapidly in recent quarters, but Apple's management has attributed most of that growth to surging app sales.
In October, Alphabet announced that Google Photos had broken the 100 million user mark less than six months after its debut. Given that it's free, that's not particularly surprising, but it is notable.
Keeping customers coming backFor Alphabet, Google Photos serves as a way to collect even more information about customers. Google Photos users are turning over a wealth of data (where they travel, who they associate with, what they like to do), which the company can use to sell even better targeted ads.
Amazon's Prime Photos doesn't present the same opportunity, but it does serve to make a Prime subscription just slightly more alluring. Prime subscribers are known to spend far more on Amazon than non-Prime subscribers (earlier this year, a survey from Consumer Intelligence Research Partners pegged the ratio at nearly three-to-one). Giving Prime subscribers the ability to share their Photo perk is just another way to draw them into Amazon's ecosystem.
The article Amazon.com Inc Just Expanded an Underappreciated Prime Perk originally appeared on Fool.com.
Sam Mattera has no position in any stocks mentioned. The Motley Fool owns shares of and recommends Alphabet (A shares), Alphabet (C shares), Amazon.com, and Apple. Try any of our Foolish newsletter services free for 30 days. We Fools may not all hold the same opinions, but we all believe that considering a diverse range of insights makes us better investors. The Motley Fool has a disclosure policy.
Copyright 1995 - 2015 The Motley Fool, LLC. All rights reserved. The Motley Fool has a disclosure policy.