Amazon.com Inc. Jumps and Gap Inc. Dives as Stocks Soar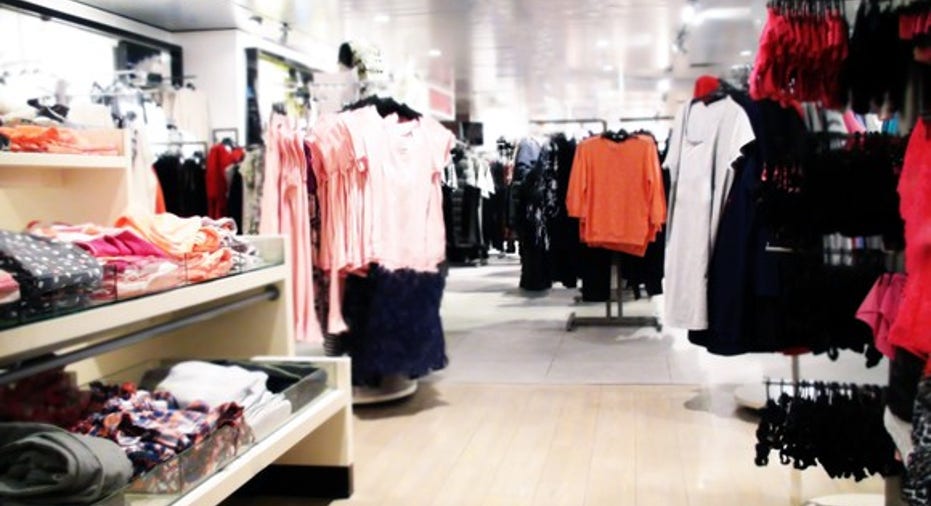 Stocks enjoyed a broad rally on Tuesday, with major indexes jumping over 1 percentage point. The Dow Jones Industrial Average added 222 points by the closing bell, or 1.3%, and the S&P 500 rose 26 points, or 1.2%. Both indexes closed at session highs:
Meanwhile, Amazon.com and Gap were among the most notable movers today -- in different directions -- after the retailers announced important news for investors.
Amazon strengthens its ecosystem
Amazon's stock rose 3% and closed above the $700 mark for the first time after the e-commerce titan launched a new video service aimed squarely at Alphabet's profitable YouTube business. Called Amazon Video Direct, the offering will allow content owners to show off their videos to Prime subscribers and get paid through advertising and subscription revenue, or through straightforward video sales. "We're excited to make it even easier for content creators to find an audience, and for that audience to find great content," Amazon executive Jim Freeman said in a press release.
Image source: Amazon.
Shareholders were already feeling flush from the company's estimate-smashing first-quarter results that generated $1.1 billion of net income (compared to management's $400 million forecast). Amazon's Web Services division hit a key milestone in Q1 as well by growing into a $10 billion annual business -- from a standing start nine years ago.
That success illustrates CEO Jeff Bezos' long-term focus, which could help the Amazon Video Direct service eventually grow into a major profit center of its own. At the very least, AVD is set to widen the tech giant's sticky subscription ecosystem that now includes free shipping, music and video streaming, and cloud storage.
Gap expands its turnaround plan
Gap dropped 12% and hit its smallest market capitalization since 2009 after the retailer announced another month of weak traffic trends. Comparable-store sales fell 7% in April (after declining by the same margin in March) as the Gap brand fell by 4% and the Banana Republic and Old Navy franchises suffered 7% and 10% drops, respectively.
Meanwhile,the resulting inventory overhang will crimp profits in a big way; Gap projected just $0.31 per share of Q2 earnings, below consensus estimates of $0.43 per share and far from last year's $0.56-per-share result. "Gross margins were pressured as the company entered April with more inventory than planned as a result of weaker than expected traffic," the company explained in a press release.
Executives are considering a range of responses to the stubborn traffic decline, including slicing costs and retreating from several unprofitable markets outside of the U.S. "Our industry is evolving and we must transform at a faster pace, while focusing our energy on what matters most to our customers," CEO Art Peck said. "We are committed to better positioning the business to recapture market share in North America and to capitalizing on strategic international regions where there is a strong runway for growth." With the scope of its turnaround effort widening, investors understandably decided to take another step back from Gap's stock on Tuesday.
The article Amazon.com Inc. Jumps and Gap Inc. Dives as Stocks Soar originally appeared on Fool.com.
Suzanne Frey, an executive at Alphabet, is a member of The Motley Fool's board of directors. Demitrios Kalogeropoulos has no position in any stocks mentioned. The Motley Fool owns shares of and recommends Alphabet (A shares), Alphabet (C shares), and Amazon.com. Try any of our Foolish newsletter services free for 30 days. We Fools may not all hold the same opinions, but we all believe that considering a diverse range of insights makes us better investors. The Motley Fool has a disclosure policy.
Copyright 1995 - 2016 The Motley Fool, LLC. All rights reserved. The Motley Fool has a disclosure policy.