Amazon.com Inc. and Mattress Firm Holding Corp Jump as Stocks Rise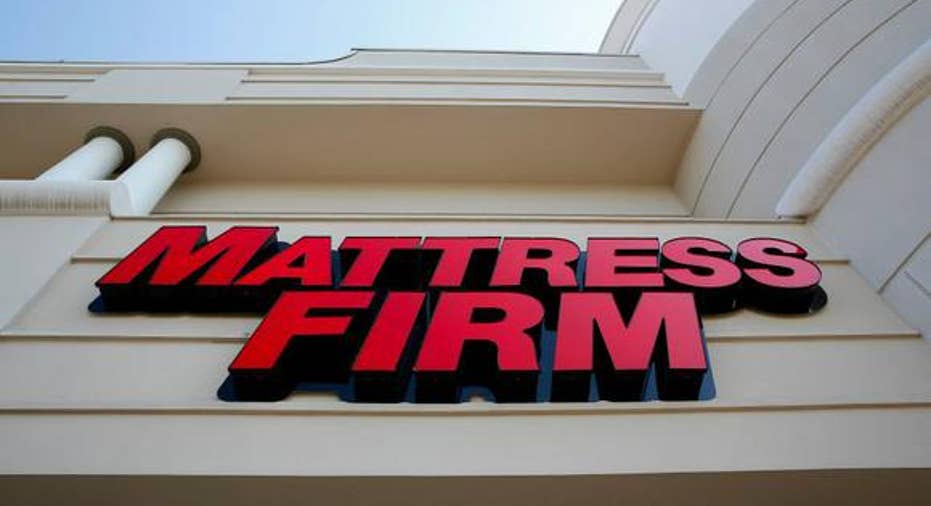 Stocks have kicked December off with a bang. The S&P 500 and the Dow Jones Industrial Average rallied through the final few hours of trading and ended the session solidly higher. The Dow gained 0.94% and the S&P rose 1.1%. Both indexes are now slightly positive for the year:
Meanwhile, individual stocks on the move today included e-commerce titanAmazon.com and specialty mattress retailerMattress Firm .
Amazon's 50-million-order dayAmazon's stock ticked up 2% to push deeper into record territory. With a 114% year-to-date gain, the e-commerce giant is the second-best-performing stock in the S&P 500 (behind only Netflix). Amazon shares are up 30% in just the last three months.
Data released today from market research firm ChannelAdvisor showed that Amazon's Cyber Monday sales spiked higher by 21%. The retailer also logged a near-30% pop on Thanksgiving Day, according to the Web traffic analysis. Altogether, Amazon's sales volume jumped 24% over retailing's biggest week, ChannelAdvisor said.
There are two key takeaways for shareholders from this data. First, Amazon is on pace to put up some incredible holiday sales numbers. It processed 43 million orders on Cyber Monday last year, and so is likely to pass 50 million orders -- or over 600 per second --this year.
Second, Amazon continues to put distance between itself and competitors. Its 24% sales gain over the five days between Thanksgiving and Cyber Monday beat the 21% growth that the e-commerce industry logged as a whole. And, with help from its branded device lineup, including Fire tablets and TV sticks, Amazon should keep that outperformance going through the holiday shopping season: Wall Street expects the company to book 23% higher fourth-quarter sales, near the high end of management's forecast of 14% to 25% growth.
Mattress Firm wakes upMattress Firm's stock jumped 7% higher on more than 10 times its usual trading volume after it posted preliminary third-quarter results and announced a major competitive merger. Sales for the three months ended Nov. 3 jumped 51%, due mainly to the opening of new stores. But existing locations also logged a solid 3.8% comparable-store sales gain. Meanwhile, management affirmed fourth-quarter guidance that calls for Mattress Firm's 10th straight quarter of positive comps.
Image source: Mattress Firm.
Yet investors were likely more interested in the ramifications of the announced acquisition of rival Sleepy's. The purchase, valued at $780 million, combines the nation's two largest specialty mattress retailers: Mattress Firm's 2,400 locations will join Sleepy's 1,000 stores. "The acquisition of Sleepy's is an important next step in building our national store network, and expands our footprint into major markets in the Northeast and Mid-Atlantic," Mattress Firm CEO Steve Stagner said in a press release.
Management believes the purchase will allow the two companies to benefit from larger scale by saving on expenses like distribution, delivery, advertising, and operating expenses. The acquisition will also deliver $40 million of immediate cost synergies, the company estimates, while helping per-share earnings grow at a double-digit added paceby the third year from closing. Judging from the stock price move, investors believe that those benefits are likely to materialize, and that they're a good trade for the nearly $800 million that Mattress Firm is set to pay, through cash and new debt, to fund this major deal.
The article Amazon.com Inc. and Mattress Firm Holding Corp Jump as Stocks Rise originally appeared on Fool.com.
Demitrios Kalogeropoulos owns shares of Netflix, and The Motley Fool owns shares of and recommends the company, as well as Amazon. Try any of our Foolish newsletter services free for 30 days. We Fools may not all hold the same opinions, but we all believe that considering a diverse range of insights makes us better investors. The Motley Fool has a disclosure policy.
Copyright 1995 - 2015 The Motley Fool, LLC. All rights reserved. The Motley Fool has a disclosure policy.