Amazon.com Has Officially Begun Drone Delivery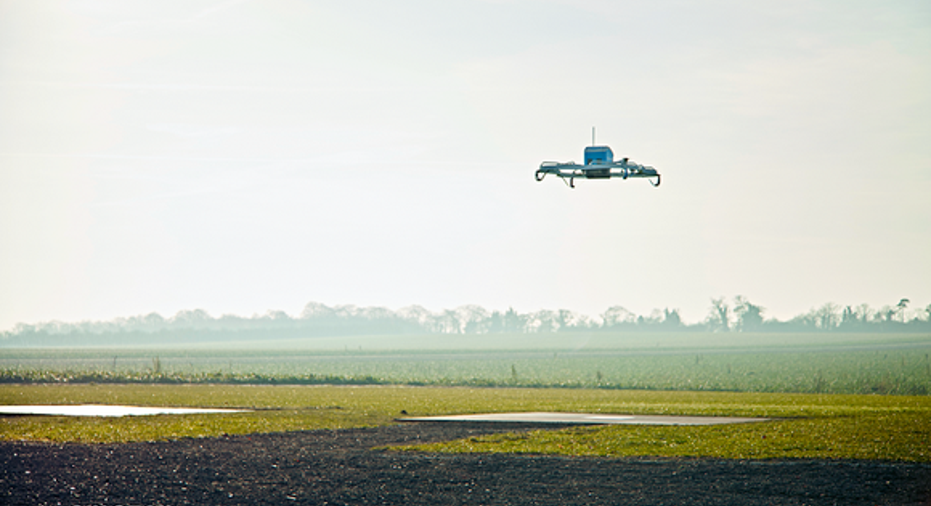 Almost exactly three years after Amazon.com (NASDAQ: AMZN) formally unveiled plansfor its "Amazon Prime Air" drone delivery service -- and just in time for Christmas -- the online retail juggernaut has finally achieved liftoff.
Image source: Amazon.com.
More specifically, last week Amazon completed its first commercial drone delivery, flying a package with popcorn and a Fire TV video streaming media player to a farmhouse in the English countryside.
Keeping in mind their original visionwas to deliver every drone order (from a 10-mile radius of one of Amazon's drone-enabled fulfillment centers) within 30 minutes of that order's placement, CEO Jeff Bezos also took to Twitter to point out the company handily exceeded that ambitious goal.
But before you get too excited, you should know not everyone can enjoy drone delivery this holiday season. This flight was part of an early beta trial with only a few customers. And according to the company, Amazon plans to expand the trial "in the coming months" to "dozens of customers living within several miles of our U.K. facility, and then growing to hundreds more."
More work to do
To Bezos' credit, we should also recall that at the time of the initial announcement three years ago, he suggested commercial drone delivery wouldn't be possible for at least another "four or five years." After all, Amazon still needed to both navigate the necessary regulatory requirements and -- at least in the U.S. -- demonstrate to the FAA "that this is a safe thing to do."
Regarding the latter, as fellow Fool Daniel Kline pointed out in July, note the FAA most recently outlined rules for the U.S.requiring drones be visible to the operator while only allowing each pilot to control a single drone at a time -- something that would obviously prevent Amazon from unleashing fleets of automated, package-carrying flying robots unless they wanted to hire individual drone operators for each order. But the FAA also offered a potential exception in the form of a certificate of waiver that can be obtained if any given applicant can prove that "operation can be safely conducted under the terms" of that waiver, mirroring Bezos' words as he tempered expectations three years ago.
While I should think Amazon would naturally opt to chase that exception here in the U.S., it makes sense that it's first testing its drone delivery technology in the U.K., whose governmentpartnered with Amazon this summer with a decidedly more lax list of requirements to get the technology off the ground.
In the end, while this is a delightfully entertaining milestone for Amazon, you can bet the company knows all too well it has plenty of work to do before Amazon Prime Air is implemented on a global scale.
10 stocks we like better than Amazon.com When investing geniuses David and Tom Gardner have a stock tip, it can pay to listen. After all, the newsletter they have run for over a decade, Motley Fool Stock Advisor, has tripled the market.*
David and Tom just revealed what they believe are the 10 best stocks for investors to buy right now... and Amazon.com wasn't one of them! That's right -- they think these 10 stocks are even better buys.
Click here to learn about these picks!
*Stock Advisor returns as of Nov. 7, 2016
Steve Symington has no position in any stocks mentioned. The Motley Fool owns shares of and recommends Amazon.com and Twitter. Try any of our Foolish newsletter services free for 30 days. We Fools may not all hold the same opinions, but we all believe that considering a diverse range of insights makes us better investors. The Motley Fool has a disclosure policy.