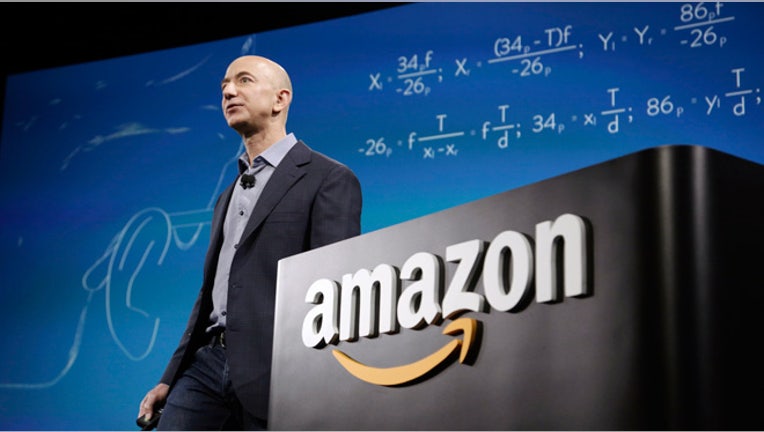 Expanding satellite-service provider OneWeb Ltd. has signed multiple contracts for launches early in the next decade with Blue Origin LLC, the high-profile space company run by Amazon.com Inc. (NASDAQ:AMZN) Chief Executive Jeff Bezos.
Wednesday's announcement covers five separate launches comprising roughly 400 relatively small but powerful satellites and starts in 2021, according to Greg Wyler, OneWeb's executive chairman. In an interview, he said the satellites are projected to provide internet connections some 10 times faster than those offered by initial spacecraft designs.
Financial details weren't immediately available.
Mr. Bezos posted a message on Twitter confirming that the agreement is for "for five launches initially," and added a personal nod to the OneWeb's founder: "Happy to work with you."
On his Twitter feed, Mr. Wyler said "we will be busy" making satellites "and creating jobs."
For Mr. Bezos and his closely held Blue Origin, which for years has been developing its family of reusable rockets and manned capsules without fanfare and almost entirely in secret, the contracts represent a financial and public relations coup.
Combined with the company's separate launch contract for a much larger satellite announced Tuesday with Eutelsat SA, a legacy operator with a fleet of 39 satellites, the disclosures amount to a carefully choreographed, partial lifting of Blue Origin's corporate veil.
Coinciding with a major satellite conference in Washington, the announcements signal that the company Mr. Bezos founded in 2000 in some ways is now moving into the mainstream of the global aerospace arena.
Both OneWeb and Eutelsat previously contracted with established launch providers, making their high-profile demonstrations of confidence in Blue Origin significant.
The massive rocket that is slated to launch the satellites probably won't fly until the end of the decade. Photographs of its first fully assembled primary engine weren't released until this week. And despite his persistence, deep pockets and passion for space, Mr. Bezos hasn't yet blasted any booster or spacecraft into orbit.
Still, developments in the past two days underscore that Blue Origin -- now boasting some 1,000 employees and facilities from Florida to the Northwest -- intends to use its New Glenn rocket to compete aggressively for commercial launches. Mr. Bezos also has indicated his aim is to develop a bigger, more powerful booster eventually capable of transporting astronauts deep into the solar system.
The two-stage version of Blue Origin's workhorse New Glenn rocket, named after the late U.S. astronaut and senator John Glenn, has been described by the company as 270 feet tall, and able to generate nearly 3.9 million pounds of thrust from seven main engines. A larger, three-stage version would be more than 310 feet tall.
With a few exceptions, Mr. Bezos has opted to run Blue Origin behind strict confidentiality restrictions -- and without seeking substantial federal contracts or development funding. But now, a new commercial sales push appears to be changing that corporate culture to some extent.
It was only last fall that Mr. Bezos rocked the global aerospace community by disclosing some particulars of the New Glenn rocket. If all goes well, by 2021 or 2022 the booster could become a full-fledged competitor for Space Exploration Technologies Corp., founded and run by fellow billionaire Elon Musk. It also could vie for launch contracts against Arianespace, Europe's premier launch provider, and United Launch Alliance, a joint venture between Boeing Co. (NYSE:BA) and Lockheed Martin Corp. (NYSE:LMT).
OneWeb, which is 20%-owned by Japanese telecom company SoftBank Group Corp. and backed by Airbus Group SE, has announced firm plans to launch some 600 satellites to provide faster and cheaper internet connections world-wide. OneWeb has suggested it ultimately may launch as many as 2,000 additional satellites, after initial commercial operations begin in 2019.
OneWeb anticipates assembling satellites in Florida at a rate of one in less than 24 hours -- at a cost below $1 million apiece. With that kind of production profile, the company is looking for multiple launch providers for later phases of the venture.
Mr. Wyler stopped short of saying the company and its backers have committed to launching the estimated 2,000 satellites. But when it comes to those plans, he said "more than our toe is in the water." Suggesting that more launch contracts with other providers are in the offing, he said "we talk broadly across the launch industry" regarding OneWeb's future requirements.
Blue Origin is building its own facility nearby, and plans to use an adjacent government pad to conduct launch operations.