Amazon Causes Etsy, Inc's. Stock to Drop 14% in November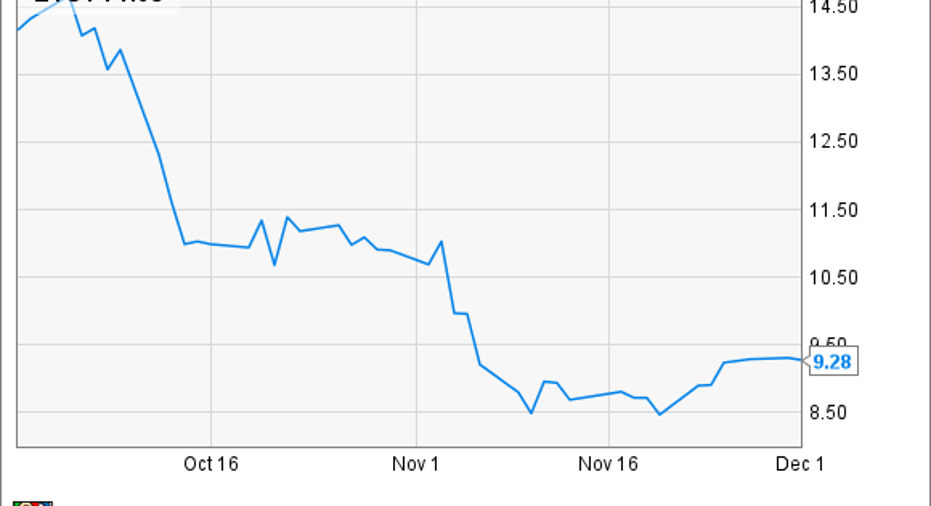 Esty stock continued its decline in November dropping another 14.6% according toS&P Capital IQdata.
The company began shedding value in early October when online retail giantAmazon launched a marketplace for handmade goods which competes with Etsy. Though the company's stock has fallen its results have not suffered and the online retailer actually reported an increase in both revenue and profit for the third quarter.
That however was not enough to convince investors that the digital marketplace would thrive in the face of having to compete with such a major rival.
Etsy stock has moved mostly down since Amazon's handmade marketplace launch in October. Source: YCharts.com
What:It's hard for any business or investor to feel confident when Amazon sets its sights on your customers. The online giant has done exactly that with Etsy by launchingHandmade at Amazon, which is its name for its handmade goods marketplace because "Just Like Etsy" was a little too direct.
Amazon has directly beentargetingEtsy by spending months before launching its store inviting top contributors to either switch over or sell on both platforms, The New York Timesreported.
"Amazon has all the capabilities they need to make their program a big success. They have all the marketing power in the world, and they're already so global," Dani Marie, chief executive ofHandmade Sellermagazine toldThe Times.
So what:When Amazon enters a new market they tend to take over, but there's no guarantee that will happen. Etsy, which has a strong business, posted a gross profit for the third quarter of $41.5 million, up 40.7% year-over-year. It also said in the earnings release that it had1.5 million active sellers and 22.6 million active buyers year-to-date.
Those are tiny numbers compared to the over 200 million active customers Amazon has, but it may be a dedicated enough community that the online retailer won't find it quite so easy to coerce. It is also yet-to-be seen if sellers will want to give Amazon a bigger cut than Etsy take to do business.
Etsycharges $0.20for each item a seller lists on its site and takes 3.5% of any sales. Amazon is letting people list for free, but will take 12% of sales, according toThe Times. That's a hefty number which could cause some sellers to balk.
Now what:Amazon is a scary competitor but it has not succeeded in every market it enters. The company has shuttered its daily deal and its travel sites. It's very possible that it's efforts to take on Etsy meet a similar fate.
In the short-term the online giant may hurt Etsy's growth. It may even poach some sellers but it's hard to see people who have built up equity with customers leaving the established etsy.com marketplace.
Investors are right to be wary, but it's possible Amazon won't win this fight outright and maybe that it will even fail altogether. It really comes down to how loyal Etsy's buyers and sellers are to the platform and given the nature of what is being sold, it's very possible that they will prove very loyal.
The article Amazon Causes Etsy, Inc's. Stock to Drop 14% in November originally appeared on Fool.com.
Daniel Kline has no position in any stocks mentioned. He is not good at making anything that is not food. The Motley Fool owns shares of and recommends Amazon.com. The Motley Fool owns shares of Etsy,. Try any of our Foolish newsletter services free for 30 days. We Fools may not all hold the same opinions, but we all believe that considering a diverse range of insights makes us better investors. The Motley Fool has a disclosure policy.
Copyright 1995 - 2015 The Motley Fool, LLC. All rights reserved. The Motley Fool has a disclosure policy.