Amazon and Samsung Offerings Could Eat Into Google Search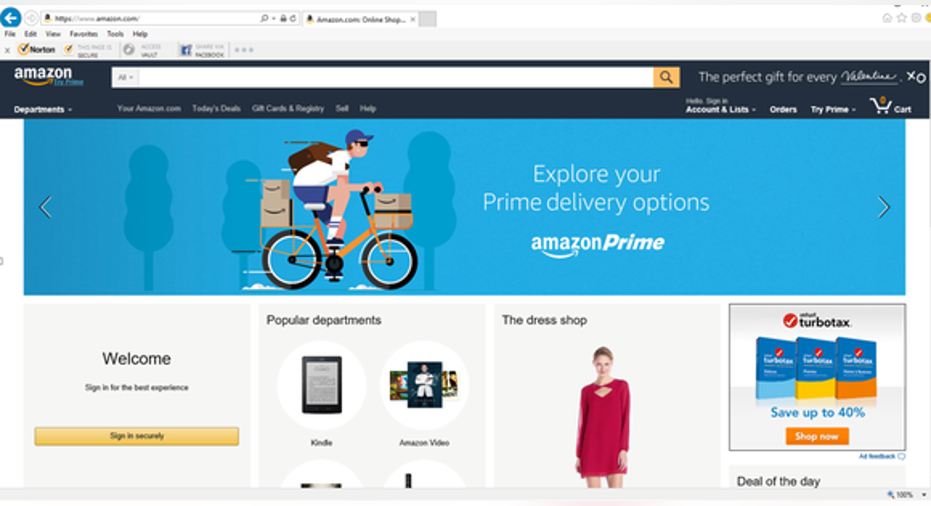 Let me start by stating the obvious: Alphabet's (NASDAQ: GOOG) (NASDAQ: GOOGL) Google is the undisputed champion of search. With over 60% of the US market and more than 90% of worldwide of worldwide search,Google is ubiquitous and is not going anywhere any time soon. But even800-pound gorillas need to look around the room every now and then and see what might be coming their way. From the looks of it, two fellow titans are pushing products that might test Google's strength.
Google is the undisputed king of search. Image source: Google.
Bixby to bypass Google?
Samsung acquires Viv virtual personal assistant. Image source :Viv
Late last year, Samsung (NASDAQOTH: SSNLF) acquired Viv, an artificial intelligence company whose founders were the original developers of Apple's Siri. With this purchase, Samsung joined the fray of the virtual personal assistant. With several more years of development under its belt, Viv was being billed as Siri's smarter sister that would work and play well with others. In addition to the standard assistant chores fare of language search, map directions, and weather, Viv was able to respond successfully respond to extremely complex questions and follow-ups, a skill lacking in other assistants. With Samsung's acquisition, Viv was updated and reemerged as Bixby, a virtual assistant which will make its debut in the soon-to-be-released Galaxy S8. Samsung has plans to integrate its recently acquired assistant into the majority of the native apps on its upcoming phone.One of the more interesting features is the camera featuring an optical character recognition system. By pointing the camera at an object, and engaging the "Bixby" button, it seeks to identify said item and launches a native search engine that circumvents Google search and locates the item for purchase.
There are persistent rumors that Google has tried to prevent Samsung from making Bixby the default on its phone, and it may find legal standing to do so. Samsung phones use Google's Android operating system and the pair have a non-compete as part of their patent-sharing agreement.
Google may not want Bixby to bypass its search, though it would not be the first such occurrence. Those familiar with Amazon.com's (NASDAQ: AMZN) failed Fire phone will recall a similar feature -- Firefly -- that allowed users to take a picture of an object and launch the item listing on Amazon's website. Amazon's phone never gained any traction, so the fact that it bypassed Google's search never resulted in any significant threat to Google's search. The Galaxy S8 is unlikely to meet that same fate, even in light of the the Galaxy Note 7'srecent difficulties.
Consumers begin product searches on Amazon.com
More products searches start on Amazon than Google. Image source: Amazon.com
Speaking of Amazon, a study in June 2016 by PowerReviews found that 38% of US consumers initiated a product search on Amazon versus 35% on Google.This may be only the beginning. A larger study in September 2016 by BloomReach found that 55% of consumers begin their search for a product on Amazon versus 28% on search engines. The same report issued a year earlier reported 44% and 34% respectively. Amazon revealed that it is seeking to leverage this and its massive library of product reviews by expanding paid search, which will include not only products it sells, but items not available on the site. This product and paid search will extend to its virtual personal assistant Alexa and its Echo home systems. Few details have been released by Amazon, but this will likely compete directly for Google's advertising dollars.There is not yet any indication of a wider entry into search, but with some estimates placing Amazon's Prime membership at nearly half of US households, that might provide a natural entry into the field.
Those little things can add up
Google is already dealing with lower costs-per-click as a result of the migration from desktop search to mobile, with rates falling 15% year over year in its most recent quarter. The company was able to still grow the top line 22% in the most recent quarter by making it up with volume, with aggregate paid clicks up 36% year over year.
Alphabet earns nearly 88% of all its revenue from Google's search, and small challenges like these to its dominant position could become legitimate threats to the company'scash cow over time.
10 stocks we like better than Alphabet (A shares) When investing geniuses David and Tom Gardner have a stock tip, it can pay to listen. After all, the newsletter they have run for over a decade, Motley Fool Stock Advisor, has tripled the market.*
David and Tom just revealed what they believe are the 10 best stocks for investors to buy right now... and Alphabet (A shares) wasn't one of them! That's right -- they think these 10 stocks are even better buys.
Click here to learn about these picks!
*Stock Advisor returns as of January 4, 2017
Suzanne Frey, an executive at Alphabet, is a member of The Motley Fool's board of directors. Danny Vena owns shares of Alphabet (A shares) and Amazon.com. Danny Vena has the following options: long January 2018 $640 calls on Alphabet (C shares) and short January 2018 $650 calls on Alphabet (C shares). The Motley Fool owns shares of and recommends Alphabet (A shares), Alphabet (C shares), and Amazon.com. The Motley Fool has a disclosure policy.