Altria Stock History: How the Tobacco Giant Became the Most Successful Stock Ever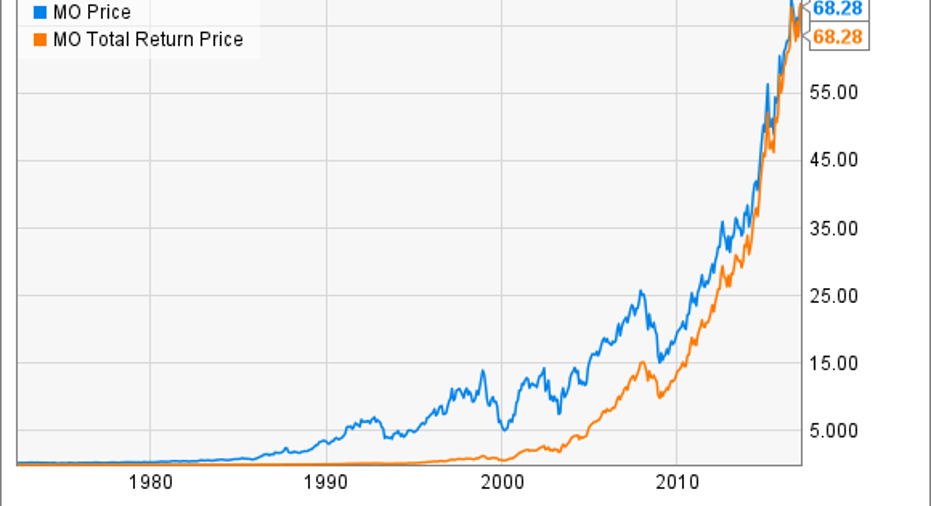 Many see tobacco giant Altria Group (NYSE: MO) as the most successful stock of all time, and its impressive history has definitely delivered strong returns to shareholders. The maker of Marlboro cigarettes is a conglomerate that includes the key Philip Morris USA division, but it also incorporates smokeless tobacco and wine under its corporate umbrella, along with investments in the beer industry. Through a combination of stock splits and dividend growth, Altria has put in one of the top performances of any stock over the long haul, and many see more success ahead for the company. Below, we'll look more closely at Altria's stock history to see how the tobacco giant got where it is today.
Image source: Altria.
The history of Altria and its stock
The name Altria dates back only to 2003, becoming the new face of what had previously been called the Philip Morris Companies. Yet the company's history goes back far longer, dating back to the mid-19th century and its tobacconist founder's London shop. Altria's smokeless tobacco and cigar units have similarly long histories.
For shareholders, the past half-century or so of Altria stock history has been remarkable. Since 1968, Altria has generated average annual returns of more than 20%. No other stock has come close to matching that long-term performance, according to renowned stock market expert and Wharton professor Jeremy Siegel.
As you can see above, dividends have played a major role in Altria's overall growth. The difference between the two lines shows the influence of dividends, with the top line representing share-price appreciation only while the bottom line includes both stock-price movements and dividend payments. Altria has a long history of dividend increases, including 50 boosts in the past 47 years, and quarterly payouts have made up a key portion of its total return for shareholders.
The ups and downs of Altria
Throughout its history, Altria has faced challenges and then overcome them. Tobacco advertising was banned in 1970, and smoking disappeared from many U.S. airplane flights in the late 1980s and from all flights by the late 1990s. In 1998, Altria and other tobacco companies created the Master Settlement Agreement, with industry leaders contributing a total of more than $200 billion to settle various Medicaid lawsuits across 46 states.
Huge declines in the stock price in the late 1990s followed the master settlement, as a rise in litigation from smokers threatened to make the industry insolvent. Yet Altria and its peers fought diligently against personal lawsuits, and although it didn't win every case, the industry did manage to defend itself well enough to stay profitable. That success started a bull market that has run nearly uninterrupted ever since. Moreover, Altria hasn't let opposition from regulators, lawmakers, and consumer advocates stop it from finding ways to grow profits over time, and that has helped reward shareholders as well.
Focusing on domestic tobacco
The other major move that has supported Altria stock has been its increasing focus. Altria originally incorporated not only a global tobacco business but also the food and snack businesses within Kraft. Altria initially made acquisitions as a way to diversify away from tobacco, which seemed like a good idea when it was under threat. Eventually, though, investors concluded that other businesses were getting hit with lower multiples because of the uncertainty of the tobacco business. That led to spinoffs of Altria's interest in food and international tobacco, leaving it with the vast majority of its holdings squarely centered on the U.S. cigarette, cigar, and smokeless tobacco market.
Altria seems intent on continuing a similar strategy going forward. Although it has embraced reduced-risk products like e-cigarettes to some extent, Altria still relies on traditional cigarettes for the bulk of its revenue and profits, and it believes that will continue to be the case for some time. Altria has strived for a balanced approach to innovation in the industry, and a solid strategy of price increases and encouraging brand awareness has paid off for the company.
Altria isn't likely to match its impressive growth record since the late 1960s over the half-century to come. However, Altria's stock history points to the potential investors can find even in relatively simple businesses that have loyal customer demand and the determination to beat long odds to succeed.
10 stocks we like better than Altria Group When investing geniuses David and Tom Gardner have a stock tip, it can pay to listen. After all, the newsletter they have run for over a decade, Motley Fool Stock Advisor, has tripled the market.*
David and Tom just revealed what they believe are the 10 best stocks for investors to buy right now... and Altria Group wasn't one of them! That's right -- they think these 10 stocks are even better buys.
Click here to learn about these picks!
*Stock Advisor returns as of January 4, 2017
Dan Caplinger has no position in any stocks mentioned. The Motley Fool has no position in any of the stocks mentioned. The Motley Fool has a disclosure policy.