Altria Group Inc.'s Best Move in 2016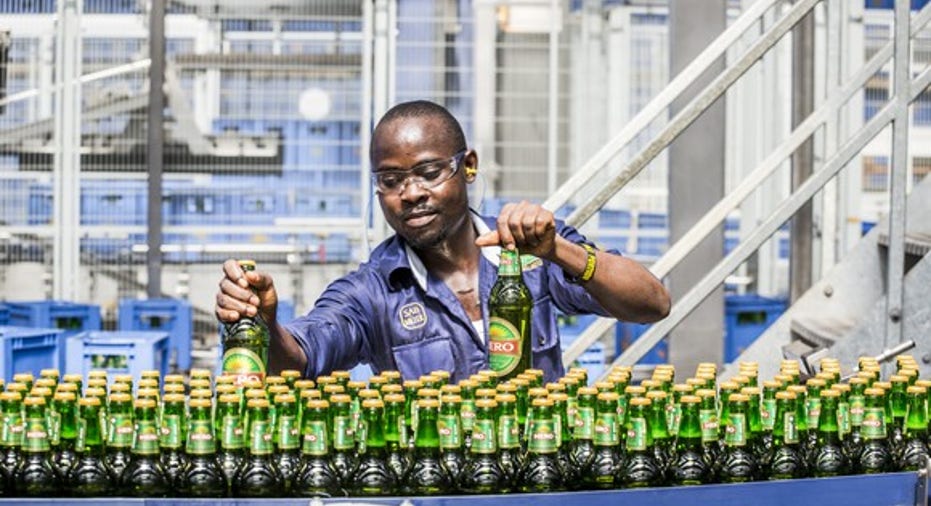 2016 has been a good year for Altria Group (NYSE: MO), with the stock having produced total returns of about 15% since the beginning of the year. Even though the company has continued to deal with the long-term secular downtrend in smoking, Altria has been able to balance judicious price increases with trying to keep demand as strong as possible, and its bottom line has benefited as a result. Yet even though most investors focus on the tobacco business and its huge impact on the company, Altria's best move in 2016 actually came from outside of that core industry. Let's take a look at the impact that the SABMiller merger with Anheuser-Busch InBev (NYSE: BUD) had on Altria and why the way the tobacco giant handled the transaction made it one of the company's best moves all year.
Image source: SABMiller.
Altria, this Bud's for you
Altria's history with SABMiller goes back to the beginning of the beer-maker's current incarnation. Prior to 2002, Altria, which was then known as Philip Morris, owned Miller Brewing. The tobacco giant sold the beer unit to South African Breweries, taking in exchange a roughly 36% stake in the newly created SABMiller. Over time, that stake decreased slightly, but at the time of the merger, Altria still retained about 27% of SABMiller's equity.
In November 2015, Anheuser-Busch InBev announced a firm offer to buy SABMiller in a deal worth about $107 billion. The beer company proposed to pay most investors cash for their SABMiller shares, but that would have created tax difficulties for major shareholders like Altria. Therefore, A-B InBev chose to offer Altria a stock-based alternative, the end result of which would be for Altria to own about 10.5% of the post-merger A-B InBev and also receive about $2.5 billion in cash. The stock component of the deal would help Altria avoid having to recognize capital gains on the sale, and the five-year restriction on trading the shares obtained in the merger didn't pose any concern to Altria given the nature of its long-term investment in the beer industry.
Throughout much of 2016, Anheuser-Busch InBev got the necessary approvals for its SABMiller takeover. The Brexit vote to leave the European Union caused some currency issues that hurt the value of the cash offer for U.K.-based SABMiller, but a renegotiated offer satisfied shareholders enough so that they approved the deal, which was finalized in October.
What Altria ended up with from the deal
A few wrinkles in the way the merger took final shape left Altria in a slightly different position than it initially expected. Anheuser-Busch InBev made the stock-based alternative available to all investors, and due in part to the currency impacts, even some small shareholders chose to take stock. That left less stock available for Altria, so in the final tally, the tobacco giant took a 9.6% stake in A-B InBev, along with a larger-than-expected $5.3 billion cash component.
Some companies might have simply accepted that result. But Altria correctly identified that it needed to boost its equity position in A-B InBev above the 10% mark in order to benefit from favorable accounting for its stake in the beer business. Therefore, it took about $1.6 billion of that cash and used it to purchase 12 million shares of A-B InBev on the open market. By doing so, Altria's raised its stake to 10.2%. That will allow the company to get foreign tax credits related to taxes on the dividend income it receives from A-B InBev in the future.
Looking forward, Altria fully expects to keep reaping rewards from its stake in Anheuser-Busch InBev. Company executives are pleased that they successfully managed to maximize the value of their SABMiller ownership in the merger, and they fully believe the beer giant's growth prospects and positive results will contribute to Altria's overall success in the future. Given the global strength of A-B InBev as one of the world's largest consumer packaged goods companies, Altria will have opportunities to take advantage of its new partnership that could help its entire business in the years to come.
10 stocks we like better than Altria Group When investing geniuses David and Tom Gardner have a stock tip, it can pay to listen. After all, the newsletter they have run for over a decade, Motley Fool Stock Advisor, has tripled the market.*
David and Tom just revealed what they believe are the 10 best stocks for investors to buy right now...and Altria Group wasn't one of them! That's right -- they think these 10 stocks are even better buys.
Click here to learn about these picks!
*Stock Advisor returns as of Nov. 7, 2016.
Dan Caplinger has no position in any stocks mentioned. The Motley Fool owns shares of and recommends Anheuser-Busch InBev NV. Try any of our Foolish newsletter services free for 30 days. We Fools may not all hold the same opinions, but we all believe that considering a diverse range of insights makes us better investors. The Motley Fool has a disclosure policy.