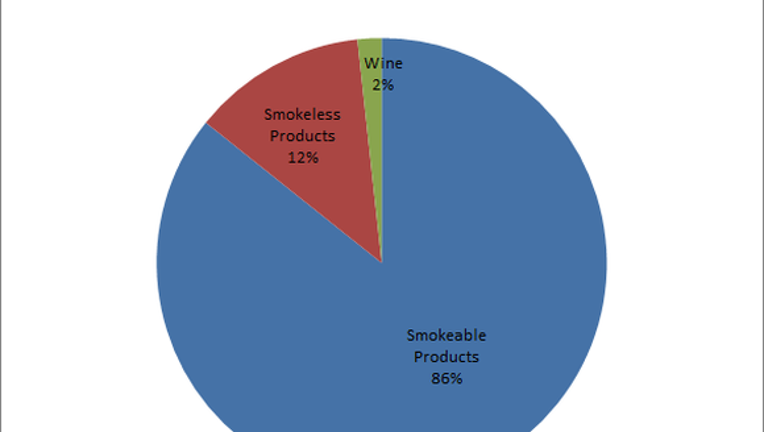 Tobacco giant Altria Group (NYSE: MO) has been the most successful stock of all time in the eyes of many investors. With a combination of strong earnings growth and rising dividends, Altria has used the power of its Marlboro brand to dominate its competition. Yet many don't understand the role that Altria's other business segments play, and although smokeable tobacco still makes up the huge majority of Altria's business, the diversification that it gets from its other subsidiaries is valuable. Below, you'll see two charts that provide a snapshot of Altria and where it's getting its success right now.
Image source: Altria.
Smokeable products still bring in most of Altria's sales...
The cigarette business has always been the most important for Altria, and with the company having spun off most of its holdings in other industries over the years, most notably the food and snack business, smokeable products remain vital. In 2015, smokeable products brought in $16.4 billion in revenue net of excise tax for Altria, compared to just $1.75 billion from smokeless products and $668 million for the wine segment.
Data source: Altria Group investor relations.
Within the smokeable products segment, Marlboro plays a dominant role in driving Altria's success. In 2015, the company shipped more than 108 billion Marlboro cigarettes. Even though that number was down about 3% from 2013, it still represented more than 85% of all of Altria's cigarette shipments. Other premium brands had shipments of 6.75 billion cigarettes, while Altria shipped 11.15 billion discount cigarettes during the year.
Altria also has its cigar business within the segment. The Black & Mild brand is the key there, but shipments are still relatively small, at less than 1.3 billion cigars for the full year.
...but margins for smokeless products are better
When you turn your attention to operating profit, the smokeable products segment still dwarfs its counterparts. However, some small changes in percentages reveal interesting facts about the respective businesses.
Data source: Altria Group investor relations.
Smokeable products brought in $7.57 billion in operating profit before tax in 2015, compared to $1.11 billion from smokeless products and $152 million from wine. Those numbers don't move the needle much for the smokeable segment, but notice that the share of smokeless products rises from 9% of revenue to 12% of pre-tax profit.
Altria's smokeless products have gotten a growth boost lately, and the motivation is obvious: Profit margin for the segment is higher even than for smokeable products, and far greater than margin in the wine business. Excise taxes for smokeless products are somewhat lower than for cigarettes, which has a substantial impact on segment profitability. Moreover, Altria's market share is higher in smokeless tobacco than in cigarettes, showing its command of the niche.
In response, the company has focused on growth of the key Copenhagen brand. New flavors have both retained existing customers and brought in new ones and generated excitement about the segment. As long as those trends continue, Altria will put effort into growing its smokeless business despite its being a small part of the company's overall success.
Will the trend continue?
Looking forward, one of the biggest growth opportunities that Altria has is in cigarette alternatives, including electronic cigarettes using liquid vapor or heated tobacco. Altria has exclusive rights to market the iQOS heat-not-burn system in the U.S., and its former subsidiary has filed for approval from the U.S. Food and Drug Administration to support its reduced-risk claims for iQOS. Investors shouldn't expect quick action from the FDA on the application, but if it does end up being approved, it could be a game changer for Altria. Already, test markets like Japan have shown the potential that iQOS has, and the U.S. market is an even larger opportunity. If reduced-risk product innovations prove as lucrative as tobacco companies hope, then Altria could see even more revenue and profit coming into its smokeless products segment.
For now, though, cigarettes are still the most essential part of Altria's overall business. Even if growth in the smokeable products market flattens out entirely or even declines slightly, it will still take a long time for other segments to make a big dent in Marlboro's dominance.
10 stocks we like better than Altria Group When investing geniuses David and Tom Gardner have a stock tip, it can pay to listen. After all, the newsletter they have run for over a decade, Motley Fool Stock Advisor, has tripled the market.*
David and Tom just revealed what they believe are the 10 best stocks for investors to buy right now... and Altria Group wasn't one of them! That's right -- they think these 10 stocks are even better buys.
Click here to learn about these picks!
*Stock Advisor returns as of January 4, 2017
Dan Caplinger has no position in any stocks mentioned. The Motley Fool has no position in any of the stocks mentioned. The Motley Fool has a disclosure policy.