Alstom, Siemens to merge rail businesses to counter China's CRRC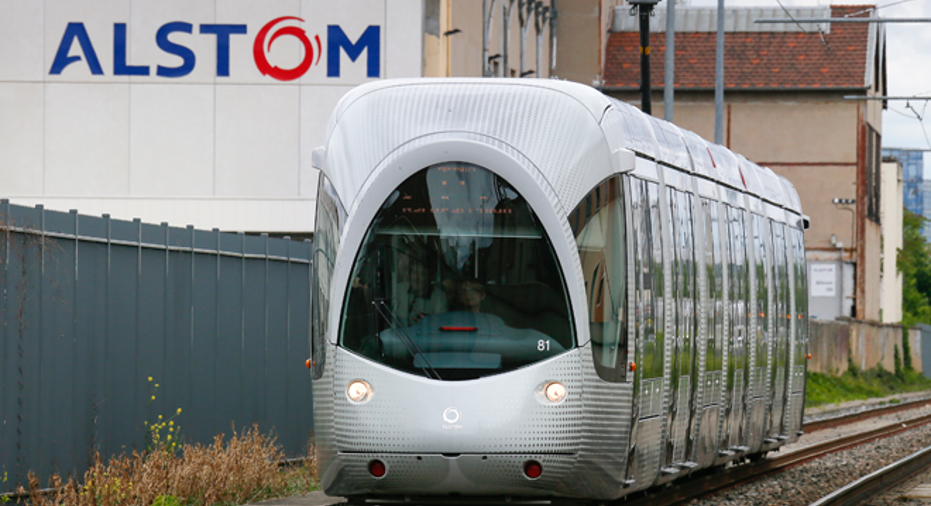 German industrial group Siemens and French rival Alstom agreed to merge their rail operations, creating a European champion to better withstand the international advance of China's state-owned CRRC Corp.
Siemens will own 50 percent plus a few shares of the joint venture, to be called Siemens Alstom, while Alstom will supply Henri Poupart-Lafarge as chief executive, helping to counter criticism that France is giving up control of another national industrial icon.
The non-executive chairman will come from Siemens.
The framework deal, which still has to be approved by Alstom shareholders as well as regulators, is a Franco-German industrial breakthrough for French President Emmanuel Macron but is a move that has riled opposition politicians.
Their worries center on France losing control of its TGV high-speed train – a symbol of national pride that has highlighted French engineering skill – and possible job losses.
Finance Minister Bruno Le Maire said on Tuesday that the French government welcomed the planned tie-up, which he said would protect French jobs.
The French state said it would not exercise an option to buy a 20 percent stake in Alstom from industrial group Bouygues SA.
The Siemens and Alstom transport businesses span the iconic French TGV and German ICE high-speed trains as well as signaling and rail technology. They have combined sales of 15.3 billion euros ($18 billion) and earnings before interest and tax of 1.2 billion euros.
"This Franco-German merger of equals sends a strong signal in many ways. We put the European idea to work and together with our friends at Alstom, we are creating a new European champion in the rail industry for the long term," said Siemens CEO Joe Kaeser.
Alstom's Poupart-Lafarge said: "Today is a key moment in Alstom's history, confirming its position as the platform for the rail sector consolidation."
Analysts at Deutsche Bank kept a "hold" rating on Alstom shares, saying extracting cost savings from the deal could be tricky.
"Politicians will also likely try to ensure some form of jobs protection in France (28 percent of Alstom's workforce) and Germany (39 percent of Siemens'workforce), making cost synergies difficult to extract," they wrote in a note.
The deal leaves out in the cold Canadian transportation group Bombardier Inc, which also held talks with Siemens, sources have said, and which faces a separate battle this week to protect jobs in Quebec and Northern Ireland.
China's CRRC, with annual revenue of about $35 billion, is bigger than Siemens Mobility, the rail and infrastructure division of the German conglomerate, Alstom and Bombardier Transportation combined.
Previously focused on China, it has won projects in Britain and the Czech Republic in the past year, and is eyeing the United Kingdom's High Speed 2 project, which will connect London with cities in the north of England.
SPECIAL DIVIDENDS
Siemens will receive newly issued shares in the combined company representing 50 percent of Alstom's share capital and warrants allowing it eventually to acquire another 2 percent of Alstom shares.
However, the deal prevents Siemens from owning more than 50.5 percent of Alstom for four years after closing, and includes "certain governance and organizational and employment protections", Siemens and Alstom said in their statement.
The deal is unanimously supported by Alstom's board, Siemens' supervisory board and Alstom shareholder Bouygues, the companies said.
The French government acquired its option on the Bouygues stake in Alstom in 2014 as part of a deal that helped Alstom snub Siemens as a buyer for its energy business in favor of General Electric Co.
Macron was economy minister at the time.
The global headquarters, rolling stock business and stock-market listing of the new entity will be in Paris and the signaling and technology business in Berlin.
The new company, with 62,300 employees, targets synergies of 470 million euros four years at the latest after closing of the deal, which is expected at the end of 2018.
The companies said their operations were largely complementary, with Alstom present in growth markets in the Middle East and Africa, India, and Central and South America, while Siemens was strong in China, the United States and Russia.
Siemens CEO Kaeser said ahead of the signing of the memorandum of understanding he believed the scale of China's CRRC left little room for regulators to oppose a deal.
"It always depends, but the facts are that there is a dominant player," he told Reuters in an interview in New York.
Siemens stands to gain control of Alstom's main business, since all of Alstom's divisions deal with the railways and transportation industries.
Existing Alstom shareholders will be paid two special dividends: a control premium of 4 euros per share to be paid shortly after closing of the transaction and an extraordinary dividend of up to 4 euros per share to be paid out of the proceeds of Alstom's put options for its General Electric joint venture, "subject to the cash position of Alstom".
(Reporting by Alexander Huebner and Cyril Altmeyer; Additional reporting by Georgina Prodhan, Sudip Kar-Gupta, Maya Nikolaeva and Alwyn Scott; Writing by Georgina Prodhan; Editing by Keith Weir, Lisa Shumaker and Muralikumar Anantharaman)