Alphabet Just Lost $800 Million on "Other Bets"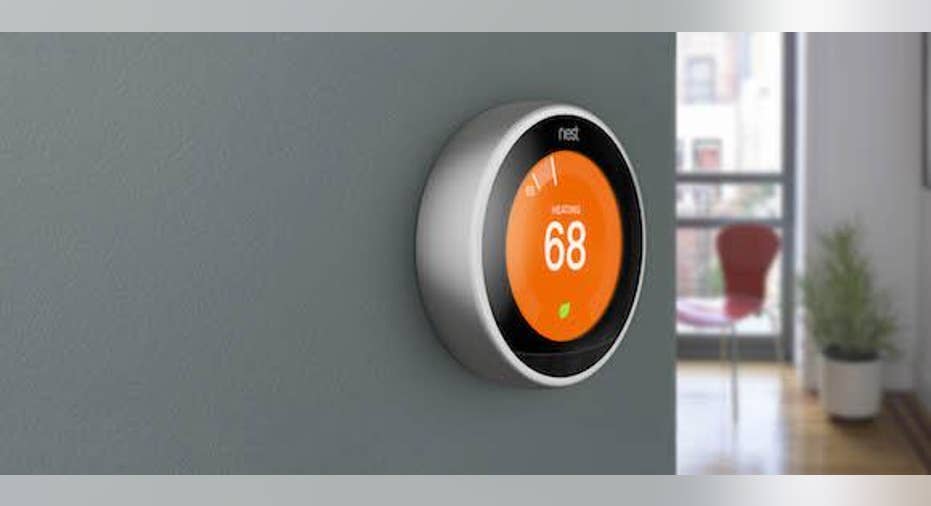 Image source: Nest.
For the most part, investors don't seem all that impressed with Alphabet's first-quarter results. Shares fell 6% in extended trading yesterday after the search giant reported a 17% increase in revenue to $20.3 billion, but rising traffic acquisition costs put a damper on profitability. Both top- and bottom-line results fell short of analyst expectations.
The company also disclosed that its newly established "Other Bets" segment posted an operating loss of $802 million.
Losing some other bets"Other Bets" revenue was $166 million during the first quarter, which was double the $80 million in sales in the year-ago quarter. Operating loss widened from $633 million to $802 million. For context, Alphabet lost $3.6 billion in "Other Bets" throughout all of 2015.
More specifically though, Nest has always been a significant piece of "Other Bets," and there's been an awful lot of negativity surrounding Nest in recent weeks, following a scathing report by The Information. Things have gotten so bad that Googlers have even taken to mocking Nest internally with memes, and Nest founder Tony Fadell is now on the defensive.
For instance, in Alphabet's most recent 10-K, the company notes that "Other Bets" revenue consists mostly of Nest revenue, Fiber revenue, and sales from licensing and R&D services.
It's rough out thereThere's been a broader pullback in start-up valuations since the start of 2015. There have been no less than 60 downrounds in recent memory, where a private start-up or company raises capital (either through a private funding round, acquisition, or IPO) at a lower valuation. Fidelity Investments even just voluntarily wrote down the value of a handful of private software start-ups that it has positions in, including high-profile names like Dropbox and CloudFlare.
It's within this context that investors are rightly scrutinizing Alphabet's "Other Bets" in greater detail now, since risky ventures haven't been justifying their valuations recently. The good news is that it seems Alphabet is also trying to be more disciplined with how it approaches these potential moonshots as well. On the conference call, CFO Ruth Porat said, "In certain areas where we have had multiple teams developing different approaches to a similar technology, we have been evaluating how to rationalize these approaches, enabling us to increase investments around a smaller, more focused set of opportunities."
At the same time, Porat declined to provide any detailed specifics regarding Nest's performance, vaguely asserting that Nest devices are "best sellers" and that the company is a "leading brand."
You asked for itInvestors have been asking for more transparency into these side projects for quite some time. And now they're getting it. Well, they're getting transparency with a side of obfuscation.
Alphabet is known for its penchant for experimentation, and while no one is asking that it stop exploring new areas because that's where moonshots come from, the company does face quite a challenge with balancing this exploration with profitability -- a balance that is much more public now.
The article Alphabet Just Lost $800 Million on "Other Bets" originally appeared on Fool.com.
Suzanne Frey, an executive at Alphabet, is a member of The Motley Fool's board of directors. Evan Niu, CFA has no position in any stocks mentioned. The Motley Fool owns shares of and recommends Alphabet (A shares) and Alphabet (C shares). Try any of our Foolish newsletter services free for 30 days. We Fools may not all hold the same opinions, but we all believe that considering a diverse range of insights makes us better investors. The Motley Fool has a disclosure policy.
Copyright 1995 - 2016 The Motley Fool, LLC. All rights reserved. The Motley Fool has a disclosure policy.