Alphabet, Inc. Wants You to Try Android Games Before You Buy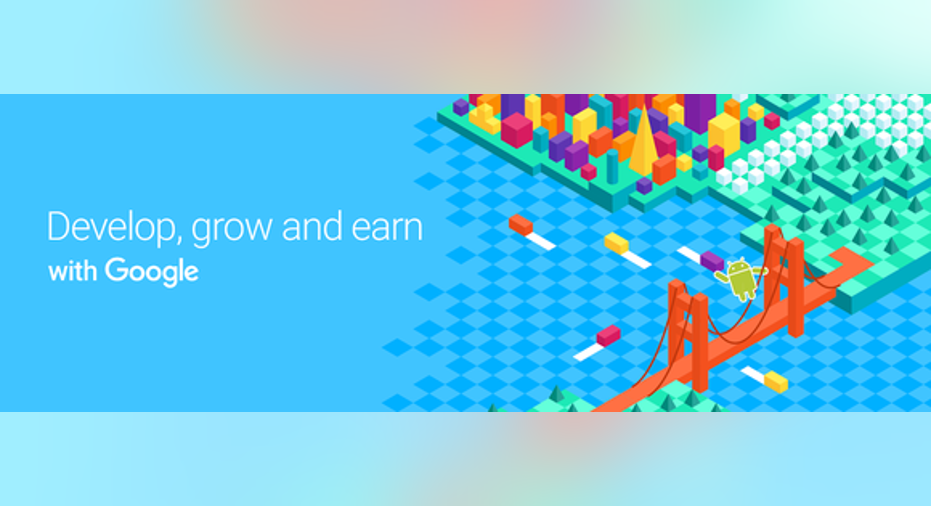 Image source: Google.
Users searching Google on mobile can already stream content from apps like Hotel Tonight when they provide the best organic search results. Now, Google is extending its app-streaming capabilities to search advertisements, particularly targeting game developers looking to get their apps in front of more eyeballs.
The Alphabet subsidiary introduced the new feature to companies at its Game Developers Conference in mid-March, and will roll it out in the coming weeks. It aims to solve one of the biggest problems with app-install ads: consumers don't want to install something they're not sure they'll like. At the same time, it gives Google an edge in winning a larger share of app-install ad dollar, which Facebook has dominated.
High-quality ads
Google's new search ads, called Search Trial Run Ads, are similar to the in-app ads it rolled out just a month after its organic search streaming experiment. The key differences are that in-app Trial Runs lasted only a minute and they functioned more as display ads instead of search ads. Search ads are higher quality. Not only does the searcher express explicit interest in a game (e.g., "crossword puzzle games"), but users can spend up to 10 minutes before they're asked to download the app.
Developers aren't charged unless the searcher clicks the Install button. And developers can expect a much higher return on investment if the user has already tried the game for a few minutes and decides they still want to play. That said, Google can expect a much higher price per ad on these units, but the conversion rate may be significantly lower than other ad formats, including standard app-install ads.
Last July, Google introduced Search Ads on Google Play: ads that show up in search results when users are looking for apps in the Google Play store. These app-install ads theoretically have a high conversion rate because users are already searching for an app. Combining Google's app streaming platform with Search Ads on Google Play could make for an even higher-value product.
Google's shot at the app-install ad market
The app-install ad market is expected to grow to $5.6 billion this year, according to mobile analytics company Tune. Facebook doesn't break out its ad revenue by type, but estimates indicate that it takes the majority of revenue.
Google introduced app-install ads across all of its properties over the past few years, including Search, YouTube, and the aforementioned Google Play Store ads. Outside of Google Play, none of Google's properties are particularly more compelling than Facebook, where users spend hours of their day. Management says one-in-five minutes spent on mobile is spent using a Facebook-owned app.
But app streaming differentiates Google's product, and integrating it into search advertisements makes for a very valuable lead generator. So, while Google might not be able to compete with the volume Facebook is able to achieve, it can compete for developer budgets by providing a better-converting ad product.
While $5.6 billion isn't a huge market for Google, which generated $67 billion in gross ad revenue in 2015, it's one of the fastest-growing ad markets on mobile. Becoming more competitive with Facebook will help the company grow, especially as users continue to spend more time on mobile.
The article Alphabet, Inc. Wants You to Try Android Games Before You Buy originally appeared on Fool.com.
Suzanne Frey, an executive at Alphabet, is a member of The Motley Fool's board of directors. Adam Levy has no position in any stocks mentioned. The Motley Fool owns shares of and recommends Alphabet (A shares), Alphabet (C shares), and Facebook. Try any of our Foolish newsletter services free for 30 days. We Fools may not all hold the same opinions, but we all believe that considering a diverse range of insights makes us better investors. The Motley Fool has a disclosure policy.
Copyright 1995 - 2016 The Motley Fool, LLC. All rights reserved. The Motley Fool has a disclosure policy.