Alphabet Inc. Is Crushing Apple Inc. and Amazon.com Inc. in This Growing Market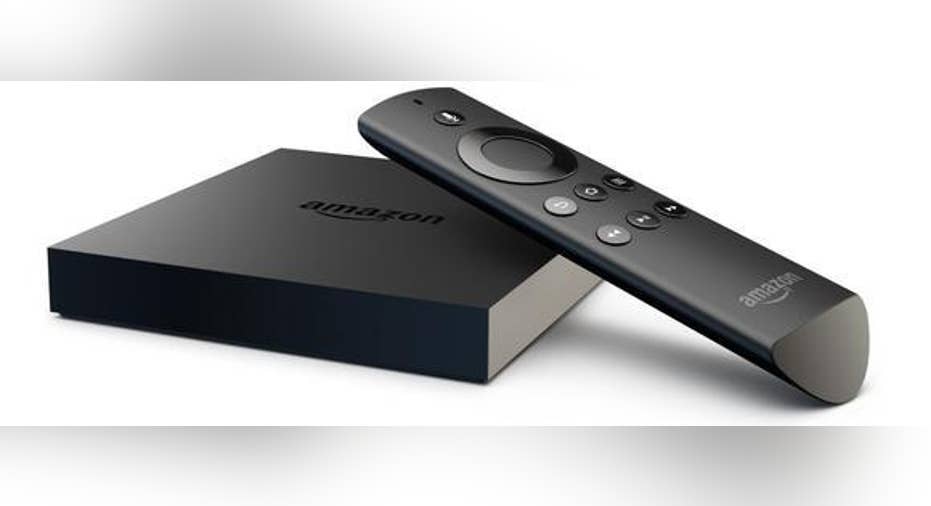 Alphabet 's Google Chromecast is the best-selling media-streaming device in the world, according to research firm Strategy Analytics. The firm estimates that Google's device claimed 35% of the market during the third quarter, followed by 20% for Apple TV and 16% for both Amazon 's Fire TV and Roku's devices.
Google's new Chromecasts. Source: Google.
The 9.2 million streaming devices shipped in the quarter accounted for 17% of all shipments of "connected TV" devices, which also include smart TVs, Blu-ray players, and game consoles. Strategy Analytics estimates that total shipments of connected TV devices will grow 17% annually to 221 million units for the full year. What does Google's lead in this growing market mean for rivals like Apple and Amazon?
Google's streaming strategyGoogle is approaching the connected TV market with two platforms: Android TV and Chromecast. With Android TV, Google relies on OEMs to manufacture Android-powered smart TVs and set-boxes that download apps and media content from Google Play. This platform replaces Google TV, a similar effort that flopped due to delayed Android integration and resistance from content providers. Android TV products, which are comparable to Apple TV and Fire TV, are notably pricier and less popular than Chromecast.
With Chromecast, Google "casts," or mirrors, mobile apps, media, or Chrome content to a $35 dongle connected to the TV. This strategy targets customers who simply want to mirror content from their mobile devices at the lowest possible price. Certain iOS and Android games can also be mirrored onto the TV, allowing the smartphone to be used as a Wii-like controller.
Chromecast's direct competitors include Amazon's Fire TV Stick and Roku's Streaming Stick, which both cost a little more. In late September, Google launched two new puck-shaped Chromecasts -- one for video and apps, and another for audio streaming.
Why the Chromecast is popularThe popularity of Chromecast indicates that customers like simple streaming solutions that use their smartphones or tablets as central hubs. Bigger set-top boxes cost more because they are equipped with more powerful hardware, which isn't necessary for mirroring-only solutions.
For casual gamers, playing a downloaded game on a $149 Apple TV or $100 Fire TV might not be all that different from playing an iOS or Android game being mirrored to the Chromecast. The new Chromecast also offers more flexible gaming options. For example, a player with an Android device can play a multiplayer game with an iPhone owner if both players cast their displays to the Chromecast.
The new Apple TV. Source: Apple.
The Chromecast isn't a major source of revenue for Google. Based on Strategy Analytics' third-quarter estimates, Google probably sold 1.8 million Chromecasts at $35 each, which equals $63 million in revenue (0.3% of its third-quarter revenues). Instead, it's an ecosystem play. By keeping an eye on the apps and media content that users stream to the Chromecast, Google gains more information to craft targeted ads, which strengthens its core advertising business.
Don't count Apple and Amazon out yetBut before Alphabet investors declare victory in the streaming device wars, they should note that things could change during the fourth quarter. Apple's aggressive marketing of the new Apple TV could boost holiday sales against the Chromecast. Amazon's decision to stop selling Apple TV and Chromecast devices could also hurt Chromecast sales, since the Chromecast was one of its top-selling consumer electronics devices.
Apple and Amazon also have different reasons for selling streaming devices. For Apple, the Apple TV could generate more digital revenues through media and app purchases, and serveas a base for Apple Music and its long-rumored streaming TV service. These digital revenues could diversify Apple's business away from iPhones, which generated over 60% of its revenue last quarter.
Amazon is using its set-top boxes to keep users dependent on its Prime ecosystem. Without a Prime membership, Fire TV users can't access Amazon's library of TV shows, films, and music. But once customers pay $99 per year for the service, studies show that they buy more digital and physical products. Earlier this year, research firm CIRP claimed thatthe average Prime member spends $1,200 annually on the site, compared to $700 for nonmembers.
The new Fire TV. Source: Amazon.
Upcoming battlesGoogle has a good lead in the streaming market, but I'm not certain that it will last as full-featured streaming devices become smaller and cheaper. I also think that Apple's brand power and Amazon's massive ecosystem could curb Google's early growth. Either way, connected TVs will become a key battleground for these tech giants over the next few years.
The article Alphabet Inc. Is Crushing Apple Inc. and Amazon.com Inc. in This Growing Market originally appeared on Fool.com.
Leo Sun has no position in any stocks mentioned. The Motley Fool owns shares of and recommends Alphabet (A shares), Alphabet (C shares), Amazon.com, and Apple. Try any of our Foolish newsletter services free for 30 days. We Fools may not all hold the same opinions, but we all believe that considering a diverse range of insights makes us better investors. The Motley Fool has a disclosure policy.
Copyright 1995 - 2015 The Motley Fool, LLC. All rights reserved. The Motley Fool has a disclosure policy.