Alnylam Pharmaceuticals, Inc. Presents Progress -- Investors Dig It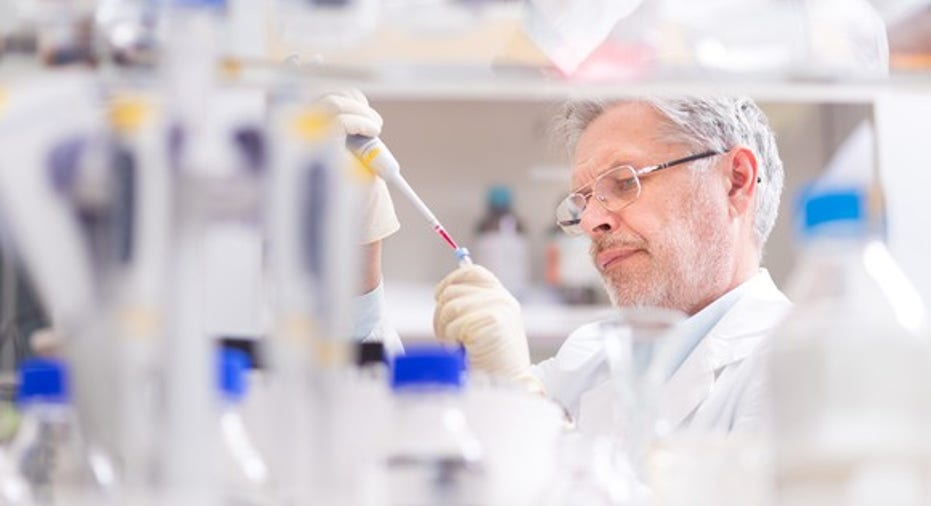 Alnylam Pharmaceuticals (NASDAQ: ALNY) jumped as much as 14.5% today after announcing earnings after the bell yesterday. As a development-stage biotech, it wasn't the revenue or the earnings that caused the spike, but the progression of Allnylam's pipeline.
Nevertheless, here's how the fourth quarter played out financially:
Alnylam Pharmaceuticals results: The raw numbers
| Metric | Q4 2016 | Q4 2015 | Year-Over-Year Change |
| --- | --- | --- | --- |
| Revenue | $17.5 million | $7.5 million | 131% |
| Income from operations | ($115 million) | ($93 million) | N/A |
| Earnings per share | ($1.32) | ($1.07) | N/A |
Data source: Alnylam Pharmaceuticals.
Image source: Getty Images.
What happened with Alnylam Pharmaceuticals this quarter?
All of the biotech's revenue comes from its partners. The upfront payments are often amortized over many years, so the jump in revenue is nothing to get excited about.
The big news during the quarter was the decision to stop development of revusiran after a phase 3 trial in patients with ATTR amyloidosis showed more patients taking revusiran died than those taking placebo.
APOLLO, a phase 3 trial testing patisiran in patients with polyneuropathy due to hereditary ATTR amyloidosis, is due to read out in the middle of this year, hopefully leading to a marketing application filed with the FDA by the end of the year.
Data presented for its hemophilia and other bleeding disorders drug, fitusiran, were positive, leading partner Sanofi (NYSE: SNY) to exercise its right to co-develop and co-promote fitusiran with Alnylam in the U.S., Canada, and Western Europe. Sanofi already had commercial rights to the rest of the world. The duo plans to start a phase 3 program for fitusiran in early 2017.
The Medicines Company (NASDAQ: MDCO) presented more positive data for their cholesterol-lowering drug inclisiran, which was called ALN-PCSsc before Alnylam out-licensed the drug. The Medicines Company is running a new phase 2 trial in patients with a genetic disease that causes extremely high levels of cholesterol, and plans to start a phase 3 program in the middle of this year.
What management had to say
The APOLLO results, combined with starting phase 3 trials for fitusiran and inclisiran, puts Alnylam in a good position for years to come. CEO John Maraganore explained: "This potentially positions Alnylam to have a steady flow of phase 3 readouts, and if positive, commercial launches on essentially an annual basis going forward."
Akshay Vaishnaw, Alnylam's executive vice president of R&D, gave a few more details about the phase 3 program for fitusiran, which Alnylam is calling Atlas: "The Atlas program is expected to include three separate phase 3 trials running essentially in parallel toward the goal of obtaining broad-based approval for fitusiran in hemophilia A or B patients with or without inhibitors." Those inhibitors, which some patients have, make current replacement therapies ineffective and should be an easy place to enter the hemophilia market given the unmet need. Longer term, treating patients without inhibitors is Alnylam's goal since it's a larger market.
Looking forward
In addition to the aforementioned clinical trials that are starting and reading out, investors will get additional data for patisiran and inclisiran presented at medical meetings over the next few months. These will hopefully give additional confidence that their respective phase 3 programs will work.Toward the middle of the year, Alnylam plans to present data from an open label extension trial for fitusiran and a phase 1 trial for givosiran, which treats acute hepatic porphyrias.
Alnylam ended the year with $1.09 million in the bank and is guiding to have more than $700 million at the end of this year, giving it a solid nest egg to pay for the phase 3 trials and hopefully launch its first product next year.
10 stocks we like better than Alnylam PharmaceuticalsWhen investing geniuses David and Tom Gardner have a stock tip, it can pay to listen. After all, the newsletter they have run for over a decade, Motley Fool Stock Advisor, has tripled the market.*
David and Tom just revealed what they believe are the 10 best stocks for investors to buy right now... and Alnylam Pharmaceuticals wasn't one of them! That's right -- they think these 10 stocks are even better buys.
Click here to learn about these picks!
*Stock Advisor returns as of February 6, 2017
Brian Orelli has no position in any stocks mentioned. The Motley Fool owns shares of and recommends Alnylam Pharmaceuticals. The Motley Fool has a disclosure policy.