Align Technology Inc. Posts Record-High Revenue in Q1 on Strong Invisalign Growth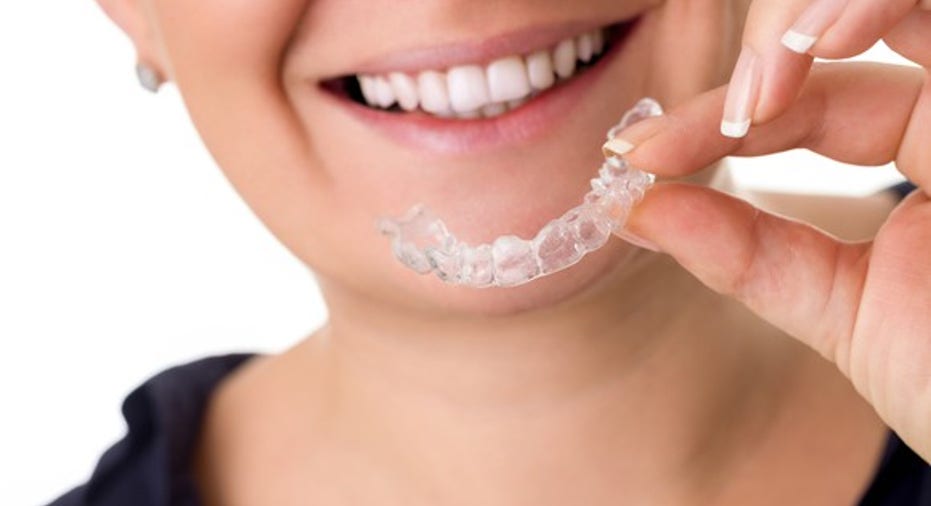 It's been smooth sailing for quite a while now for Align Technology (NASDAQ: ALGN). The orthodontic-device maker best known for its Invisalign clear aligners topped earnings expectations for all four quarters in 2016.
Align announced its 2017 first-quarter earnings after the market closed on Thursday. Did the smooth sailing continue? Here are the highlights.
Image source: Getty Images.
Align results: The raw numbers
| Metric | Q1 2017 | Q1 2016 | Year-Over-Year Change |
| --- | --- | --- | --- |
| Sales | $310.3 million | $238.7 million | 30% |
| Net income from continuing operations | $69.4 million | $40.5 million | 71.2% |
| Adjusted EPS | $0.85 | $0.50 | 70% |
Data source: Align Technology.
What happened with Align this quarter?
As the above numbers show, Align Technology performed superbly in the first quarter. The strong revenue growth stemmed primarily from a record-high 208,000 case shipments of Invisalign. That figure was 27% higher than the shipments in the prior-year period.
Align enjoyed especially robust international growth for Invisalign. The company's international operations shipped 75,175 cases, up 41% year over year. U.S. clear aligner shipments also increased by 20% over the first quarter of 2016.
It wasn't just higher shipment volumes that caused Align to be so successful in the first quarter. The average selling price for Invisalign increased from $1,255 in the first quarter of last year to $1,270 in the most recent quarter.
Align also reported higher utilization rates across the board. North American orthodontists' utilization increased 12.6% from 10.4% in the prior-year period. North American general practitioner dentists' utilization rose from 3% in the first quarter of 2016 to 3.1% in the first quarter of this year. International utilization also increased to 5% from 4.7% in the same quarter last year.
In addition, the company's scanner and services business performed very well in the first quarter. Revenue from this business soared 46.9% year over year to $27.8 million.
Align's bottom-line improvement was even better than its revenue figures. The significant increase in net income stemmed in large part fromfrom excess tax benefits on stock-based compensation resulting from the company's adoption of new accounting standards in the first quarter.
The company ended the first quarter with$644.2 million in cash, cash equivalents, and marketable securities. At the end of 2016, Align's cash stockpile totaled $700.0 million. Some of the cash was spent on the purchase of a new headquarters building in San Jose, California.
What management had to say
Align Technology president and CEO Joe Hogan said:
Looking forward
Align Technology expects second-quarter revenue between $340 million and $345 million, a 26% to 28% year-over-year increase. This revenue growth is modeled on projected second-quarter Invisalign case shipments of 221,000 to 224,000, which reflects an increase of 25% to 27% over the prior-year period.
The company also projects diluted earnings per share between $0.71 and $0.74 (including $0.03 of excess tax benefit). The mid-point of this range reflects a 17% year-over-year increase.
All of the fundamentals for Align seem to be lining up quite nicely (no pun intended -- well, maybe just a little bit intended). Demand for the company's clear aligners continues to grow, as does demand for its iTero scanners. Align appears to be executing well, especially in international markets. Unless some unforeseen issue arises, Align Technology should be on track to break its revenue and Invisalign shipments records yet again in the second quarter of 2017.
10 stocks we like better than Align TechnologyWhen investing geniuses David and Tom Gardner have a stock tip, it can pay to listen. After all, the newsletter they have run for over a decade, Motley Fool Stock Advisor, has tripled the market.*
David and Tom just revealed what they believe are the 10 best stocks for investors to buy right now...and Align Technology wasn't one of them! That's right -- they think these 10 stocks are even better buys.
Click here to learn about these picks!
*Stock Advisor returns as of April 3, 2017.
Keith Speights has no position in any stocks mentioned. The Motley Fool owns shares of and recommends Align Technology. The Motley Fool has a disclosure policy.