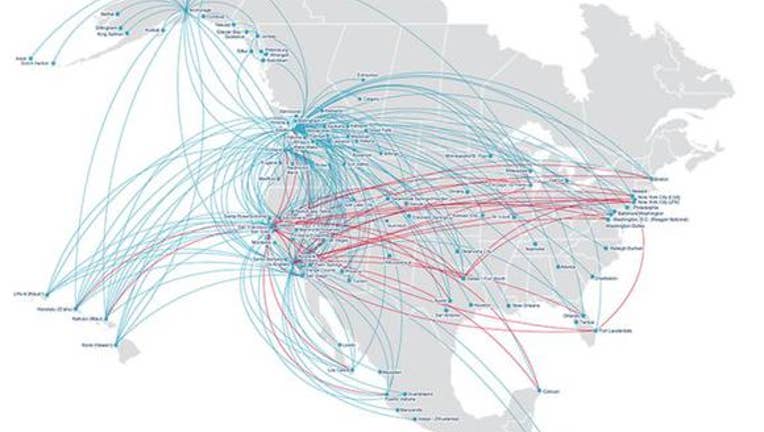 The post-merger Alaska Airlines-Virgin America will have routes covering a good chunk of the continent. But the deal will also cost Alaska Airlines a big chunk of change. Image source: flyingbettertogether.com.
By now you've no doubtheard the news:Alaska Airlines is acquiring Virgin America in a deal valued at $4 billion. For regular flyers of both airlines, this sounds like a pretty good deal, merging airlines that -- according to travel website Airfarewatchdog -- are ranked No. 1 and No. 2 nationally for overall performance, into a single larger airline that will be able to deliver that great performance to more customers at more locations.
But what does the deal mean to investors?
Big moneyThe answer probably depends a lot on which investors you're talking about. As explained by the companies in their merger announcement, larger Alaska Air is the buyer in this transaction, and will pay $57 per share in cash to acquire each share of Virgin America outstanding. That's roughly a 90% premium to where Virgin shares were trading before news of the possible merger began filtering out last month.
Image source: YCHARTS.
The logical conclusion? Alaska Air is vastly overpaying for Virgin America -- but that logical conclusion might not be the correct one.
Price is what you pay, value is what you getConsider: At its current valuation of roughly $80 per share, Alaska Air stock sells for about 1.8 times trailing sales, and roughly 12.2 times earnings. Virgin America, by contrast, costs only 1.6 times sales at its current market price, and 7.4 times earnings. (Do note, though, that about half of the income that Virgin America "earned" last year came from a one-time tax benefit. The company is likely to be much less profitable in the future than it appears today.)
Even accounting for that caveat, the amount that Alaska Air will ante up for Virgin America is not necessarily too much. On a price-to-sales basis, at least, Alaska Air is clearly picking up its rival at a discount. And even if Virgin America's 2015 profit number was inflated by the tax benefit, operating profits are still flowing strongly at the company. Indeed, S&P Global Market Intelligence data show Virgin earning operating profits of $177 million last year -- a respectable 11.5% profit margin on $1.5 billion in revenue.
What next?Of course, Alaska Air's own operating profit margin is more than twice that number -- 23.8%. And that's where things get really interesting with this merger.
According to its press release, Alaska Air sees the potential to save $225 million annually from "synergies" by merging the two companies. That would be enough money to raise Virgin America's profitability up to par with Alaska's own -- or better. While success in this is by no means assured, it does seem at least mathematically possible that a combined Alaska Air-Virgin America could be much more profitable than the two airlines operating on their own. What's more, given that Airfarewatchdog ranks Alaska Air (No. 1 in its 2015 survey) higher than Virgin America (No. 2) for overall performance, it's possible that this increase in profitability could be achieved with no loss of quality for either airline.
All things considered, this truly could be a merger made in heaven -- or at least in the heavens.
The article Alaska Airlines Is Buying Virgin America -- but Is the Price Right? originally appeared on Fool.com.
Rich Smithdoes not own shares of, nor is he short, any company named above. You can find him onMotley Fool CAPS, publicly pontificating under the handleTMFDitty, where he's currently ranked No. 290 out of more than 75,000 rated members.The Motley Fool recommends Virgin America. Try any of our Foolish newsletter services free for 30 days. We Fools may not all hold the same opinions, but we all believe that considering a diverse range of insights makes us better investors. The Motley Fool has a disclosure policy.
Copyright 1995 - 2016 The Motley Fool, LLC. All rights reserved. The Motley Fool has a disclosure policy.