Alaska Air Soars on Fourth-Quarter Earnings Beat and Solid Outlook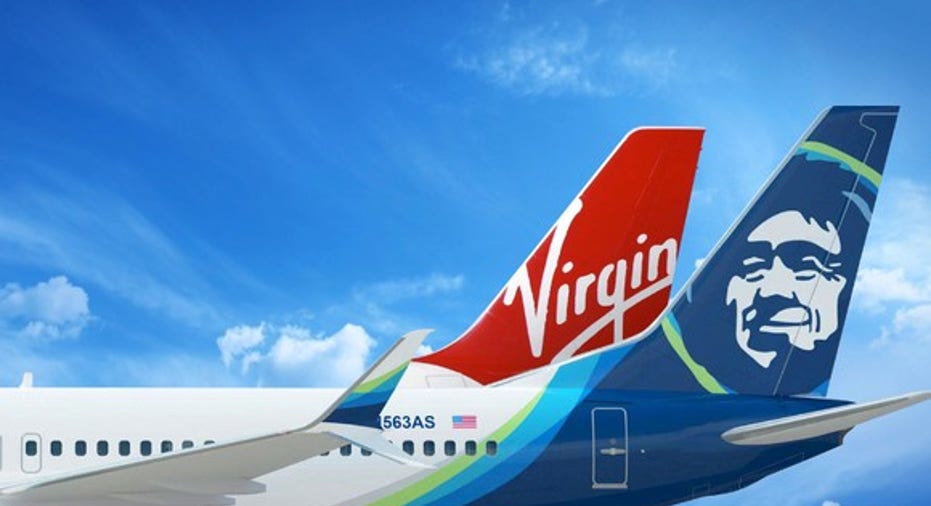 Investors initially reacted skeptically to Alaska Air's (NYSE: ALK) plan to acquire smaller rival Virgin America. Alaska Air shares, which had traded for more than $80 before the merger was announced, tumbled 30% in the next few months, bottoming out below $60.
Since then, Alaska Air has regained investors' confidence by continuing to post solid results while finalizing the Virgin America deal. And on Wednesday, Alaska stock stormed to a new all-time high above $97, as it posted strong earnings for the fourth quarter and provided favorable guidance for 2017.
Alaska Air Stock Performance, data by YCharts.
Earnings growth continues
Most airlines posted earnings declines last quarter due to rising fuel and labor costs. For example, Delta Air Lines (NYSE: DAL), which has been a bellwether for the airline industry in recent years, reported a 31% year-over-year decline in earnings per share.
Part of this decrease was driven by one-time costs related to Delta's new pilot contract. Yet most of that negative impact was offset by lower fuel hedging losses. Simply put, a combination of falling unit revenue and rising costs at Delta made sharp margin contraction inevitable.
By contrast, Alaska Air managed to keep profit moving in the right direction. Revenue per available seat mile (RASM) returned to growth in the fourth quarter, rising 0.3% year over year. Meanwhile, adjusted non-fuel unit costs declined slightly.
The Virgin America deal also helped bolster Alaska's earnings. The acquisition closed in mid-December, so Alaska Air only included two-and-a-half weeks of Virgin America's results in its Q4 earnings for accounting purposes. Still, that included the busy (and highly profitable) holiday travel period.
Virgin America helped Alaska Air post earnings growth last quarter. Image source: Alaska Air.
This added $24 million in pre-tax profit, turning what would have been an $8 million year-over-year decline in pre-tax profit into a $16 million increase. Adjusted EPS increased 7% year over year to $1.56, sailing past the average analyst estimate of $1.40.
Smooth sailing ahead
Alaska Air is well positioned to post another year of strong EPS growth in 2017. First, Virgin America generated a $244 million pre-tax profit in 2016. Only 10% of that total was incorporated in Alaska's results. The full-year benefit of adding Virgin America's earnings should provide an EPS tailwind of at least 10% for Alaska Air this year.
Second, Alaska Air expects to continue its strong cost performance in 2017. Non-fuel unit costs should be flat relative to the combined non-fuel unit costs of Alaska Air and Virgin America for 2016. Fuel efficiency will improve by about 1.5%.
Third, the unit revenue environment looks favorable. For January, Alaska Air's management expects RASM to decline about 3% year over year. That may not sound especially good, but Delta Air Lines recently reported a similar unit revenue decline for January and it still expects to post RASM growth in the first quarter.
As things stand, Alaska will benefit in 2017 from slower growth by competitors in its markets than the double-digit increases that have been typical for the past two years. For Q1, the carrier currently expects competitive capacity growth to ease to 4% as Delta Air Lines' growth in Seattle slows. In Q2, competitive capacity will be close to flat.
Delta's growth in Seattle is finally starting to slow down. Image source: Delta Air Lines.
A good platform for growth
Alaska Air will increase its capacity by about 8.5% in 2017. Looking further ahead, it plans to expand at a 4%-8% pace for the foreseeable future. Much of its growth will come in California, as the company capitalizes on Virgin America's popularity in San Francisco and Los Angeles.
Steady expansion has been a recipe for earnings growth at Alaska Air in the past. There's no reason that should change going forward. In the next few years, Alaska will also benefit from revenue and cost synergies as it integrates Virgin America into its network.
Alaska Air stock now trades for about 12 times forward earnings, so it's not dirt cheap -- at least for an airline stock. However, considering the company's earnings growth opportunities, there could still be plenty of upside left for shareholders in the next few years.
10 stocks we like better than Alaska Air GroupWhen investing geniuses David and Tom Gardner have a stock tip, it can pay to listen. After all, the newsletter they have run for over a decade, Motley Fool Stock Advisor, has tripled the market.*
David and Tom just revealed what they believe are the 10 best stocks for investors to buy right now... and Alaska Air Group wasn't one of them! That's right -- they think these 10 stocks are even better buys.
Click here to learn about these picks!
*Stock Advisor returns as of February 6, 2017
Adam Levine-Weinberg owns shares of Alaska Air Group and Delta Air Lines. The Motley Fool has no position in any of the stocks mentioned. The Motley Fool has a disclosure policy.