Akzo Nobel Rejects Improved Bid From U.S. Rival PPG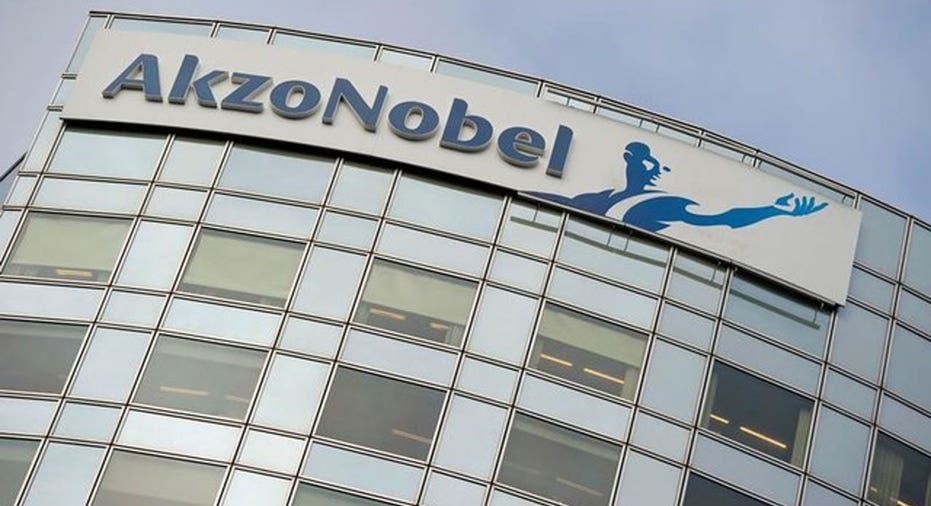 Dutch paints and coatings maker Akzo Nobel rejected a second takeover proposal from U.S. rival PPG Industries on Wednesday, saying an improved 22.4 billion euro ($24.1 billion) offer was still too low and too risky.
Akzo said the new PPG proposal made on Monday, worth 88.72 euros per share in cash and shares, was not good enough even to merit engaging with the bidder. An earlier, March 9 offer of 83 euros per share valued the company at $22 billion.
Several of the company's shareholders have said they see merit in a deal and encouraged management to enter talks. Like many Dutch companies, Akzo has strong defenses against hostile takeovers and politicians have voiced concerns over the bid.
Pressed by reporters on shareholders' views, Chief Executive Ton Buechner said: "The issue is we have a number of stakeholders. It's also not in the interests of shareholders."
Disadvantages of the bid included the risk of significant job losses and substantial divestitures, Akzo said, adding it saw differences in corporate culture.
Shares in the Dutch company, best known for its Dulux paint brand, were trading down 3 percent at 74.2 euros at 1005 GMT (6:05 a.m. ET).
One top 20 Akzo investor indicated that the bid price could soon start to look attractive.
"We are at the moment undecided/ambivalent on a deal. Certainly a price in the 90s would represent a chunky multiple and could be tempting," said the investor, who did not want to be named.
"Certainly at this price we would believe it is up to management to convince us not to sell as Akzo has been 'cheap' for a long time."
POLITICAL OPPOSITION
Dutch politicians including Economic Affairs Minister Henk Kamp publicly opposed PPG's first bid, saying it was not in the Dutch national interest.
Four provincial governors also oppose a takeover, saying it would cost Dutch jobs. Akzo employed more than 45,000 people as of the end of 2015.
The first proposal was made on the eve of a March 15 national election in which nationalist sentiment played a prominent role.
Politicians have voiced concerns about possible foreign takeovers of Dutch companies, especially after Kraft's failed bid for totemic Anglo-Dutch consumer giant Unilever, where many of the country's top business leaders trained.
Akzo's anti-takeover defenses include a foundation with the power to appoint company officers. Buchner said the foundation was not consulted on the bid, though its board, composed of Akzo supervisory board members, were "part of what's going on".
Pittsburgh-based PPG, which said after its initial rejection it was confident it could reach a deal with Akzo, could not immediately be reached for comment on Wednesday.
Akzo said the second unsolicited proposal did not address other initial concerns including the risks the deal might not be accepted by regulators and the debt of the merged company.
Akzo's boards unanimously rejected the new offer and reiterated that they would prefer to pursue their own strategy of selling or floating the company's chemicals division.
Akzo Nobel officials went on the road last week to shore up support from investors. Buechner said Akzo would "provide updated financial guidance and hold an upcoming investor event soon."
(Reporting by Toby Sterling, Simon Jessop and Thomas Escritt; editing by David Clarke/Keith Weir)