Airbus Beats Boeing in $9.1 Billion Kuwaiti Fighter Jet Deal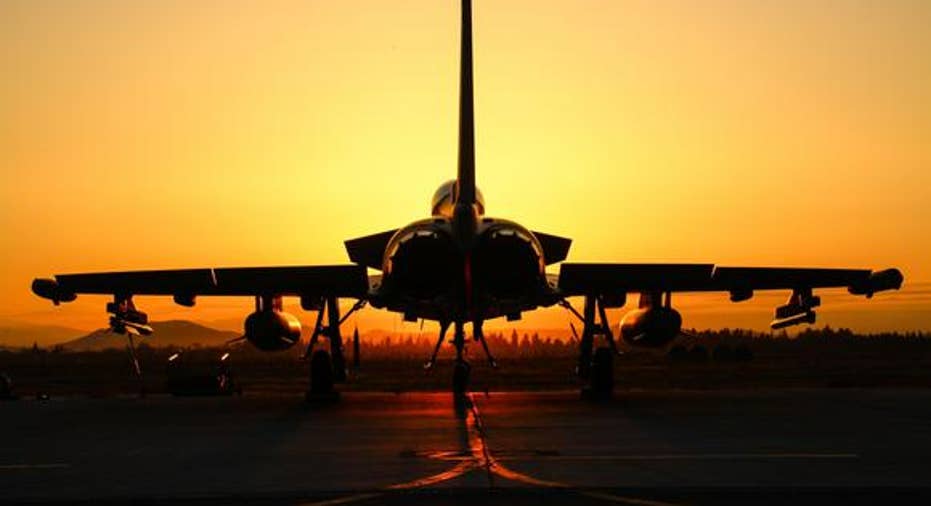 Eurofighter Typhoon sales are taking off. Image source: Eurofighter.
In America and in Europe, the respective defense divisions of Boeing and Airbus are struggling. With contracts for mid-range-priced fighter jets drying up, things are so desperate, in fact, that a couple of years ago the two companies even entertained the possibility of teaming up to develop a new Euro-American fighter jet to compete with Lockheed Martin'sF-35 stealth fighter.
Nothing ever came of that idea, however. And today, it looks like the failure to cooperate is going to cost Boeing -- big-time.
Last week, The Wall Street Journal reported that a big fighter jet deal in the works between Kuwait and Airbus -- a deal that Boeing itself had bid on -- is at long last getting the go-ahead. Kuwait is said to have preferred buying a mix of Boeing F-18s and Eurofighter Typhoons, but feared it could not get the sale approved fast enough. In fact, the Pentagon and State Department did finally sign off on the sale just this week -- but too late. According to theJournal, Kuwait went ahead last week and signed a definitive contract to acquire 28 Eurofighter Typhoon jets from Finmeccanica, the junior partner of the three companies (including Britain's BAE and Airbus) that own the Eurofighter consortium.
Eurofighter's deal, in the works since at least last year, is believed to be worth about $9.1 billion to the winner, and throws a financial lifeline to the members of the Eurofighter consortium. At the same time, it costs Boeing a big sale that could potentially have saved it from having to shut down its St. Louis, Missouri, F-18 plant. According to data from S&P Global Market Intelligence, it would also have produced revenue sufficient to cover more than eight months' worth of Boeing's Military Aircraft business.
Granted, there's still a chance that the late-breaking approval of an order for two dozen F-18s, valued at $3 billion, could result in a sale. But with Typhoons in hand, it's also possible that Kuwait will now pass on the offer to buy F-18s.
The other side of the coinBad news for Boeing is, of course, good news for its archrival Airbus. Commenting on the sale, Airbus Defence and Space head Dirk Hoke exulted that winning this business will help Eurofighter keep its production lines open. What's more, in the defense business,success tends to give rise to even more success.
By adding scale to an aircraft producer's business, one sale helps to spread development costs over a larger base. This, in turn, permits a plane maker to offer customers its next batch of airplanes at a lower price -- thus helping it to win the next sale. And if on top of lower costs Airbus is gifted with the loss of a rival, if Boeing is forced to discontinue F-18 due to lack of clients...?
Why, that would be one fewer competitor Eurofighter has to worry about, or compete against on price. Hello, profits!
What's next for Airbus... and for Boeing? Not surprisingly, therefore, the Journal reports that Saudi Arabia and Oman are also in talks to acquire more Typhoons. Meanwhile, Qatar has signed up to buy Rafale fighter jets from Dassault Aviation -- another European rival to Boeing.
Increasingly, Boeing and its defense business appear to be getting left behind in the crucial Middle East market.
A new day dawns for Eurofighter and its Typhoon. Image source: Eurofighter.
The article Airbus Beats Boeing in $9.1 Billion Kuwaiti Fighter Jet Deal originally appeared on Fool.com.
Rich Smithdoes not own shares of, nor is he short, any company named above. You can find him onMotley Fool CAPS, publicly pontificating under the handleTMFDitty, where he's currently ranked No. 283 out of more than 75,000 rated members.The Motley Fool has no position in any of the stocks mentioned. Try any of our Foolish newsletter services free for 30 days. We Fools may not all hold the same opinions, but we all believe that considering a diverse range of insights makes us better investors. The Motley Fool has a disclosure policy.
Copyright 1995 - 2016 The Motley Fool, LLC. All rights reserved. The Motley Fool has a disclosure policy.