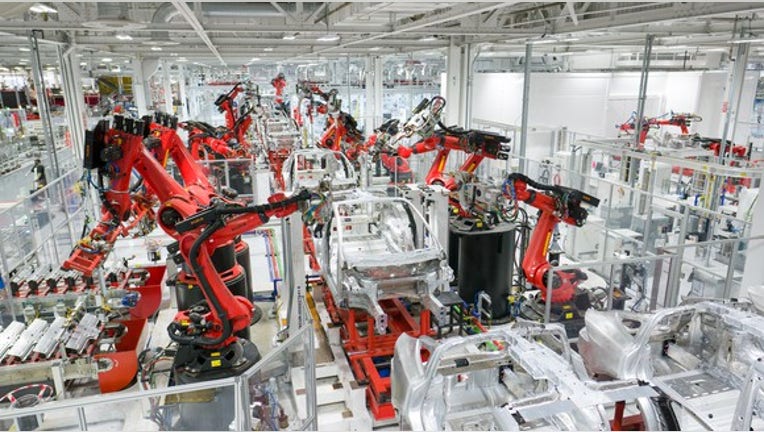 Even though 2016 was a big year of growth for Tesla (NASDAQ: TSLA), as revenue and vehicle deliveries soared, the electric-car maker's capital expenditures during the year declined impressively compared with 2015. But Tesla investors shouldn't get comfortable with this lower level of spending: Management expects capital expenditures to jump during the first half of 2017.
A temporary pullback
Tesla's pullback in capital spending last year was certainly notable. Capital expenditures declined from $1.6 billion in 2015 to $1.3 billion in 2016. Even more, expenditures were far below the $2.25 billion threshold Tesla said it expected to hit by the end of the year.
Tesla factory. Image source: Author.
However, despite a slowdown in capital spending during 2016, Tesla still managed to grow its business substantially:
Revenue and deliveries soared 73% and 51%, respectively, year over year.
Between July and the end of the year, Tesla's Gigafactory grew from 1.9 million operational square feet on its multiple levels to 4.9 million square feet.
Production of battery cells began at the Gigafactory.
Global store and service center locations increased 26%.
Supercharger connections increased by 46%.
Tesla ramped up Model X production from a few hundred units a quarter in the fourth quarter of 2015 to nearly 10,000 a quarter by the end of 2016.
Meanwhile, Tesla emphasized throughout the year that its less substantial capital spending in 2016 didn't mean the company wasn't hitting its milestones for its capital plan. The lower level of spending, management explained, was simply a byproduct of careful expense management, capital efficiency, and more favorable payment terms with suppliers.
Tesla CFO Jason Wheeler explained how the company has been able to stretch out payables longer than expected in the company's fourth-quarter earnings call:
Tesla's capital efficiency and progress on payment terms in 2016 was an impressive feat.
Big spending is already underway
However, while this year-over-year decrease in capital expenditures highlights Tesla's careful expense management and capital efficiency, it doesn't diminish just how capital-intensive it will be for Tesla to launch its Model 3 in the second half of 2017 and to ramp up production from a run rate of 100,000 Model S and X units today to management's expected annual production of 500,000 units for Model S, X, and 3 combined in 2018. Tesla still expects a significant jump in capital spending -- and the sharp increase is already getting started.
Tesla's under-construction Gigafactory. Image source: Author.
As Tesla readies Model 3 to come to the assembly line in July, management expects to invest between $2 billion and $2.5 billion in capital expenditures in the first half of 2017 -- an approximately 190% increase from capital spending in the second half of 2016.
Tesla has already begun demonstrating a ramp-up in capital spending. In its fourth quarter, Tesla invested $522 million in capital expenditures, up from $248 million in Q3.
Increasing production capacity fivefold isn't going to be cheap. And investors are about to get a taste of just how capital-intensive the auto business is.
10 stocks we like better than TeslaWhen investing geniuses David and Tom Gardner have a stock tip, it can pay to listen. After all, the newsletter they have run for over a decade, Motley Fool Stock Advisor, has tripled the market.*
David and Tom just revealed what they believe are the 10 best stocks for investors to buy right now... and Tesla wasn't one of them! That's right -- they think these 10 stocks are even better buys.
Click here to learn about these picks!
*Stock Advisor returns as of February 6, 2017
Daniel Sparks owns shares of Tesla. The Motley Fool owns shares of and recommends Tesla. The Motley Fool has a disclosure policy.