AgroFresh Solutions Inc. Earnings Will Still Rely on Weather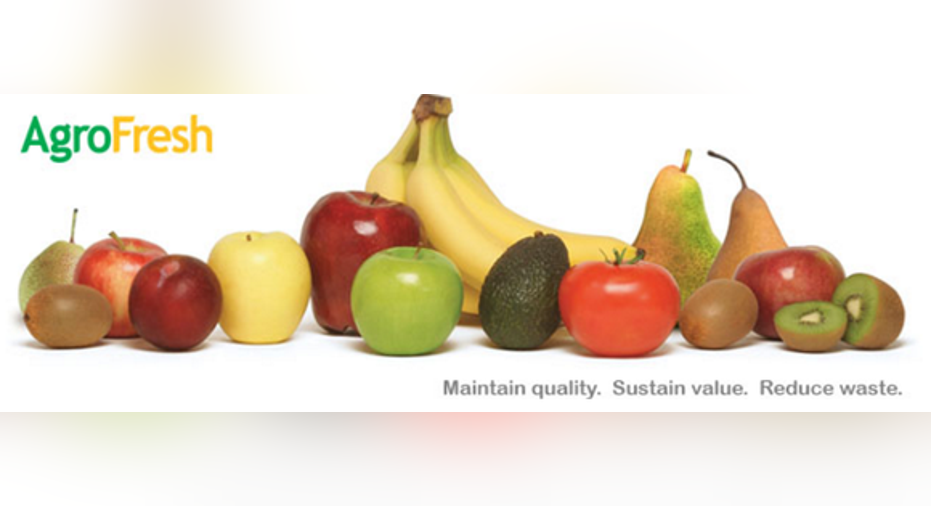 How 'bout them apples, and how 'bout that one product? At the moment those are the two key questions shareholders are asking themselves before considering the company's progress. The company remains heavily reliant on the global apple harvest and its core SmartFresh product, which keeps fruit fresh longer during storage and transportation, and that exposure has hurt the company in recent quarters. Its first-quarter 2016 results were disappointing, but management outlined steps to improve overall performance in the future. Let's take a closer look at what's going on.
AgroFresh Solutions' first-quarter results: The key facts
Following a fourth quarter adversely affected by a weaker-than-expected Northern Hemisphere apple harvest, the first quarter was hit by adverse weather in the Southern Hemisphere. The result was a reduced apple crop size in the Southern Hemisphere, coupled with a delaying of the harvest in important agricultural countries such as Chile and New Zealand.
As such, net sales were $28.4 million, down 13.4% compared with the same period last year. It represents a decline of $4.4 million, and management expects its first-half sales to decline $2.5 million to $5.5 million compared with last year's first half.
The profit picture needsa littleexplaining. Gross profit of $4.6 million represents an eye-watering decline of $23.2 million from last year's first quarter, while the net income loss of $25.1 million compares unfavorably with the $2.5 million gain reported last year.
It all sounds terrible, but net income was affected by a number of factors, including extra costs associated with becoming a public company, increasing inventory to service growth, the timing of R&D expenditures, and certain nonrecurring expenses connected with "professional services as we transition to our own processes in internal staff."
All told, non-GAAP adjusted EBITDA is a better way to look at the quarter. It declined from $18.4 million to $8.5 million on a year-on-year basis -- still a bad number, but nowhere near as bad as the reported net-income figures.
AGROFRESH SOLUTIONS INCHOPES TO EXPAND ITS SALES TO FRUITS SUCH AS BANANAS, PLUMS, AND PEARS.
Growth strategy
It wasn't a great result, but management highlighted some positives to look forward to.
The company is maintaining full-year guidance of 5%-12% sales growth, and adjusted EBITDA of $90 million to $100 million.
The delayed harvests in certain countries will push some revenue into the second quarter.
Market share is "holding up nicely" in the Southern Hemisphere, with share gains reported in Argentina.
Future acquisition activity to spur growth is possible.
Management is accelerating new product launches.
The maintenance of guidance is based on the assumption that the Northern Hemisphere fruit crop -- in particular, apples -- will be in line with historical norms following a relatively poor 2015. The North typically contributes 70%-75% of sales and 80%-90% of EBITDA. However, unless you can accurately predict the weather for the next four to five months, it's impossible to know exactly how the crop will turn out. The only thing we know for sure is that the apple harvest and the SmartFresh product remain the most important drivers of AgroFresh's prospects.
New products
That said, management plans to accelerate the launch and sales development of new products, and it spent a fair amount of time discussing them on the earnings call.
Harvista, which helps farmers expand the harvest window and reduce fruit drop, is expected to contribute around $14 million in revenue in 2016, with Chairman Nancy Dicciani expecting "an incremental $40 million revenue potential within five years."
Investment in Harvista ground sprayers in the U.S. will enable farmers to lend sprayers and use Harvista on their orchards.
The company is running trials with "20 parties around the globe" with its new RipeLock banana quality management system.
Prototypes for AdvanStore, which monitors the decay of stored fruit, will roll out in the fall.
None of these measures is likely to have a significant impact this year, or reduce dependence on apples or SmartFresh in the near term, but they are evidence of management's plans.
Looking ahead
It's likely to be a busy year for AgroFresh as the company's board continues its search for a new CEO and accelerates new product development. Ultimately, hitting guidance is dependent on favorable weather conditions, but this is par for the course in the agricultural sector. In the long term, the stock price will be dictated by management's ability to open up new markets and stave off any future competition in its core market. A lot to do in 2016.
The article AgroFresh Solutions Inc. Earnings Will Still Rely on Weather originally appeared on Fool.com.
Lee Samaha has no position in any stocks mentioned. The Motley Fool recommends AgroFresh Solutions. Try any of our Foolish newsletter services free for 30 days. We Fools may not all hold the same opinions, but we all believe that considering a diverse range of insights makes us better investors. The Motley Fool has a disclosure policy.
Copyright 1995 - 2016 The Motley Fool, LLC. All rights reserved. The Motley Fool has a disclosure policy.