After Falling, Can Gold Miners ETFs get Back Up?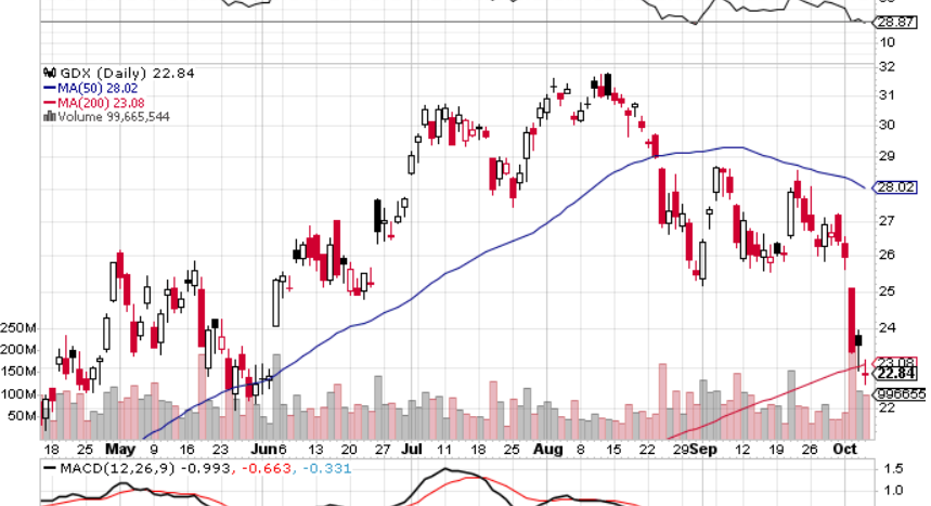 Gold miners exchange traded funds, such as the VanEck Vectors Gold Miners ETF (NYSEArca: GDX) and the VanEck Vectors Gold Miners ETF (NYSEArca: GDXJ), previously among this year's best-performing ETFs, have recently been punished.
The August sell-off in gold miners may have contributed to the $1.1 billion in inflows for the VanEck Vectors Gold Miners ETF (NYSEArca: GDX) as traders saw a buying opportunity after a pullback. However, the play may have been premature as gold assets, notably miners, plunged over the past few days.
SEE MORE: Gold Miners ETFs Confirm Strength Against Broad Market
Precious metals have been under pressure over the past week as hints of an improving economy and a number of hawkish statements from Fed officials raised the prospect of a tightening monetary policy.
According to the Fed-funds futures market, options traders are betting on a 63.9% chance of a rate hike in December, compared to just below 60% a day ago. Investors should also assess the technical conditions on the widely followed Gold & Silver Mining Index (XAU).
"Two other variables that also spelled trouble for the Gold & Silver mining index were: 1) The rally retraced 61.8% of the prior decline. This usually is a strong Fibonacci resistance level.  And 2) The Relative Momentum Index for XAU was peaking at the same time," according to See It Market.
Stock fundamentals like cost deflation across the mining industry, share valuations below long-term average and rising M&A are all supportive of the miners space as well, but those fundamentals could be glossed over if the dollar strengthens.
SEE MORE: Can Gold and Silver ETFs go Their Separate Ways?
Investors bet against gold miners with bearish options like the Direxion Daily Gold Miners Bear 3X Shares (NYSEArca: DUST), the Direxion Daily Junior Gold Miners Index Bear 3X Shares (NYSEArca: JDST) and ProShares UltraShort Gold Miners (NYSEArca: GDXS). The Direxion options take the -300% exposure to large miners and junior miners, respectively, while the ProShares option take the -200% exposure to large miners and junior miners, respectively.
"The steeper the rising wedge, the faster the decline.  Patience is a virtue in trading – and precious metals will likely need some time before finding their footing," adds See It Market.
VanEck Vectors Gold Miners ETF
The opinions and forecasts expressed herein are solely those of Tom Lydon, and may not actually come to pass. Information on this site should not be used or construed as an offer to sell, a solicitation of an offer to buy, or a recommendation for any product.
This article was provided by our partners at ETFTrends.