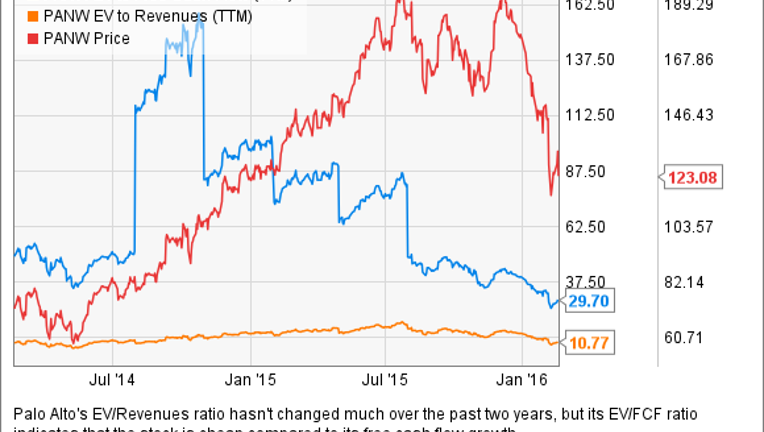 2016 hasn't been kind to Palo Alto Networks shareholders. Despite beating top and bottom line estimates last November, the cybersecurity stock has fallen 30% this year due to market malaise and concerns about enterprise spending. But after that big plunge, can Palo Alto stock finally be considered cheap? Let's examine the stock's weaknesses, upcoming catalysts, and valuations to decide.
Source: Pixabay.
Why the market hates Palo AltoPalo Alto isn't profitable and doesn't pay a dividend -- two qualities that make it an easy target in market sell-offs. Whereas profitable companies with dividends can be supported by P/E ratios and yields, companies like Palo Alto lack that scaffolding.
Palo Alto's P/S ratio of 11 also looks pricey compared to its smaller industry peers FireEye and CyberArk , which respectively trade at 3.5 and 6.7 times sales. When we compare these three companies' annual sales growth over the past three quarters, we can see why investors are concerned.
| | | | |
| --- | --- | --- | --- |
| | Two quarters ago | Last quarter | Most recent quarter |
| FireEye | 55.8% | 45% | 29.2% |
| CyberArk | 70.4% | 43.4% | 41.9% |
| Palo Alto | 59.3% | 54.5% | 46.1% (estimated) |
YOY sales growth. Source: Company quarterly reports.
Those figures indicate that demand for cybersecurity services, while robust, is slowing down. Several analysts haverecently expressed concerns about that slowdown. Based on channel checks, Cleveland Research analysts now expect Palo Alto's growth to fall to the 30% to 40% range over the next few quarters. JMP Securities stated that its checks also hinted at a "challenging sales environment" for Palo Alto for the current quarter.
Weak results fromTableau and LinkedIn, which both rely heavily on enterprise spending, also weighed down cybersecurity stocks. To make matters worse, networking giant Cisco has been bundling cybersecurity services with its hardware and software, which could hurt smaller players like Palo Alto.
But are investors overreacting?Slowing sales growth, a high P/S ratio, a lack of profitability, and competition are clearly reasons to be cautious about Palo Alto, but the lull in cybersecurity spending might only be temporary. According to the Identity Theft Resource Center, 169 million personal records were exposed last year in data breaches, up from 85.6 million in 2014.
The alarming spike will likely convince more businesses to subscribe to Palo Alto's industry-standard firewall, FireEye's threat prevention services, or CyberArk's protective services for privileged accounts. Thanks to that higher spending, research firm Markets and Markets believes that the global cybersecurity market will grow from $106.3 billion in 2015 to $170.2 billion in 2020.
Therefore, comparing Palo Alto to Tableau's analytics business or LinkedIn's hiring network could be an apples-to-oranges comparison. These companies all rely on enterprise spending, but Palo Alto's firewall could be considered a more essential expense than Tableau or LinkedIn's services.
Bullish reasons to believe in Palo AltoNot all analysts are bearish on Palo Alto's prospects. D.A. Davidson analyst Jack Andrews recently called it a "high quality company that is exhibiting extraordinary growth characteristics for a company of its size in the security software arena."
Andrews also noted that the threat of bundled packages like Cisco's was overstated, since "security has been purchased in a piecemeal fashion, as enterprises would choose what they believed to be the best product in each category." The U.S. government's use ofboth Cisco's network services and Palo Alto's firewall supports that idea.
Most importantly, Andrews pointed out that Palo Alto stock is not expensive relative to its free cash flow, which soared 84% annually to $127 million last quarter. When we compare Palo Alto's EV/FCF ratio to its EV/Revenues ratio over the past two years, we see that's true -- the last time its EV/FCF ratio was near this level, the stock was trading near $60.
Source:YCharts
The verdictI believe that Palo Alto Networks still has plenty of room to grow, and that its EV/FCF ratio indicates that it's at its cheapest level in years. But in the near term, many investors will likely be scared off by its high P/S and EV/revenue ratios, slowing sales, and lack of profitability. In my opinion, Investors willing to ride out that volatility can consider buying a few shares of Palo Alto at current prices. However, it might be wise to wait for Palo Alto to report its second quarter earnings on Feb. 25 before jumping in.
The article After Falling 30%, Is Palo Alto Networks Inc. Finally Cheap? originally appeared on Fool.com.
Leo Sun has no position in any stocks mentioned. The Motley Fool owns shares of and recommends FireEye and LinkedIn. The Motley Fool recommends Cisco Systems, CyberArk Software, and Palo Alto Networks. Try any of our Foolish newsletter services free for 30 days. We Fools may not all hold the same opinions, but we all believe that considering a diverse range of insights makes us better investors. The Motley Fool has a disclosure policy.
Copyright 1995 - 2016 The Motley Fool, LLC. All rights reserved. The Motley Fool has a disclosure policy.