After a Rough 2015, Statoil Turned a Surprising Profit This Quarter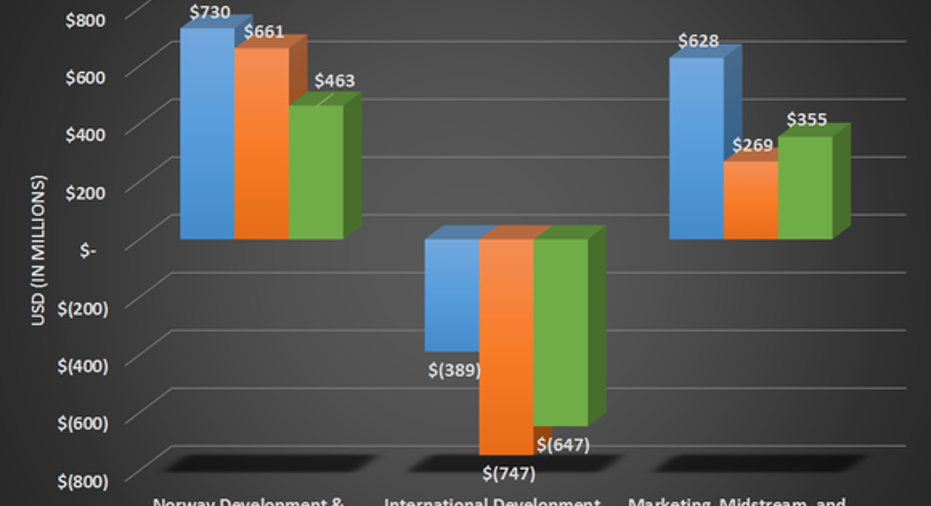 Image source: Statoil corporate website.
After posting some heavy losses in 2015, Statoil seems to be starting off 2016 on the right foot by posting a much better than expected gain in the first quarter. While the company suffered from lower oil and gas prices like so many other companies, it's starting to realize the effects of some moves the company made to lower its costs.
Let's parse through the details of Satoil's quarter and whether this surprising gain is the beginning of better times, or just a flash in the pan.
Statoil's results: The raw numbers
| | | | |
| --- | --- | --- | --- |
| Results (in millions, except per-share data)* | Q1 2016 | Q4 2015 | Q1 2015 |
| Revenue | $10,087 | $13,093 | $15,513 |
| EBITDA | $3,100 | $3,921 | $5,072 |
| Earnings Per Share | $0.19 | ($0.35) | ($1.44) |
| Cash Flow From Operations | $3,386 | $4,087 | $5,765 |
*Financial results prior to Q1 2016 are reported in Norwegian krone, and figures for this table were converted at the current exchange rate of 1 USD = 8.16 NOK. Data source: Statoil earnings release and S&P Capital IQ.
Looking at the results from Statoil's most recent quarter, they certainly aren't anything too impressive. When you consider that the company turned from loss in the previous sequential quarter to a profit in today's oil and gas environment, though, this quarter looks much better by comparison. The largest improvement for the company this past quarter was attributed to a $1.8 reduction in purchases costs. It also helped that the company's deprecation expense decreased by $1.9 billion. Other costs remaining relatively flat helped produce a decent turnaround for earnings per share.
On a business segment basis, there are a lot of common themes with other integrated oil and gas companies: Marketing and Refining results helped to make up for miserable performances elsewhere in the company. The company did note, though, that Marketing results were lower because of a 31% decline in realized sales prices of piped natural gas to continental Europe. Increasing supplies and a very mild winter were the largest reasons for this.
**Financial results prior to Q1 2016 are reported in Norwegian krone, and figures for this chart were converted at the current exchange rate of 1 USD = 8.16 NOK.Source: Statoil investor presentations, author's chart.
One thing that may also throw investors off is looking at these results and the reported earnings per share for each quarter above. That's because in the first quarter of 2015 and the fourth quarter, the company took asset impairment charges of $3.83 billion and $1.79 billion, respectively. Without these charges in the most recent quarter, it was able to turn back into the black.
What happened with Statoil this quarter?
The company started reporting all of its quarterly results in U.S. dollars instead of Norwegian krone. We still need to pull up exchange rates to compare to prior quarters, but over time, this will help us get a better feel for the company's results, since dividends to U.S. shareholders are paid in dollars.
Total production for the quarter was 2.054 million barrels of oil equivalent per day, an increase of 2% compared to the same quarter last year. All of the gains in production came from the natural gas side of things as oil production actually declined compared to last year.
Statoil made two small discoveries of undisclosed amounts on the Norwegian Continental Shelf.
Management and the board agreed to maintain the current dividend level of $0.2201 per share. Also, pending approval from its annual shareholder meeting, the company plans to offering a scrip dividend that will offer a dividend paid in shares at a 5% discount to current share prices.
Total capital investment in 2016 is slated to be $13 billion.
Statoil made a new push into renewable energy by acquiring a 50% stake in Arkona offshore, a company that specializes in offshore wind farms in Germany.
What management had to sayIt's hard for CEOs in the oil & gas business to get excited about results as of late, and CEO Eldar Saetre was quick to point out the miserable operating environment today. However, he did go out of his way to talk about how the company is much more concerned about value over volume and is using this time to focus on lowering cost of production:
Looking aheadStatoil's quarter does give some indications that it's progressing with its cost-cutting plan by reducing total purchases by $1.8 billion. Last quarter, the company plans on using its new production to replace higher-cost sources and bring its average breakeven cost to below $50 a barrel by 2022. That's a ways out, though, so it will be worth watching this story for a long time to see if the company can actually execute on the plan.
10-second takeawayAfter taking billions in writedowns in 2015, Statoil's earnings numbers are looking a little more promising. Management believes it can cut costs even further, which would help to maintain some modest level of profit until the market for oil and gas picks back up again. Ultimately, though, the company needs higher prices if it wants to meet both its capital spending and shareholder payouts. When that actually happens is anyone's guess.
The article After a Rough 2015, Statoil Turned a Surprising Profit This Quarter originally appeared on Fool.com.
Tyler Crowe has no position in any stocks mentioned.You can follow him at Fool.comor on Twitter@TylerCroweFool. The Motley Fool recommends Statoil (ADR). Try any of our Foolish newsletter services free for 30 days. We Fools may not all hold the same opinions, but we all believe that considering a diverse range of insights makes us better investors. The Motley Fool has a disclosure policy.
Copyright 1995 - 2016 The Motley Fool, LLC. All rights reserved. The Motley Fool has a disclosure policy.