After a Big Acquisition and a Doubling in Price, Is This Semiconductor Stock a Buy?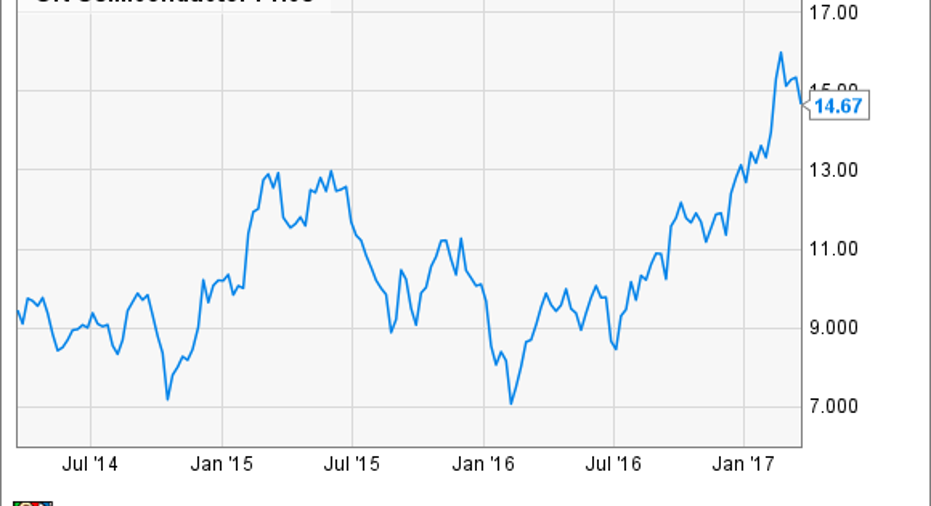 After a tough couple of years, On Semiconductor (NASDAQ: ON) shares have recently soared higher. Since last winter, the stock has doubled in price. The company has benefited from an uptick in the semiconductor industry and an acquisition made in the fall, and those positive catalysts could continue to propel the stock even higher.
Data by YCharts.
A tough road for semiconductors
2015 and 2016 were not great for the semiconductor industry. Global technology sales started to slow down, led primarily by a drop in mobile devices like phones and tablets. A recent report from Gartner shows that trend persisting through 2017, although some respite is on the horizon with new phone launches late last year and later this year expected to provide a boost.
Total and EstimatedGlobal Device Shipments
(millions of devices)

| | | | | |
| --- | --- | --- | --- | --- |
| 2015 | 2016 | 2017 | 2018 | 2019 |
| 2,401 | 2,324 | 2,324 | 2,357 | 2,380 |
Chart data source: Gartner.
The drop in total shipments took its toll on chipmakers for the better part of two years. The sector, as measured by the SPDR S&P Semiconductor ETF (NYSEMKT: XSD)was unable to gain traction until last summer.
Data by YCharts.
Business is starting to recover, though. The slide in total device shipments is subsiding, and chipmakers are finding new sales outlets through industrial equipment and automobiles getting connection-enabling devices installed in them, a movement dubbed the Internet of Things. That development helped ON with its recent rebound efforts.
ON goes on the offensive
In response to the slowdown in the semiconductor industry, many companies operating in the space went shopping for smaller rivals. ON was no exception with its purchase of Fairchild Semiconductor last fall for $2.4 billion.
The buyout fulfilled two goals: opening up new growth markets and consolidating and cutting costs.
Image source: ON Semiconductor.
Speaking to the first point, the purchase of Fairchild helped ON complete a multiyear transition from a seller of commodity chips to a diversified supplier of industry-specific product.
What Fairchild brought to the table was primarily power management for the wireless and the auto industries andits single-connection USB-C power and data transfer technology. Adding that to the portfolio broadened ON's scope of operation in key growing areas of business.
A decade ago, half of ON's revenue came from consumer computers, providing power management and chips for things like PCs and laptops. Today that figure has slimmed down to about a quarter of revenue, an important transition considering the slowdown in that space mentioned above.
ON's biggest clients now primarily consist of players in the automotive, industrial, and wireless network industries. The company's 20 largest customers also make up only 36% of total revenue, making ON a well-diversified supplier of chips, sensors, and power management equipment.
Staying lean, staying competitive
The purchase of Fairchild provided a second boost to business: the ability to slim down on expenses and grow the bottom line.
Image source: Fairchild Semiconductor.
Fairchild added $358 million in revenue to ON's $903 million during the last reported quarter. Full-year revenue was $3.9 billion, and the combined companies will generate over $4.5 billion in 2017 based on last year's figures as stand-alone businesses. Combined together, management sees annual cost savings of $160 million by year end. That is a significant sum considering operating expenses totaled $1.1 billion in 2016.
At this point, it would seem that the expected bump to the bottom line in the coming year has already been priced in. After the recent run-up, trailing price-to-earnings sits at 34. However, based on one-year-forward expectations, price-to-earnings fall to only 10. How is that?
There is still plenty of room for cost-cutting in the quarters and yearsahead. In addition, ON management said at its analyst day a few weeks ago it thinks the semi industry is still too crowded and there are opportunities for further consolidation. The plan isto participate by scooping up more of thesmaller competition and integrating them into operations. That means the boost just received from the Fairchild deal could be arepeatable process.
Even though share prices have doubled from their lows last winter, the positive momentum ON has makes it worthy of consideration.
10 stocks we like better than ON SemiconductorWhen investing geniuses David and Tom Gardner have a stock tip, it can pay to listen. After all, the newsletter they have run for over a decade, Motley Fool Stock Advisor, has tripled the market.*
David and Tom just revealed what they believe are the 10 best stocks for investors to buy right now... and ON Semiconductor wasn't one of them! That's right -- they think these 10 stocks are even better buys.
Click here to learn about these picks!
*Stock Advisor returns as of February 6, 2017
Nicholas Rossolillo has no position in any stocks mentioned. The Motley Fool has no position in any of the stocks mentioned. The Motley Fool has a disclosure policy.