After a 31% Decline, Can Shares of Ophthotech Inc. Bounce Back Later This Year?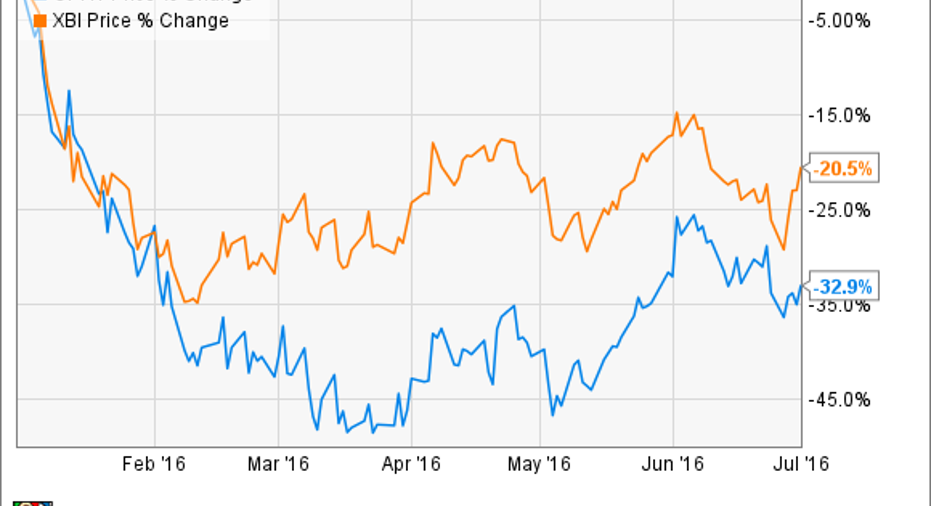 Image source: Pixabay.
What:Investors in the clinical-stage bioOphthotechhave had to deal with abrutal start to the year.Shares are currently down more than 31% since the calendar turned to 2016, according to data fromS&P Global Market Intelligence.
So what:So why has the market soured on the company's shares? Here's a review of a few key developments that have caused Ophthotech's stock to move this year.
In January, Ophthotech announced that it had dosed its first patient with Zimura. This phase 2/3 study is testing the experimental compound's ability to treat geographic atrophy, which is a common advanced form of dry age-related macular degeneration (AMD). An estimated 8 million people suffer from vision loss related to this condition, and there are no approved treatment options, so this is a big opportunity for the company. Still, despite the good clinical progress, shares tumbled 31%during the month.
Shares dropped again in March after SEC filings showed that key members of the company's management team unloadeda sizable number of shares.
In June, the company announced that it had completed enrollment in a phase 3 trial evaluating Fovista's use in combination with either Eylea or Avastin as a treatment for wet AMD. This triggered a $30 million milestone payment from the company's partner, Novartis.
Since the news has almost universally been positive out of the company, I have a hard time believing that shares have plunged because of a few insider sales. What's far more likely is that the company's stock has simply been a victim of the general biotech sell-off.
Take a look at the year-to-date performance of the SPDR S&P Biotech ETF compared with Ophthotech's stock to see what I mean.
Now what:Shares of Ophthotech may be in the doghouse in 2016, but a little perspective is warranted. Keep in mind that Ophthotech soared75% higherin 2015, so perhaps it's unsurprising to see traders in profit-taking mode, given that there's so much fear surrounding any clinical-stage biotech right now.
Despite the poor performance, I continue to see plenty of reasons to be optimistic about Ophthotech's future. Remember that clinical trials showed that using the company's experimental drug Fovista alongside Novartis' Lucentis showed a 10.6-letter improvement in vision on a standard eye chart. That result compares favorably with the 6.5-letter improvement among patients who used Lucentis alone. It's possible that clinical results could show a similar improvement when we see data from the Eylea/Avastin trials, too. If so, then Fovista holds real promise to become a standard-of-care treatment in a fast-growing, multibillion-dollar market.
Add that to the potential Zimura holds, and it's not hard to believe that Ophthotech could start to turn a profit in just a few years' time. In fact, at least one analyst is predicting that the company will be earning more than $7 per share by 2020. If that prediction proves even close to matching reality, then shares look to be very attractively priced today. Investors with a stronger-than-average stomach for risk might want to consider adding a few shares of this promising stock to their portfolio.
The article After a 31% Decline, Can Shares of Ophthotech Inc. Bounce Back Later This Year? originally appeared on Fool.com.
Brian Feroldi has no position in any stocks mentioned.Like this article? Follow him onTwitter, where he goes by the handle@Longtermmindset, or connect with him on LinkedIn to see more articles like this.The Motley Fool has no position in any of the stocks mentioned. Try any of our Foolish newsletter services free for 30 days. We Fools may not all hold the same opinions, but we all believe that considering a diverse range of insights makes us better investors. The Motley Fool has a disclosure policy.
Copyright 1995 - 2016 The Motley Fool, LLC. All rights reserved. The Motley Fool has a disclosure policy.