After a 17% Plunge, What's Next for Fossil Group?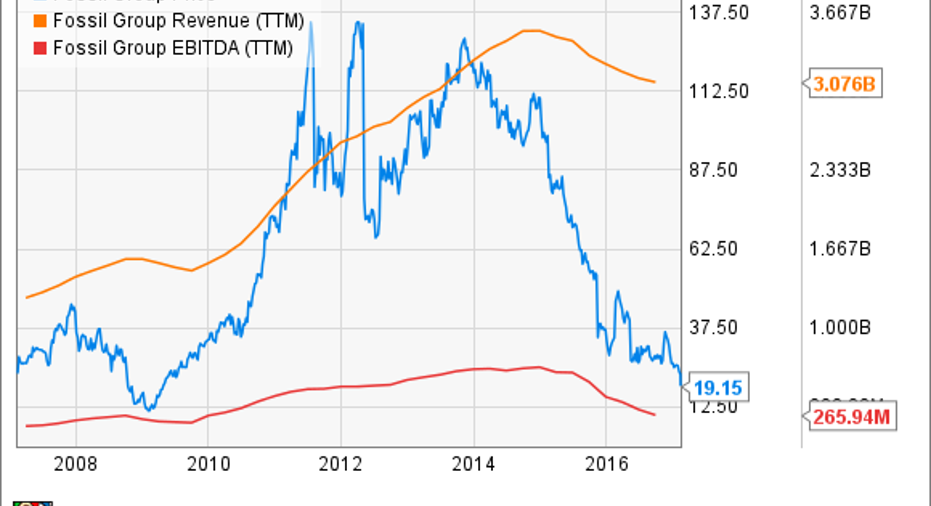 What happened
Shares of Fossil Group, Inc. (NASDAQ: FOSL), a designer of consumer fashion accessories such as watches, jewelry, handbags, sunglasses, and other products, are being hammered early Wednesday morning after the company's fourth quarter disappointed Wall Street. As of 10:45 a.m. EST, shares were down 17%.
So what
During Fossil Group's fourth quarter, sales declined 3% compared to the prior year, down to $959 million, which was below consensus estimates of $977 million. The company managed to top estimates on the bottom line with earnings per share of $1.36, adjusted for restructuring and other costs, which was above consensus estimates calling for $1.18 per share.
Image source: Getty Images.
The company's results were dragged down by an 8% decline in jewelry, a 6% decline in leathers, and a 2% decline in watches. The one bright spot, at least in terms of year-over-year results, was a 13% increase in total Asia sales. Unfortunately, for investors, these declines have been a recent trend:
Now what
Perhaps the biggest issue with the company's fourth-quarter result was its guidance going forward. For fiscal 2017 management expects net sales to check between flat and a 6.5% decline, and earnings per share to be between a loss of $0.50 and a gain of $0.20 per share.
Fossil Group CEO Kosta Kartsotis tried to put a positive spin on a brutal guidance:
10 stocks we like better than FossilWhen investing geniuses David and Tom Gardner have a stock tip, it can pay to listen. After all, the newsletter they have run for over a decade, Motley Fool Stock Advisor, has tripled the market.*
David and Tom just revealed what they believe are the 10 best stocks for investors to buy right now... and Fossil wasn't one of them! That's right -- they think these 10 stocks are even better buys.
Click here to learn about these picks!
*Stock Advisor returns as of February 6, 2017
Daniel Miller has no position in any stocks mentioned. The Motley Fool recommends Fossil. The Motley Fool has a disclosure policy.