AeroVironment Drops on New Losses, Falling Revenue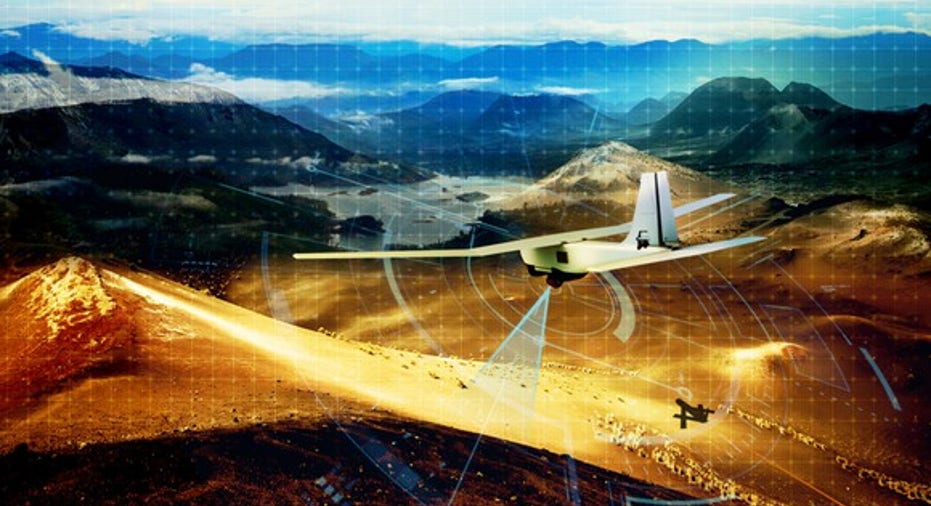 The market for drones is expected to be massive, and AeroVironment (NASDAQ: AVAV) is in a good position to capitalize from rising demand for the unmanned aerial vehicles. Yet investors have had to be patient, because so far, the company hasn't produced the results that many had hoped to see from its drone business.
Coming into Tuesday's fiscal second-quarter financial report, AeroVironment shareholders were already prepared for roughly break-even bottom-line results, but instead, the company suffered more extensive losses and saw revenue fall more sharply than expected. Let's take a closer look at AeroVironment to see what happened and what's ahead.
Image source: AeroVironment.
AeroVironment sees further declines
AeroVironment's fiscal second-quarter numbers weren't pretty. Revenue dropped almost 23%, to $50.1 million, which was even more than the 19% decline on the top line that most investors had expected. The company reversed a year-ago profit by losing $4.17 million, and that worked out to $0.18 per share, far worse than the consensus forecast for just $0.01 per share in losses.
Taking a closer look at the numbers that AeroVironment posted, the company's two big segments saw different levels of performance. The unmanned aircraft systems division suffered a 28% decline in revenue, and after taking into account the cost of sales, gross profit fell by nearly half. On the other hand, the efficient energy segment actually saw sales climb by double-digit percentage figures, but costs of sales climbed at an even faster rate, leading to declines of more than a fifth in segment gross profit. Revenue from contract services climbed by about a third, but product sales declines of almost 40% easily wiped out that performance.
Moreover, AeroVironment wasn't able to generate enough cost savings to offset the lower revenue. Research and development expenses were down 14% from year-ago levels, and general overhead dropped 9%. But those savings weren't sufficient to outweigh the impact of larger drops in sales.
Interestingly, AeroVironment's backlog figures continued to improve. The figure soared by three-fifths, to $119.6 million, up almost $45 million in just the past three months. AeroVironment cited strong order flows in driving the increase in backlog.
CEO Wahid Nawabi stayed optimistic. "Our business remains strong," Nawabi said, "and we expect robust demand for small unmanned aircraft systems and support services from international customers across the globe." The CEO also noted how important it is for the company to adapt its expertise in military drones toward a successful entry into the commercial market.
What's next for AeroVironment?
In particular, AeroVironment has already shown investors what it's looking to offer for the commercial market. Last month, the company revealed its Quantix drone, along with an associated software platform to provide a decision support system for users. Flight services on a turnkey basis were also important for the comprehensive commercial information solution.
AeroVironment's guidance for the near future wasn't particularly upbeat, however. In its third-quarter outlook, AeroVironment said it expects to lose between $0.34 and $0.38 per share, with sales expected to be between $50 million and $52 million for the quarter. Both of those results came as a shock to investors, who were expecting a good-sized profit on revenue that would be half again as large as the guidance suggested. The good news, however, was that AeroVironment again repeated its outlook for the full fiscal year, including a revenue range of $260 million to $280 million and earnings of $0.20 to $0.35 per share.
Shareholders in AeroVironment immediately responded negatively to the news of red ink and falling revenue, sending the stock down almost 10% in after-hours trading following the announcement. There's no doubt that the drone market has huge potential and that AeroVironment should be able to profit from it, but it's now up to the company to prove that it has what it takes to take a bigger bite out of the growing industry.
10 stocks we like better than AeroVironment When investing geniuses David and Tom Gardner have a stock tip, it can pay to listen. After all, the newsletter they have run for over a decade, Motley Fool Stock Advisor, has tripled the market.*
David and Tom just revealed what they believe are the 10 best stocks for investors to buy right now... and AeroVironment wasn't one of them! That's right -- they think these 10 stocks are even better buys.
Click here to learn about these picks!
*Stock Advisor returns as of Nov. 7, 2016
Dan Caplinger has no position in any stocks mentioned. The Motley Fool recommends AeroVironment. Try any of our Foolish newsletter services free for 30 days. We Fools may not all hold the same opinions, but we all believe that considering a diverse range of insights makes us better investors. The Motley Fool has a disclosure policy.