Aegerion Pharmaceuticals Lost a Third of Its Value in November: Time to Buy?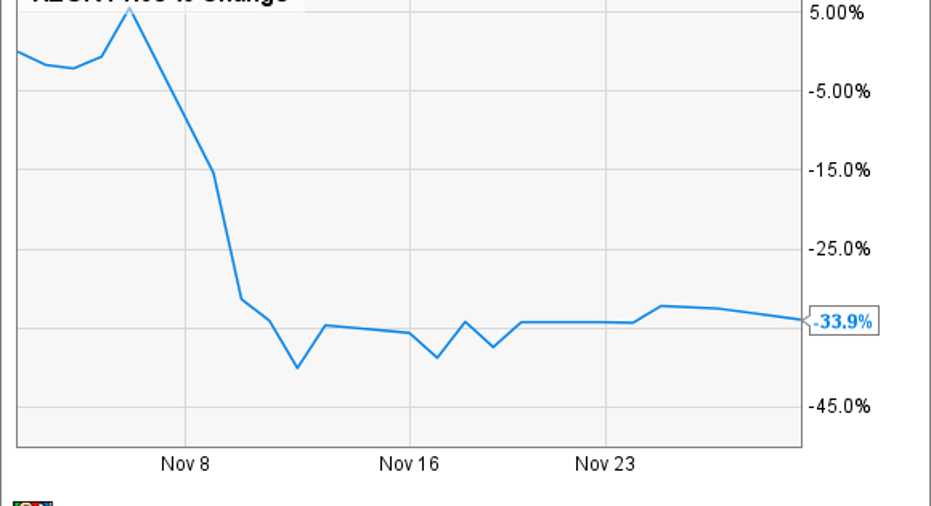 What: Aegerion Pharmaceuticals , a small-cap biopharma developing treatments for rare diseases, saw its shares slip another 33% last month, according to data provided by S&P Capital IQ. This stock has now lost over half of its value from the start of the year.
Aegerion's problems stem from the growing concern among investors that the newly approvedPCSK9-inhibitors from Amgen and Regeneron , known as Repatha andPraluent, respectively, will eat into the sales of the company's competingtherapy, Juxtapid, indicated for genetically induced high cholesterol.
Source: Aegerion.
So what: Juxtapid is by far and away Aegerion's main value driver, given that the company's other approved product,Myalept, is generating less than $10 million in quarterly sales, according to the biopharma's third-quarter earnings report. So investors shouldn't be surprised that these significant competitive threats to Juxtapid are weighing heavily on the drugmaker's shares right now.
Now what: Amgen and Regeneron's rival therapies are reportedly picking up steam and starting to pull patients away from Juxtapid. Making matters worse, there are several additional experimental therapies for ultra-high cholesterol under development by a diversity of biopharmas. Some of these developmental-stage medicines could hit the market by 2017. As a result, Juxtapid is more than likely going to see its market share continue to fall moving forward.
Looking ahead, Aegerion needs to find a way to significantly diversify its revenue base before its cash flows start to dry up. But it's not entirely clear whether the drugmaker's acquisition of Myalept can deliver the goods in this regard.So until Aegerion does solidify its revenue stream, investors may want to look elsewhere for more compelling growth opportunities in the healthcare sector.
The article Aegerion Pharmaceuticals Lost a Third of Its Value in November: Time to Buy? originally appeared on Fool.com.
George Budwell has no position in any stocks mentioned. The Motley Fool has no position in any of the stocks mentioned. Try any of our Foolish newsletter services free for 30 days. We Fools may not all hold the same opinions, but we all believe that considering a diverse range of insights makes us better investors. The Motley Fool has a disclosure policy.
Copyright 1995 - 2015 The Motley Fool, LLC. All rights reserved. The Motley Fool has a disclosure policy.