Advanced Semiconductor Engineering Inc. Pins Modest Guidance on Smartphone Delays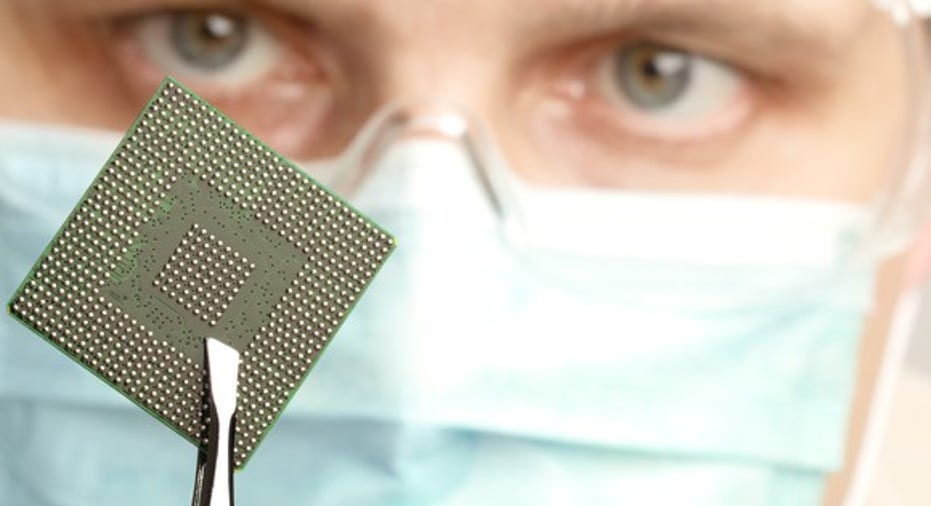 Semiconductor packaging and testing expert Advanced Semiconductor Engineering (NYSE: ASX) reported first-quarter results early Friday morning. Here's what investors need to know about this business update.
ASE's first-quarter results: The raw numbers
| Metric | Q1 2017 | Q1 2016 | Year-Over-Year Change |
| --- | --- | --- | --- |
| Revenue | $2.13 billion | $1.89 billion | 13% |
| Net income | $82 million | $117 million | (30%) |
| Unadjusted earnings per ADR (diluted) | $0.047 | $0.060 | (22%) |
Data source: Advanced Semiconductor Engineering.
What happened with ASE this quarter?
ASE's revenues rose 7% year over year in local currency. Currency exchange effects added another 6% growth in U.S. dollar terms.
The company reported solid year-over-year sales growth in the three largest of its five business segments. Electronic manufacturing services led the way with 19% higher sales in local currency, followed by 6% gains in the testing and packaging divisions.
Bottom-line earnings fell despite strong sales growth, mainly due to a $127 million non-cash charge to account for valuation changes in ASE's financial assets and liabilities.
The pending merger with industry rival Siliconware Precision Industries (NASDAQ: SPIL) moved closer to completion this quarter. In April, China's Ministry of Commerce formally accepted the merger contract with no objections. The companies hope to close this deal "as soon as possible," awaiting a final rubber stamp from the U.S. Federal Trade Commission.
Management provided guidance for the next quarter in sweeping terms:
For electronic manufacturing services, the "business should be similar to the average of 2Q16 and 3Q16 levels." That would work out to segment revenue near $850 million and gross margins for that segment in the 10% range, down from $974 million and 10.6% in the first quarter.
Together, the remaining four segments should deliver results similar to the first quarter. That's $1.3 billion in combined segment sales at a gross margin of roughly 23%.
Total sales growth based on these targets would work out to approximately 6% in local currencies, and gross profit margins are holding steady in general.
Image source: Getty Images.
What management had to say
In a conference call with analysts, company representative Ken Hsiang offered an overview of how the semiconductor industry is shaping up around ASE right now.According to atranscriptfrom Seeking Alpha,Hsiang said:
Looking ahead
Positioned at the center of the semiconductor manufacturing process flow, ASE can be a useful barometer for the state of the chip industry and other markets. Hsiang's comments point to delayed smartphone designs in China and elsewhere, but the sales growth curve remains strong despite that caveat.
That being said, the Siliconware merger is inching close to the finish line, here, and ASX can't wait to get its hands on those predictably positive cash flows.
10 stocks we like better than Advanced Semiconductor EngineeringWhen investing geniuses David and Tom Gardner have a stock tip, it can pay to listen. After all, the newsletter they have run for over a decade, Motley Fool Stock Advisor, has tripled the market.*
David and Tom just revealed what they believe are the 10 best stocks for investors to buy right now...and Advanced Semiconductor Engineering wasn't one of them! That's right -- they think these 10 stocks are even better buys.
Click here to learn about these picks!
*Stock Advisor returns as of April 3, 2017.
Anders Bylund has no position in any stocks mentioned. The Motley Fool has no position in any of the stocks mentioned. The Motley Fool has a disclosure policy.